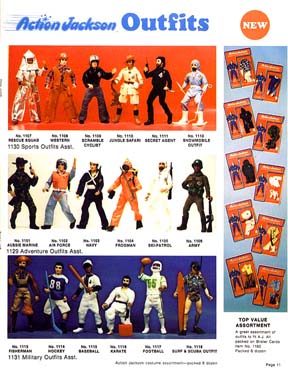 MEGO ACTION JACKSON BOXED OUTFITS
Click on a name of an outfit in the list to the left to go to an individual page for that outfit.
Action Jackson's 18 primary outfits are to this day somewhat ubiquitous, and in a variety of packages.
The first series came in the illustrated boxes, featuring full color paintings of the character in action (below, left). It is believed that when the line failed the numerous costume sets were "dumped" in Canada. The boxes were slapped with a sticker advertising them as Outfits for Superheroes.(bottom)
Presumably, the generic AJ box was used when the initial print run of illustrated boxes was used up. While illustrated boxes are still common, the generic boxes are the ones that tend to be found in bulk to this day.
In the UK, AJ was renamed Johnnie Jackson to avoid conflict with Action Man. Action Jackson also had a bit of a following in Italy as L'Amico Jackson. In France, he was Luc L'Adventure (translation it's "Luke Adventure", it sounds wonky to anglais)