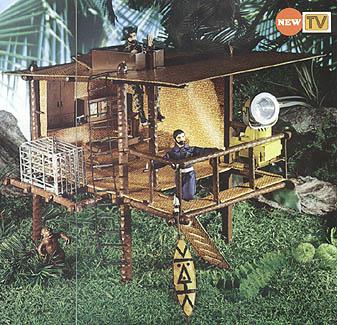 ACTION JACKSON PLAYSETS
There were two playsets produced for AJ.
Pictured here, from the 1973 Catalog, is the Junglehouse. This form would also be used as a Beachhouse for Dinah-Mite and the Treehouse for Planet of the Apes.
The Junglehouse came with a searchlight identical to the Bat Signal minus the cover that shaped the bat light.
Click here for more detailed pictures.
Pictured below, from the side of it's box, is the Lost Continent Playset. This playset used the same vinyl and cardboard form as the Batcave. This primordial adventure set came with cardboard stand-up dinosaurs, cavemen and trees, a Flip-Top Weapons Bench, Telescope, Microscope, Spear & Shield, Cage, Gorilla, and Idol Head.