The Case of the Missing Pirate
  In 1975 Mego issued four public domain 8" Pirates: Captain Patch, Black Beard, Long John Silver, and Jean Lafitte.  Taking advantage of the public's familiarity with pirates (old pirate films are still a staple on TV today as they were then), it was the perfect line for a growing company trying to avoid the high cost of licensing fees.

  What many Mego collectors do not know is that originally Mego had planned an assortment of five Pirate action figures.   Who was this fifth pirate?  All that is known is that at some point in the line's final creation the decision was made to drop the fifth pirate character.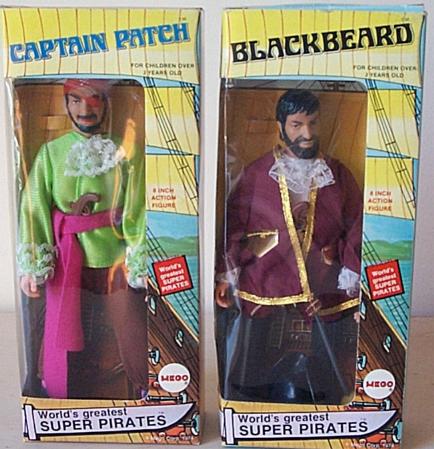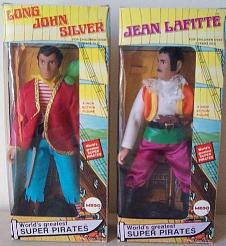 Evide
The four 8" Pirate figures that Mego did issue have the following stock numbers: Captain Patch 54000/2,  Jean Lafitte 54000/3, Long John Silver 54000/4 and Blackbeard 54000/5. What happened to 54000/1?  The 1975 Mego Dealer product catalog features the earliest photo of the Pirates known to exist.  If you look closely at this photo you will notice that Jean Lafitte is missing and that there is another pirate in his place.   This pirate looks very similiar to Capt. Patch but is noticably different.  Could this have been the fifth 54000/1 pirate?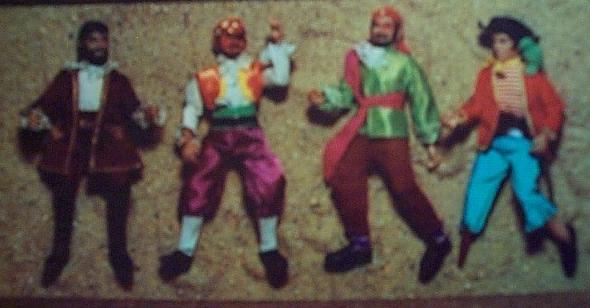 At the time of the release of Mego's Pirate action figure line another company was also planning a pirate figure line.  Matchbox Toys, makers of the highly popular die-cast cars of the same name, released a pirate figure line named The Fighting Furies.  Featuring two pirates, Peg Leg and Capt. Hook,  it is possible that the missing Mego figure was named the same as one of these pirates.  To avoid trouble Mego might have decided to drop the figure rather than renaming him.  (It is interesting to note that the most common cliche of the whole pirate genre is the "hook-handed pirate".  Could the missing Mego pirate have been Captain Hook? )

  It is also possible that Mego simply wanted to make the line smaller and thus easier to sell to retailers.  A smaller group of figures might have appealed more to the
mom and pop
shops that dominated the American landscape in the 1970s. Discuss this and other Mego Mysteries at the
Mego Forums