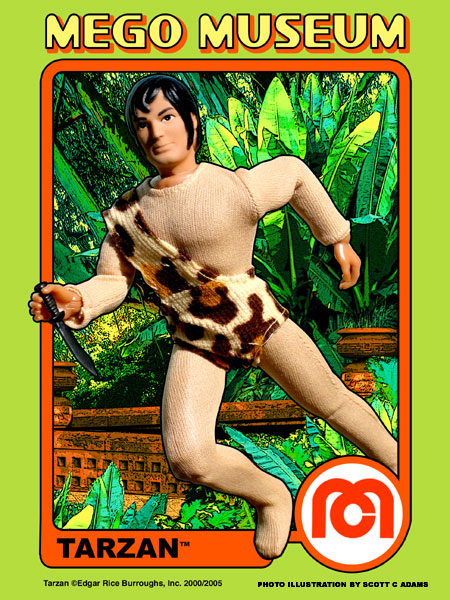 The Lord of the Jungle was the first Superhero added to the WGSH that was not from the Marvel/DC camp.
Many have wondered over the years what gave Tarzan such priority. When asked, former Mego VP Neal Kublan explained "He was my favorite character".
Apparently Mr. Kublan had to travel to Tarzana California just to negotiate the rights with E.R.B's estate.
Tarzan had also recently been picked up by DC for a beautiful run of comics by Joe Kubert and was receiving a good deal of promotion at the newsstands. Marvel wouldn't pick the character up until 1977.
The Mego Tarzan didn't benefit from being an early release, his type 1 body needed to be covered in a flesh body suit which looks a little strange by today's standards. If Tarzan were released later, he most likely would have received the same treatment as Conan .
Tarzan's tenure at Mego was short, this was apparently due to the Burroughs estate issuing multi licenses for Tarzan action figures based on movie and cartoon versions of the character, but cannot be confirmed. Mattel was quick to launch a Tarzan line shortly after his WGSH days however.

The Tarzan Knife: is also commonly found on the Mego Action Jackson Secret Agent Outfit. A nice detail added by Mego seeing as they didn't add a good deal of accessories to the early WGSH.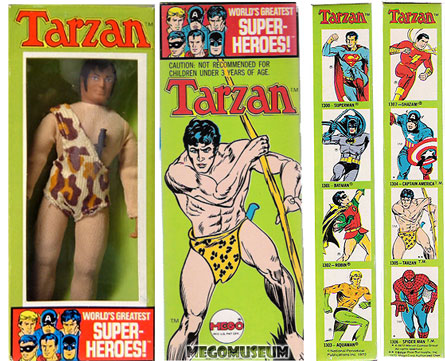 Boxed Figures
The above Window Boxed Tarzan is a Type 2 which is the less common
body style.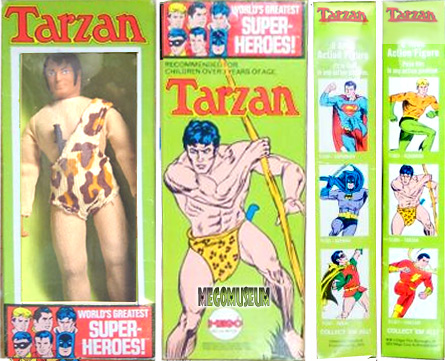 Second issue Tarzan box removes Captain America from the Header. Note the sides have downsized from 8 to 6 sides and the text has changed from black to white.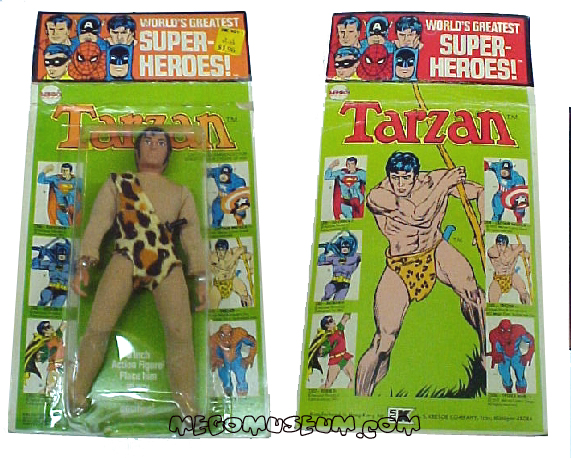 Above is an early issue Mego
Kresge carded Tarzan. It's always an early card when the Marvel
heroes are mingled with DC.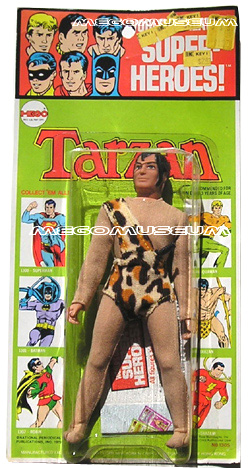 Here is a Mego Kresge carded Tarzan with a Mego catalog insert. Shazam has replaced Captain America in this new header and Tarzan himself would be replaced by Green Arrow in a revision. This puts Tarzan's stay in the WGSH to be about 2 years.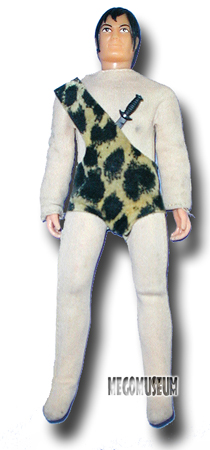 Pictured is the Mego Mexican Fist Fighting Tarzan produced by Lili Ledy under License by Mego. It seems Mexican toys had to
be produced on Mexican soil, cool variations abound. The head sculpt and clothing material are very different to the US Mego
Tarzan. As it turns out, he is one of the hardest Lili Ledy Mego figures to find. Courtesy of BraIn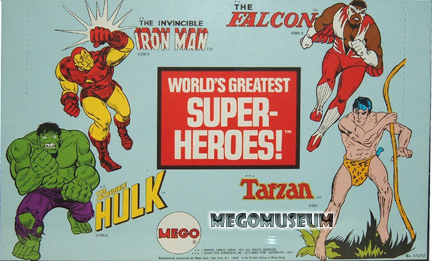 Despite the fact that they would drop the character shortly, Mego continued to push Tarzan into assortments with newer characters as evidenced by this 1974
Mego Display Box Header card.

Tarzan was also featured in Mego's Bend N Flex line.

Mego Museum Accessory Check: Identify original and repro parts.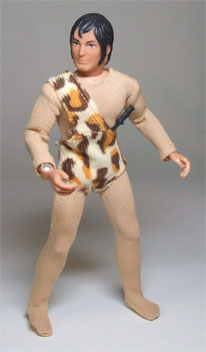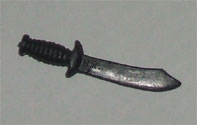 Tarzan came with the same black knife that can be found in the Action Jackson Signal Spy outfit set. The orginal is stamped H.K. on the blade. There are no factory made reproductions of this knife in black, although there is a CTVT version in silver.