These scans provided by Scott Arendson and BrAin
The mego Pocket Heroes came on three different cards, the first series seemed rushed to the market for the new Superman movie and featured rather generic red cards that showed none of mego's flair for packaging.
Series two featured better designed white cards which are much more difficult to find
Series three was a limited foreign only release of four figures, below is a checklist:
Red cards (most Commonly found) Superman, Batman, Robin, Hulk, Spiderman, Zod, Jor El and Luthor. There is tremendous surplus in this line, MOC examples can still be found averaging from $20 for the lesser characters to $50 for the main heroes. Robin is the least common. It is not uncommon to find unpunched examples of red cards, as there has been a warehouse find in the last ten years.
Shazam, Penguin and Joker are featured on the red card artwork, they were not released as pocket heroes but did see release in Mego's Comic Action Heroes line (1976-1978). Zod, Luthor and Jor El are featured on the white cards but have not been found.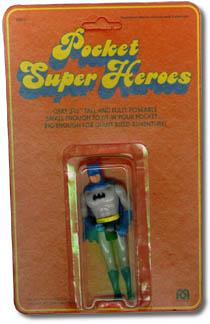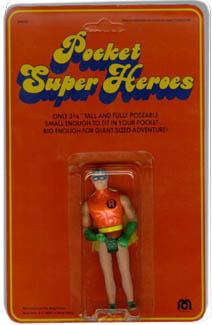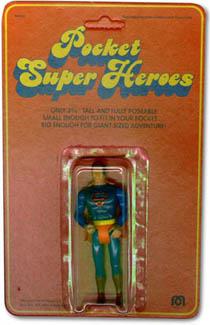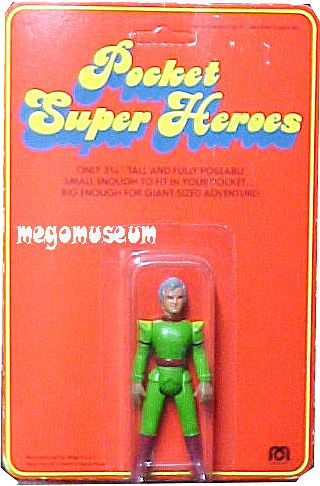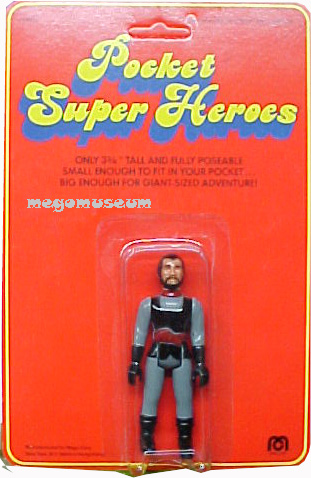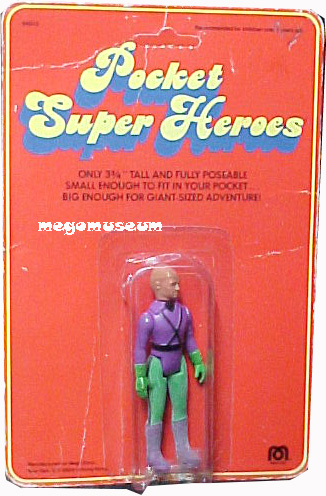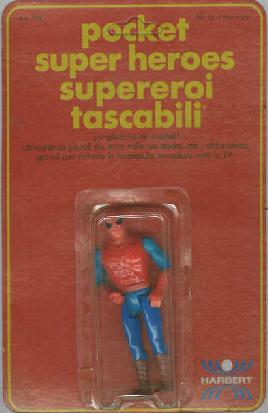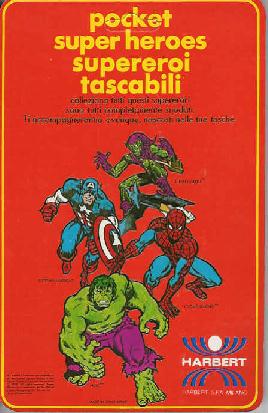 Above is a Harbert Italy released Red Carded Pocket Superhero Spidey, note the change in the graphics to suit the language and the Harbert logo.
The White Cards.
White cards Superman, Batman, Robin,Aquaman, Wonder Woman, Hulk, Spiderman,Captain America, Green Goblin
It is a daunting task to find Pocket Heroes on White cards. Cap, Aquaman, Green Goblin and Wonder Woman were created specifically for this release and were not recycled Comic Action Heroes as the first release of heroes were. The most uncommon figures to find on White cards are the heroes previously released on the red cards. Batman and Spiderman are especially tough. The white cards were released in 1980.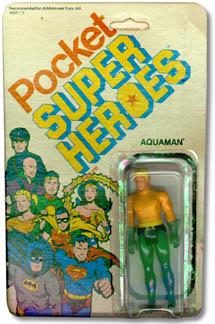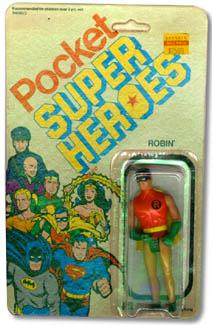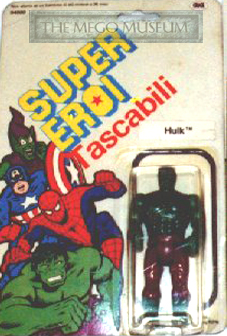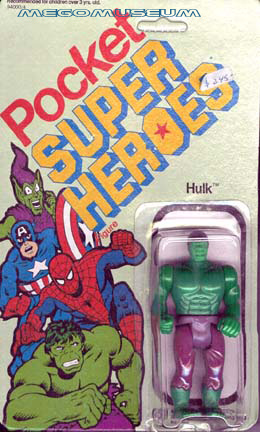 Italian Carded Hulk and US Carded Hulk.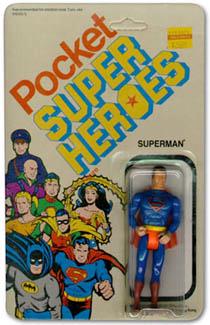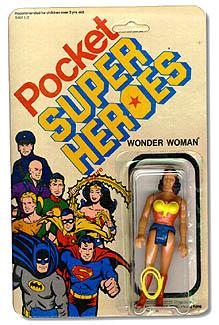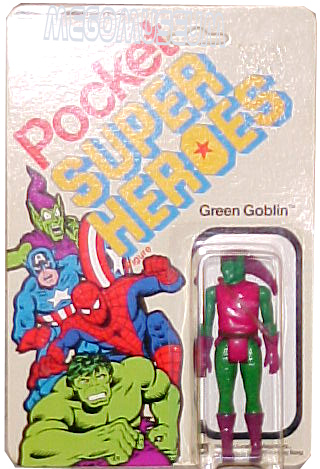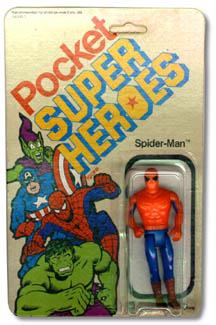 The Mego Denim Cards.
Denim or Blue Jean card checklist Superman, Batman,Hulk, Spiderman
It's not known where this series fits in, often believed to be a late release but the Spiderman variant suggests an earlier production date. It is possible that Mego created a small assortment of the figures for foreign distributors and some managed to make it into the US Market. Whatever the case may be Blue Jean Pocket Heroes (note they don't feature the word "Super" like the red and white cards do) are the toughest set to complete.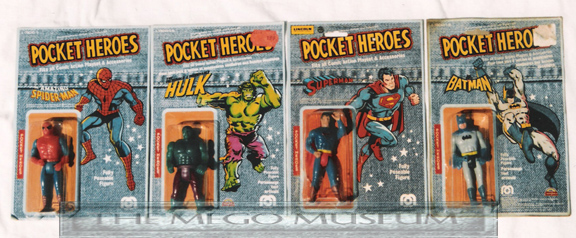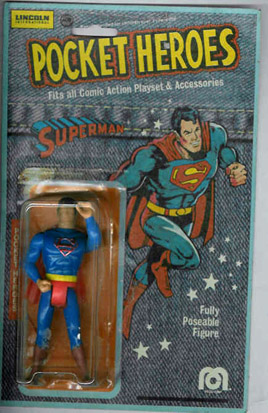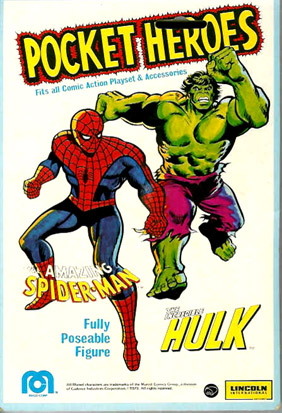 For some reason the Marvel characters are featured on the back of the DC cards and Vise Versa.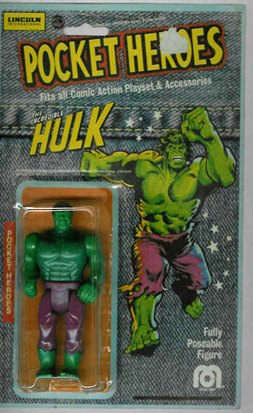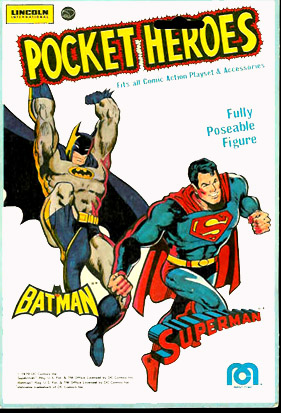 These cards were released by Lincoln (yes the Monster people) in the UK, note that the backers are reversed.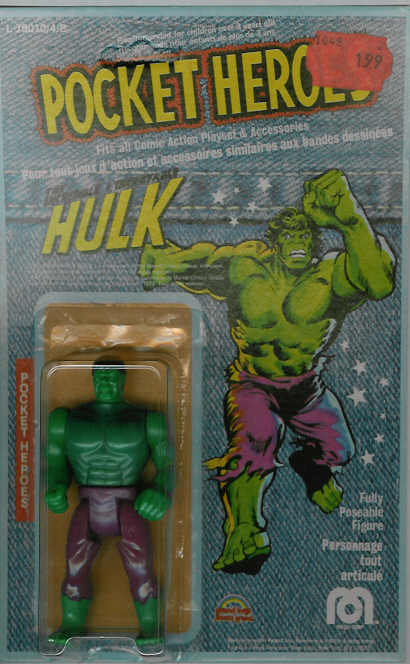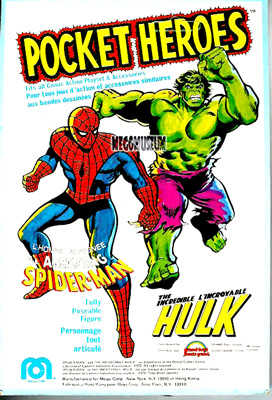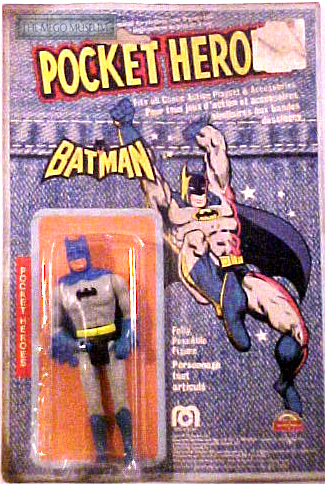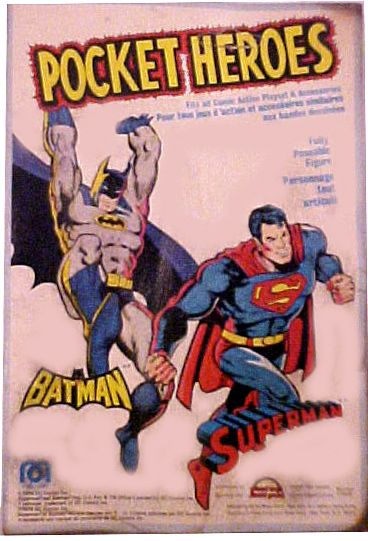 Grand Toys Canada release of the Mego Blue Jean Hulk and Batman had the correct backers.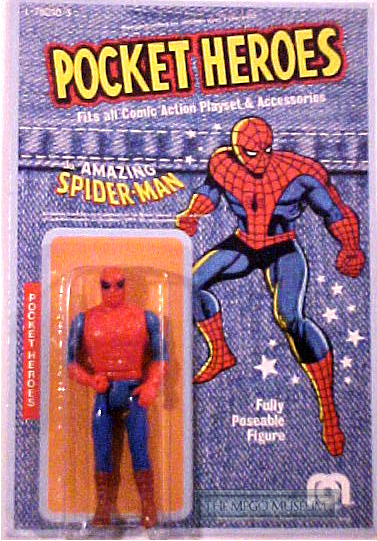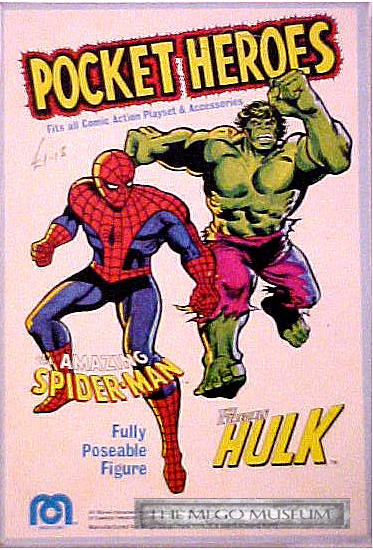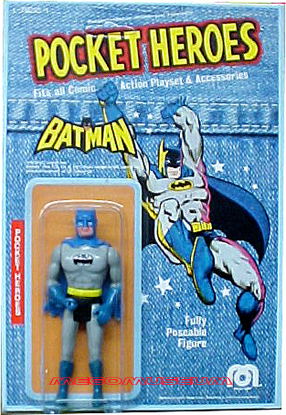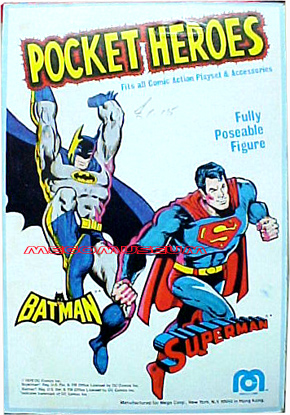 Finally! some US cards! Of course, this surfaced in the UK. Spiderman is the toughest of the set.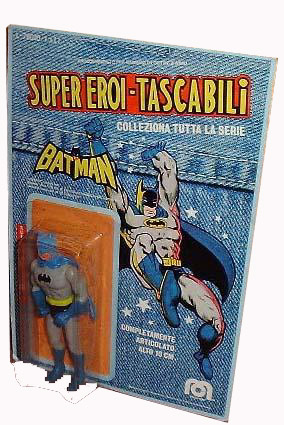 Mego Blue Jean Bats on an Italian (Gig or Harbert?) Card (courtesy of L'il Danny Miller!).
Original Catalog pages, Mego ads, comic book ads and order forms for the Mego Pocket Superheroes, click on them for a larger view

The Mego Forum Is the perfect place to discuss or buy sell and trade Mego Pocket Superhero Figures