Gestern Wars: Lion Rock figures in Germany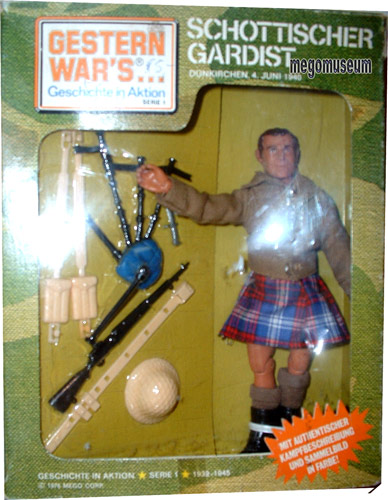 Gestern Wars translates to "Yesterday's Wars" in English and was the German release for these well made action figures.

The packaging for Gestern Wars 32 figures is very similiar to that of Italy's Polistil Releases and was likely produced at the same time

Finding figures in Gestern Wars packaging is no easy task.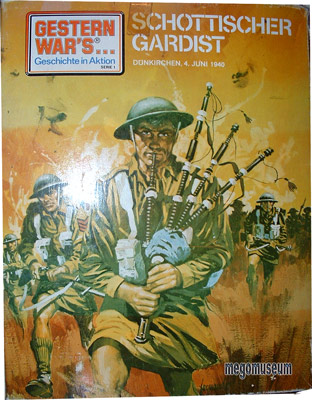 Despite calling them "Lion Rocks", the Gestern Wars packages are clearly marked 1976 Mego Corp in name only. (No Mego Logo appears on them). Each Gestern Wars character has a catalog which has their individual artwork on the cover, a detail that you wouldn't see today.

Checklist for Mego "Gestern Wars" figures

US Forces: Artic Infantryman, Fighter Pilot, Airforce Tailgunner, Marine, Combat Officer, Infantry man, Frogman.

Allied Forces : Scottish Guard, Anzac Bush Fighter, British Torpedo Captain, British Commando, British Paratrooper, British Desert Rat, French Infantry Man, French Resistance Fighter, French Legionnaire, French Tank Commander, Chinese Infantryman, Chinese Guerrilla.

Axis Forces German Infantry man, Luftwaffe Pilot, Japanese Sharpshooter, Japanese Infantryman, Japanese Fighter Pilot, German Afrika Korps, German Paratrooper, German Mountain Trooper, German U Boat Commander, Russion Infantry, Russian Officer, Japanese Officer, Italian Partesian.