Polistil of Italy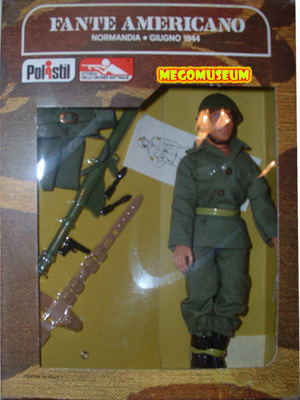 Polistil of Italy is mostly world reknowned for their diecast car lines which are famous for their quality and detail. An action figure line seemed somewhat out of their realm, but the Lion Rock WW2 Figures were a great fit seeing as they also had a high level of detail and accuracy.

The Polistil releases feature beautiful packaging which seemed to be the norm for this line. The front of the box uses Camoflague while the back features attractive individual artwork for each figure (see the pics below). A great deal of care was put into each figure with their accurate weapons and clothing. The figures scale might be explained by the fact that Mego wanted the figures to be as detailed as possible while keeping the cost down at the same time.

The packaging was printed in Italy and doesn't bear the Mego or Lion Rock Logo (however Mego is credited on the box).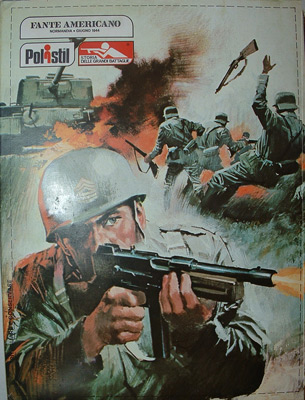 The name "Storia Delle Grand Battague" translates loosely into the "History of the Big Battles". Polistil released 32 figures into the line similiar to the French and German releases. The Polistil releases are the most commonly found today (not counting the Knock Offs) and can still be found in Italian collector's circles.

Checklist for Mego Polistil "Storia Delle Grande Battague" figures

US Forces: Artic Infantryman, Fighter Pilot, Airforce Tailgunner, Marine, Combat Officer, Infantry man, Frogman.

Allied Forces : Scottish Guard, Anzac Bush Fighter, British Torpedo Captain, British Commando, British Paratrooper, British Desert Rat, French Infantry Man, French Resistance Fighter, French Legionnaire, French Tank Commander, Chinese Infantryman, Chinese Guerrilla.

Axis Forces German Infantry man, Luftwaffe Pilot, Japanese Sharpshooter, Japanese Infantryman, Japanese Fighter Pilot, German Afrika Korps, German Paratrooper, German Mountain Trooper, German U Boat Commander, Russion Infantry, Russian Officer, Japanese Officer, Italian Partesian.




Special Thanks to Bill Kaufman and Vincent Cerbone for all the pics and information without these two, this page wouldn't exist..