Mego Store Displays Part One: WGSH
It's hard to imagine that from 1973 to 1976, the WGSH waves were all sold in these fashion. Made of lightweight cardboard, these displays were often destroyed long before there was a collector culture. Few if any, are known to exist. Below is a listing of every known WGSH display box, Future chapters will include display boxes for other lines..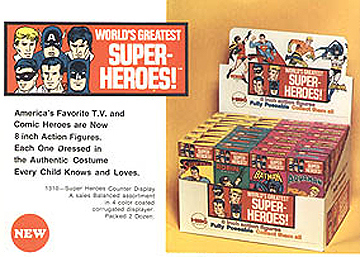 1973 WGSH Version 1
The very first display box features only the first four figures (Aquaman, Batman, Superman, Robin) in their original solid boxes. It's assumed that very few of these exist due to the fact that the WGSH line expanded quickly to add the Marvel characters.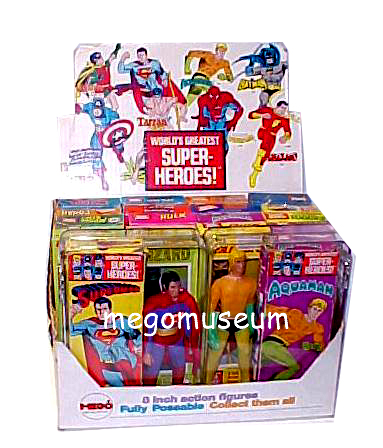 1973 WGSH Version 2
The second display box features the first four WGSH as well as new additions Tarzan, Captain America, Spiderman and Shazam. This is often thought of as the most common display box but it's merely a relative term as all Display boxes are near impossible to find.
A third display box may exist, in 1975 Mego moved Tarzan, Spiderman and Captain America into different assortments and added Green Arrow. There is no verification on this however.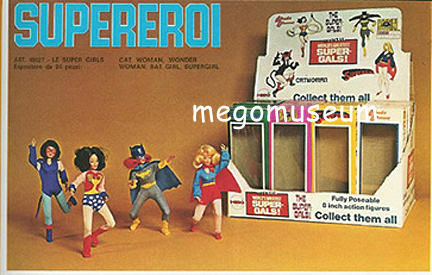 1974 Supergals Box
It's interesting to note that the Gals are all pictured in their silk screened outfits (which predate the regular suits). While only one Supergals box is still known to exist, several of the header cards have surfaced on the open market. The Wonder Woman box in this picture is white and is obviously just a mock up.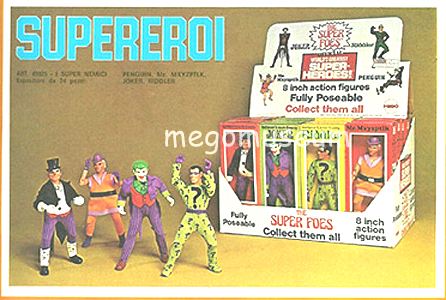 1974 Superfoes Box
The Superfoes box is another one that has never surfaced on the open market, no sales of header cards are known either.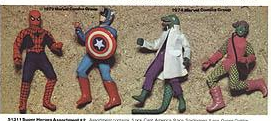 1975 Marvel Heroes Display Box
Mego created a special Marvel Superheroes Display box for this wave.
As of this reporting, no known complete boxes exist save for one orange header card that features newbies The Lizard and Green Goblin.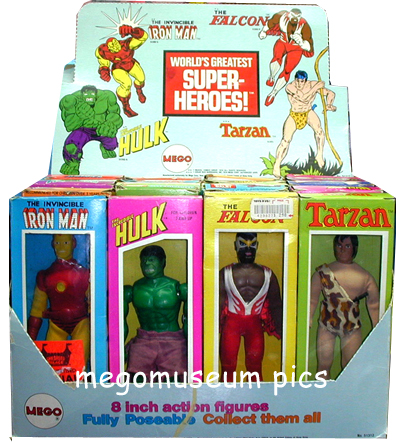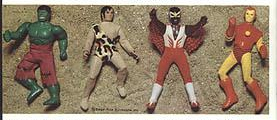 1975 Falcon Hulk Tarzan Iron Man
To hail the arrival of three new Marvel characters, Mego created this wave and included Tarzan who was a licensing "Free Agent" so to speak.
Only one box is known to have survived, although the header card for this assortment is easily found on the open market.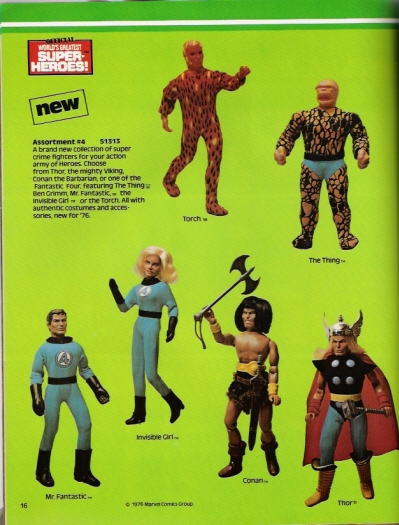 1976 Fantastic Four (with Conan and Thor)
Mego's final display box was to launch the new Marvel characters. One display boix is known to exist, it is apparantly brown in colour.
After this Mego switched the assortments to cards and the rest is history..