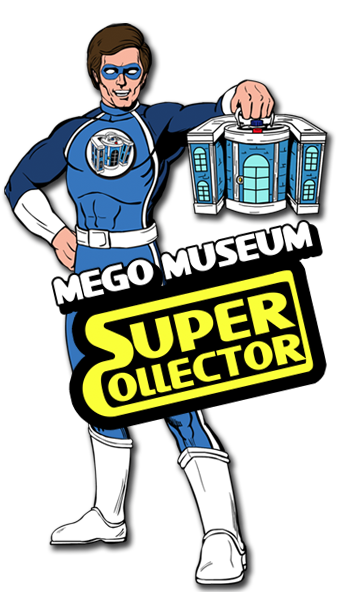 Welcome, fellow Super Collector! Here you will find vintage and modern toys and collectibles from a variety of trustworthy, experienced sellers from the Mego Museum community. You can browse all of the shops via this page, or visit each one directly. Please note that each shop handles its own
porno
orders and has its own shopping cart, so shipping will be separate on items from different sellers.
Interested in starting your own store? Find out more.
Product Categories
Odeon Toys
An exclusive to MegoMuseum stores! This set includes the following. Mego Museum Super Collector Head Boots White Belt Jump suit Chest Logo Free pack of trading cards (mixed assortment) Shipping is $3.80. This set does not include a box, body or the Megomuseum playset.
What you get in this lot: One Copy of "Rack Toys, Cheap, Crazed Playthings" $19.95 value One Brick Mantooth Action Figure MIB $16.00 Value One Copy of Megozine Issue One $9.95 value One Copy of Mego Museum 1978 REImagined $8.95 value One copy of 70s toy explosion DVD volumes one and two $12.00 value A
View More Items
The Crawlspace
CAST-A-WAY TOYS ACTION TEAM 8" ASTRONAUT ACTION FIGURE! MEGO MEET 2009 CONVENTION EXCLUSIVE LIMITED EDITION a tribute to the GI JOE ADVENTURE TEAM action figures of the 70's. Featuring flocked hair, just like your favourite action figures back in the day. BRAND NEW condition in removable Clamshell packaging. includes SPACE HELMET.
CAPTAIN ACTION & DR EVIL 8" MEGO STYLE ACTION FIGURES! NEW YORK COMICCON 2010 EXCLUSIVE BOXED LIMITED EDITIONS produced by CAST-A-WAY Toys. based on the classic Captain Action "coffin box" packaging that IDEAL packed the figure in during the 60's. Captain Action box has some corner damage. COLLECTOR'S ITEM!RARE and Impossible
View More Items
Buy High Sell Low Toys
22" x 28 1/2" Batman Vinyl Banner with metal eyelets. This is a custom made, laser cut piece made in the late 1990s.
View More Items