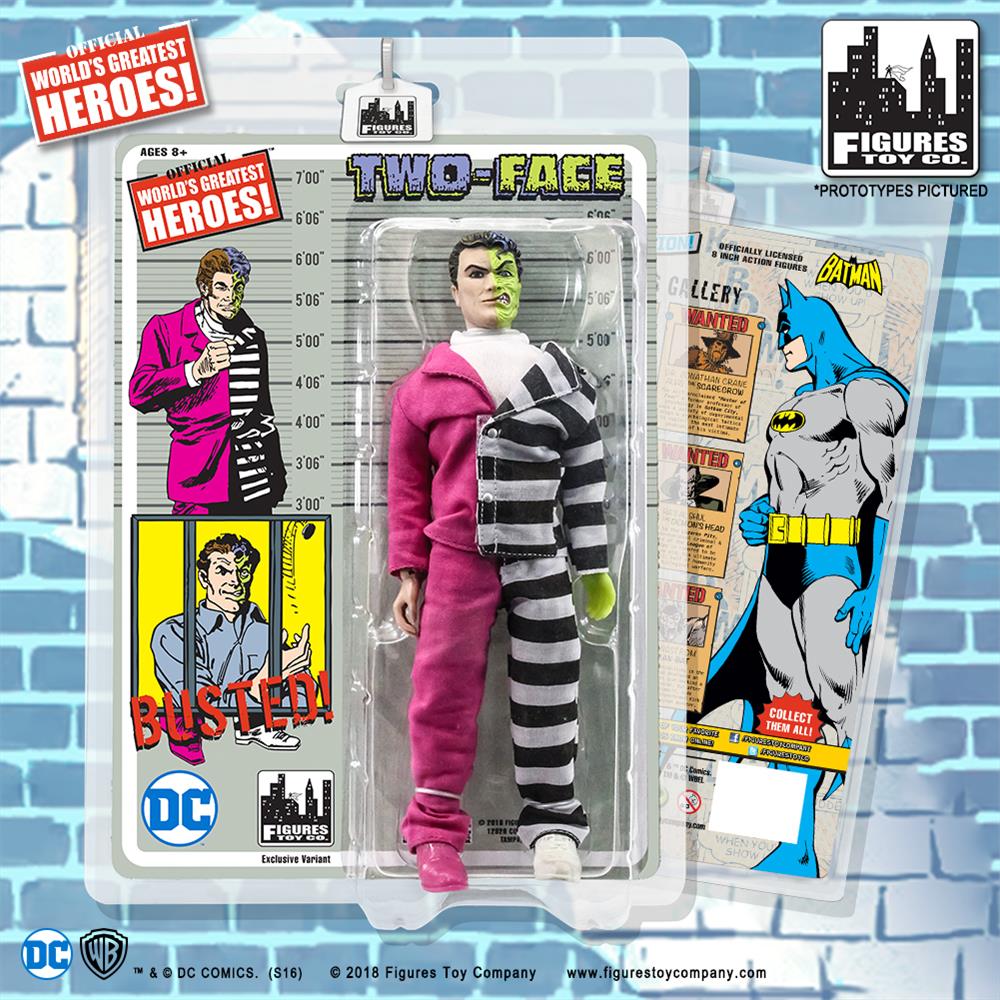 Monday. If you were to ask 100 people what their least favorite day of the week is, most would probably make Monday their answer. Well, Figures Toy Company wants to change the way you feel about Monday, because this Monday an assortment of new figures from several of their licenses arrives at FTC! Read along with this weeks #MMFTCNEWS to see what's going to be in stock just a few days from now!
First up, the World's Greatest Heroes get some help from Supergirl, as FTC is releasing 2 new versions of the popular heroine! The Supergirl From Krypton, clad in her classic blue and red costume, will join forces with the other legendary DC Comics characters that are already available. Another version of Supergirl, based on the story from Superman #123 ("The First Super-Girl") is also being released! This version features Supergirl in an orange and green costume as seen in reprints of the famous issue, and a different head sculpt than the other Supergirl release.
Two Supergirls is bad news for the bad guys, but FTC's created double trouble for their World's Greatest Heroes with two versions of Two-Face! A Prisoner variant will fit in perfectly with previously released Prisoner Joker and Prisoner Penguin figures, and the "Two-Face Strikes Again" variant will feature the diabolical Harvey Dent in an orange and green suit, with the scarred side of his face now presented in a purple shade as opposed to the green on FTC's original Two-Face figure from the Batman Retro Series.
Speaking of Batman, one of the most popular figures from his world would be none other than Harley Quinn, and an unmasked version of the iconic character is here! Previous versions of Harley Quinn have sold out fast at Figures Toy Company, and with thisbeing both a new version of her, as well as the first Harley figure at FTC in sometime, collectors might want to act fast on snagging this feisty female!
Retro figure fans can now finally turn their homes into Batman's headquarters, as Monday means the release of the highly anticipated Batman Classic TV Series Batcave playset! You don't get more retro than the Batman television show, and this playset has been patterned perfectly after everything you saw on the small screen! From a new Bat signal to Gotham City scenery, and even accessories and a Batman figure, collects will enjoy playing with or displaying Batman's base of operations for years to come!
FTC is also taking a break from all the superhero action, as they'll also be releasing a new 18 inch retro figure collection for The Monkees! The good times just got even bigger, as Davy, Peter, Micky, and Mike will once again capture the hearts of collectors courtesy of Figures Toy Company!
This coming week will be a big one for retro collectors, as this shipment is sure to send everyone rushing over to Figures Toy Company to place their orders! Don't miss out on these latest additions, and don't forget to check out all the collectibles previously released by FTC! From first time figures to tremendous variants, there's something that appeals to all kinds of collectors. DC Comics characters, Hanna Barbera's classic lineup, the iconic rock band KISS, and much more can all be yours thanks to everyone's favorite retro figure maker! For more Figures Toy Company news, become a fan of theirs on social media (@FiguresToyCo on Twitter, Figures Toy Company on Facebook/Instagram), and bookmark Mego Museum so that you can catch exclusive #MMFTCNEWS updates every Friday!