New Discoveries at Mego Like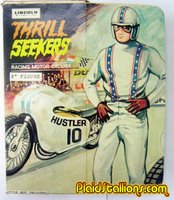 Who are the Thrill Seekers? They're a bunch of 8" Daredevils from Lincoln International, they're so fearless that they stole parts from Mego themselves and they don't care who knows it.
The Thrillseekers are one of the neater Megolike finds in recent times, special thanks to Ebay Seller
RetroToyBoy
for sharing.
Labels: megolike