Mego Paul Stanley(The StarChild)
I always believed that Paul's figure was the most static of the set. When compared to Ace's upward tilted head and expression, Peter's smirk and Gene's ummm expression Paul seemed expressionless or bored. Also, there was the mystery of the molded hair underneath the rooted hair. What was that all about? It wasn't until recently that I found out that Paul Stanley's head was actually first made for Darrel Dragon, better known as "The Captain" from The Captain and Tennile. Everything made more sense now. I'm sure if our Mego artists actually made a head for Paul they would've included his trademark puckered up lips (because he's always looking for a KISS). As it is though, the Paul figure still looks pretty good. It's amazing that the general face structure was enough of a match to produce a good likeness once painted up with the star, whiteface and topped off with black curly rooted hair. To be complete Paul has to have: The bodysuit with silver trim around the open chest area. The suit also should have two glued on silver foil covered vinyl stars on each leg and a band of foil vinyl around the left leg (and sewed into the seam of the suit). A silver foil covered vinyl belt with metal snaps in back. Black fabric arm cuffs with two silver foil covered vinyl stars on each. Both arm cuffs have tassels hanging off the bottom. Black vinyl leg cuffs. The leg cuffs have small chains attached to the top looping around the cuff .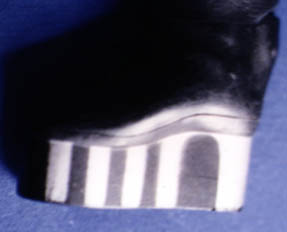 Black boots with the stenciled stripe design that Paul has on his boots. Some do not have this stencil work.