MEGO BATCOPTER AND MEGO BATMOBILE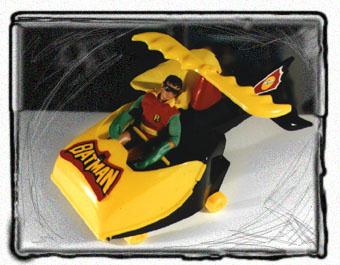 The Bat Copter is extremelly endearing. It's a very toy-like toy. Bright colors and big shapes that show off the dynamic duo in a, ...well, in a DYNAMIC fashion!
I also like the fact that it's really not trying to hard to be a helicopter. I mean, look at that fat yellow front, with the bars that hold the figure in. It's a bumber-car! Build it to scale and put pedals in this thing and you are THE COOLEST kid on the block!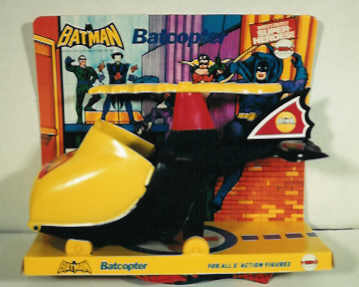 The Bat Copter in it's open display card, one of the three types of packaging.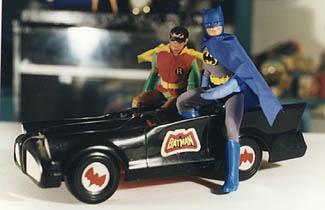 Last but not least, is the Batmobile. It has it's own clunky charm, but I wish they had worked in some more detailing somewhere. It makes a great sound racing across linoleum floors or patio tiles. It's very sturdy, as well, which is good. My friends and I ran mine all over creation. Turns out the Batmobile can fly, too! And float! And dig itself from under sand and heavy rocks! Didn't yours?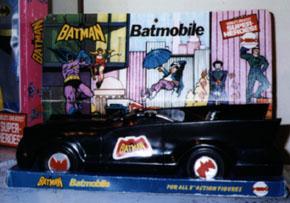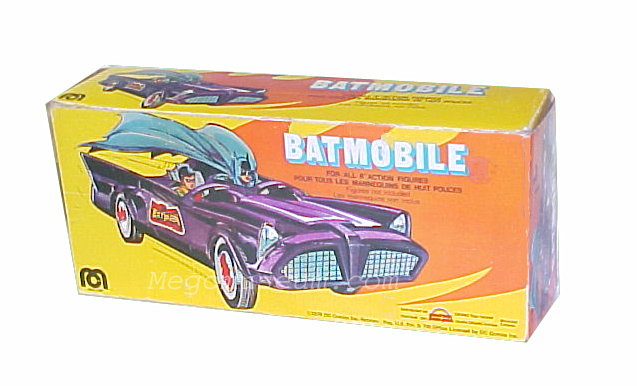 The stylish art box is the most commonly found of the three packaging variations, this is a Canadian Grand Toys release, courtesy of Palitoy.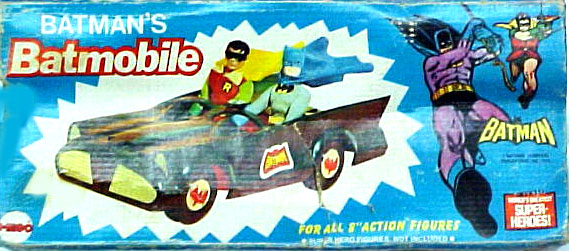 The Bat Mobile photo box is one of the toughest, courtesy of Palitoy..
Original Catalog pages, comic book ads and pages from the mego repro art book for the the Batlab and Joker Mobile, click on them for a larger view