THE Mego SUPER SOFTIES
Unknown to many, the Super Softies were a 1974 attempt at exploiting the WGSH license to the fullest.
Released for only one year, MIB examples are harder to find than many other Mego products and value can run into the hundreds. All Supersofties were shipped with an extra piece of cardboard to give the appearance that they are solid boxes, this piece of cardboard (the same colour as the box was to be removed at retail. In nearly twenty years I have only found one intact "Solid Boxed" Super Softie (a Superman).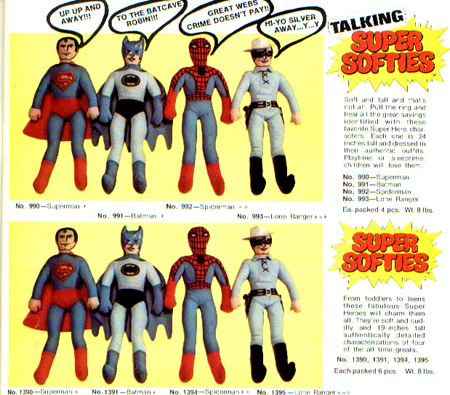 This is the catalogue spread from 1974, the sole year of release for the Super Softies which according to Neal Kublan (Mego VP of Rand D) "were a bomb", Mr Kublan noted that very few actually shipped to stores, so if you have them boxed, consider yourself lucky.
The Super Softies.
Click on a head to look and HEAR from this unique bit of mego history. Each Mego Super Softie Page has actual wav recordings of each doll talking
Pics and Scans by Brian