Re-Mego: EMCE Toys Bio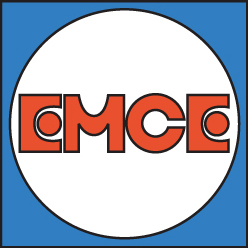 Emcee toys were founded by Paul "Dr.Mego" Clarke and Joe Sena of Spherewerx Micromedia. Their philosophy differs from other companies in that they don't simply want to bring back megoesque action figures, they want to bring back Mego, period.
The EMCE design aesthetic is a good example of this philosophy as their output retains the look and feel like original 1970s Mego product. Packaging for many of the EMCE product lines has been done by Harold Shull, former art director at Mego.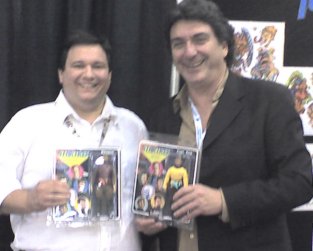 EMCE is also the only company to have a working relationship with former Mego president Marty Abrams and his face appears on many of their products.
Licenses
Working with Diamond Comic Distributors inc, EMCE's first product line was the classic Mego Star Trek line which were marketed as "retro cloth" figures. Initially the line consisted of reproductions of the most popular characters but EMCE soon expanded the line with new characters that had the look and feel of vintage mego.
Characters such as Khan, Sulu, Checkov and a TV accurate rendition of the Gorn were very well received by collectors and made people notice EMCE.
EMCE and Diamond also collaborated on a reissue series of Planet of the Apes figures. Four figures were produced which were quite faithful to the originals.
Night of the Living Dead is EMCE's solo license, a series of figures based on the classic George Romero zombie film. Two series have been announced
In July 2009, Mattel toys announced it was reviving the "World's Greatest Superheroes" line of 8" Superheroes. While this revelation was truly a shocking one for Mego collectors, few people were surprised that Mattel was working with EMCE to retain the Mego design aesthetic when modernizing the line.
The intitial offering includes Superman, Lex Luthor, Green Arrow , Green Lantern and Sinestro and Mattel has promised two more waves. These figures have all been produced under the careful eyes of Sena and Clarke in order to retain that wonderful "Mego Feel".