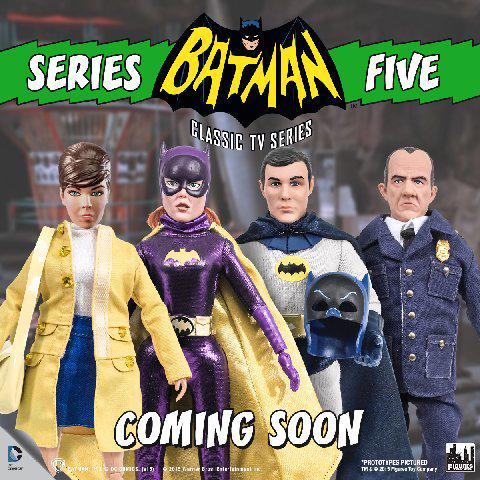 Can it be?  Could Gotham's favorite female crime fighter and the chief of police be on their way?  The answer is a resounding YES, as Figures Toy Company prepares to bring collectors BATMAN CLASSIC TV SERIES 5!  Fans will be pleased to know that this latest set based on the Caped Crusader's classic television show will consist of BATGIRL, BARBARA GORDON, CHIEF O'HARA, and '66 version of the REMOVABLE COWL BATMAN!
The demand has been high, and the wait has been long, but Bat-fans around the world will be pleased to be getting the first ever retro figure based on Yvonne Craig's classic portrayal of Barbara Gordon and her alter ego, Batgirl!  The Barbara Gordon figure will have a molded hairstyle, while Batgirl gets realistic rooted hair coming out from under her cowl!  Speaking of cowls, Batman is back in this most recent series, as an Adam West-inspired Removable Cowl Batman is coming your way!  Lastly, man in charge of Gotham's police force, Chief O'Hara, makes his retro figure debut!  Figures Toy Company sculptor Danny "The Farrow" Anniello designed the likeness for each figure, and they will be dressed in detailed cloth clothing inspired by their outfits direct from the TV show!
Figures Toy Company expects you to be able to add these must have heroes to your collection in late 2015!  For more information on Batman Classic TV Series 5 figures, make sure to follow Figures Toy Company on social media!  Be sure to check out all of the other amazing action figure products they have to offer on 
www.figurestoycompany.com
   and for exclusive breaking news every week, use the hashtag #MMFTCNEWS on social media to keep up to speed on all your retro figure needs!