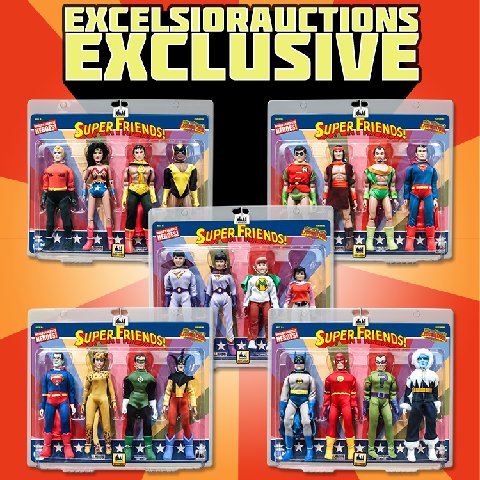 Good news for fans of Figures Toy Company's Super Friends series! Your favorite Friends have been brought together in five limited edition multi packs, available exclusively through Excelsior Toys!
Each series of Super Friends has been grouped together in limited edition packaging, allowing collectors to claim a complete set in one package! Each series features 4 figures based on Hanna Barbera's take on classic DC Comics characters. Legends like Superman and Batman, as well as newcomers like Samurai and El Dorado, and villains like Captain Cold and Toyman have all been made available separately in the past, but this is your first chance to get complete set multi packs!
Aside from the Complete Series sets, a fifth set contains your favorite Super sidekicks! Wonder Twins Zan and Jayna (who were only available in a 3 pack with Gleek) and recent releases Wendy & Marvin have also been paired together in an exclusive 4 pack!
These sensational sets will only be available throughExcelsior Toys, and you can find them on ebay under the username excelsiorauctions, or just follow the links directly from Figures Toy Company's web site! While you're on Figures Toy Company be sure to check out other Hanna Barbera favorites like Scooby Doo and Jonny Quest, as well as a host of characters from the DC Universe, and much more! Make sure to check back here next Friday for another exclusive update, and keep up on all the latest retro figure info by using hashtag #MMFTCNEWS on social media!