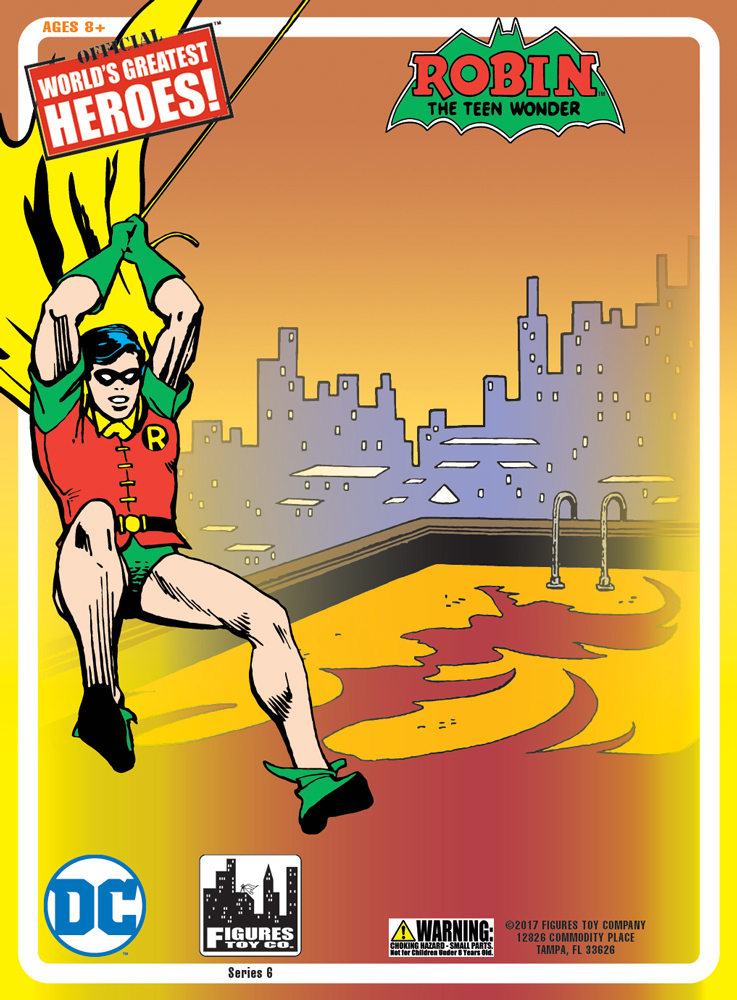 Look who's set to swing in from Gotham's rooftops and land at FTC! Hot on the heels of his previously teased arch rivals The Joker and Harley Quinn, an all new figure of ROBIN, THE TEEN WONDER is coming from Figures Toy Company!
Batman's beloved sidekick is a skilled superhero in his own right, and has enjoyed many solo adventures in addition to his time as the Dark Knight's trusted ally. With a new Batman Retro series of figures in the works, FTC found it fitting to make sure that Robin was well represented with a new figure design! Only the package art is available for public consumption right now, but you can be sure that Figures Toy Company will be sharing sneak peeks at the Teen Wonder as soon as they're able to!
FTC has a lot in store for collectors in the near future, but there's a whole lot that's in stock now! Everyone from Superman to Scarecrow can be found in their Super Friends line, while some of Hollywood's famous face lend their likenesses to the Batman Classic TV Series line of figures! All of these and more are available at Figures Toy Company and are waiting to join the rest of your retro figures! Be sure to check out their wide selection of figures from DC Comics, Hanna Barbera, and the world of wrestling, and stay tuned to Mego Museum every Friday for a new edition of#MMFTCNEWS that will give you a glimpse at future FTC releases!
Discuss this on the Mego Museum Forums!
Like the Mego Museum on Facebook