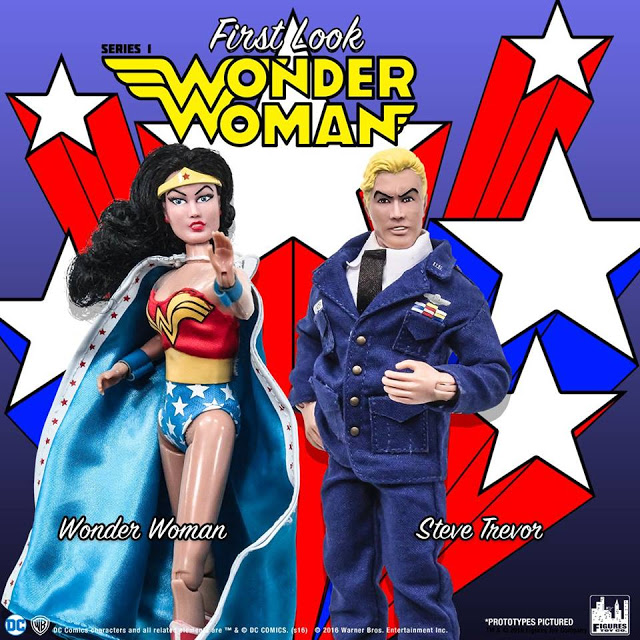 This April, a world of wonder awaits you at Figures Toy Company! One of the most powerful heroes in the history of DC Comics is set for an all newaction figure series, and she's bringing a few friends (and enemies) with her! Prepare yourselves for Wonder Woman Series 1!
While these figures have been previously announced, FTC has finally given a concrete release date for the legendary heroine and the supporting characters that make up the first figure assortment. FTC's new Wonder Woman features an all new head sculpt for the Amazon princess, and she's joined by three familiar faces from the pages of her classic comic book! Longtime companion Steve Trevor is here to help, just as he always is! That's a good thing for Wonder Woman, seeing as how this set also includes her arch nemesis Silver Swan! Lastly, Wonder Woman's alter ego of Diana Prince will also be available in FTC's retro figure format. That's quite the lineup to kick off her first series of figures!
Wonder Woman Series 1 arrives in April, and more #MMFTCNEWS will follow in the coming weeks about what else you can expect in stock this spring. Until then, you can find plenty of items to satisfy your collecting urges by going to www.figurestoycompany.com and seeing what's in stock! Recent releases like the Early Bird Edition Radley Crown (from theDynomutt series) and Mego box versions of your favorite DC Comics characters will satisfy your collecting urges until then! Make sure you're following FTC on social media (Facebook/Instagram, and @FiguresToyCo on Twitter) for frequent updates on their offerings, and look for exclusive news to break each and every Friday here at Mego Museum!