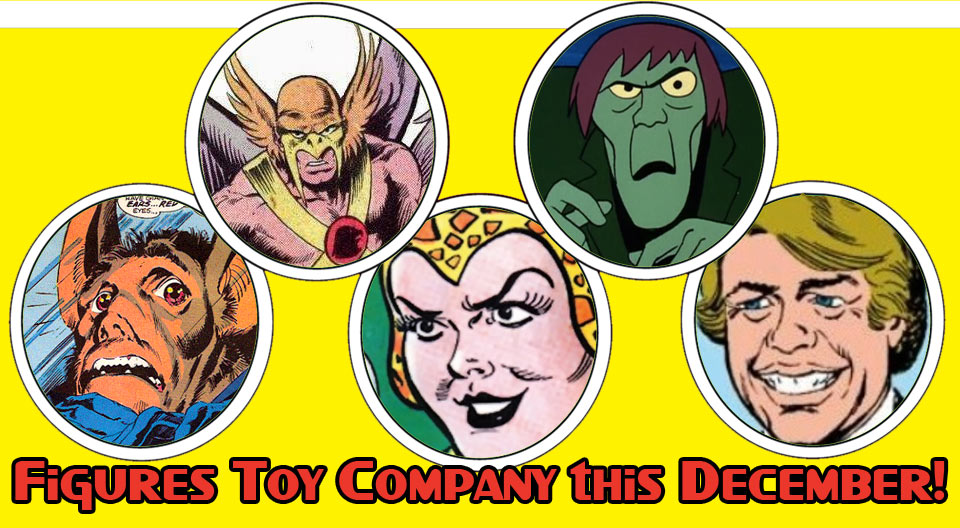 We're moving full speed ahead into the holiday season, and Figures Toy Company is opening up the floodgates for a whole bunch of new figures that will arrive by the end of the year! From famous presidents to a Cheetah and a Creeper, FTC will have enough new stock to satisfy collectors of all kinds! Here's what's due in December at www.figurestoycompany.com:
A variety of US Presidents will be available for the first time ever at Figures Toy Company. From the present day to the distant past, many historical figures are now going to be FTC retro figures!
From the Batman Retro Series, new figures of The Joker and Robin will be released, as well as the first FTC retro figure of Man-Bat!
Collectors can create their own "Jeepers!" moments with Creeper from Scooby-Doo, as well as a Scared Shaggy variant figure!
He's been one of the most requested retro figures since FTC acquired the DC Comics license, and now he's coming in both Super Powers and retro packaging. Finally, FTC fans will be able to get their hands on Hawkman!
Another nemesis for Wonder Woman will arrive in stock this December, as Cheetah is released as a part of the WW line.
And lastly, an all new Nightwing puts the exclamation point on this long list of releases!
We're now in November, so these releases will be arriving before you know it! You can bet that #MMFTCNEWS will be sending out the signal as soon as all of this stock arrives! For those who have already started on their holiday shopping, be sure to visit www.figurestoycompany.com for plenty of items that will look good under the Christmas tree. Figures Toy Company will also have previews and in stock alerts on their social media, so if you're not already a fan, be sure to follow them on all forms of social media (and if you are a fan, spread the word)!
Subscribe to the Mego Museum newsletter here

Shop for Mego on Ebay and each click supports us a little bit, thanks!