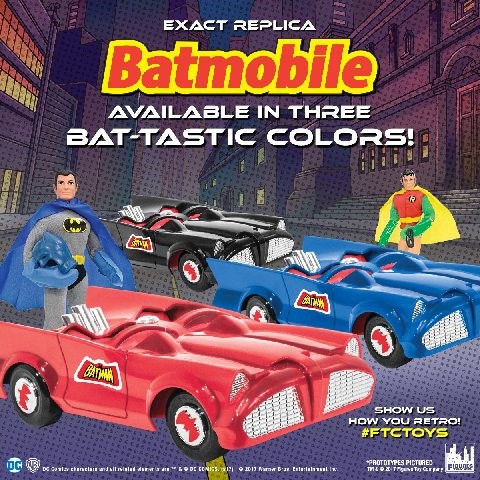 Criminals of Gotham City beware, because Figures Toy Company is making it easier for the Dynamic Duo to patrol the streets!  Bat-fans have been waiting for this day to come, and now there can be much celebrating, as the popular toymaker is set to release an Exact Replica Batmobile for their 8 inch retro figures!
Not only is this Batmobile a recreation of the original Mego release, but there will be THREE versions of the Caped Crusader's famous car!  Figures Toy Company will be producing the Batmobile in black, blue, and red color schemes.  The Batmobile can fit two retro figures, which means Robin can ride alongside Batman (unless you'd prefer Batman to have another partner on some of his adventures!).  Everything remains the same as the 70's Mego version, right down to the decals!
There will be more information in the coming months regarding the release of Figures Toy Company's Batmobile, and collectors are not going to want to miss their chance to pre-order.  This is going to be one of the hottest releases from Figures Toy Company this year, so make sure you're up to date on all the information by using hashtag #MMFTCNEWS to see the news as it breaks!  For more opportunities to relive the good ol' days of Mego, visit Figures Toy Company for releases like the Mego figure re-issues in window box packaging, or enjoy some of the new releases like Scooby Doo and Jonny Quest characters!  Make sure to come back next Friday for more exclusive news from Figures Toy Company, courtesy of FTC and the Mego Museum!
Figures Toy Company

Figures Toy Company specializes in manufacturing kiss action figures, Batman action figures and other retro mego…