For the month of October we feature lilbrosj66 – aka Gary Cornelia……..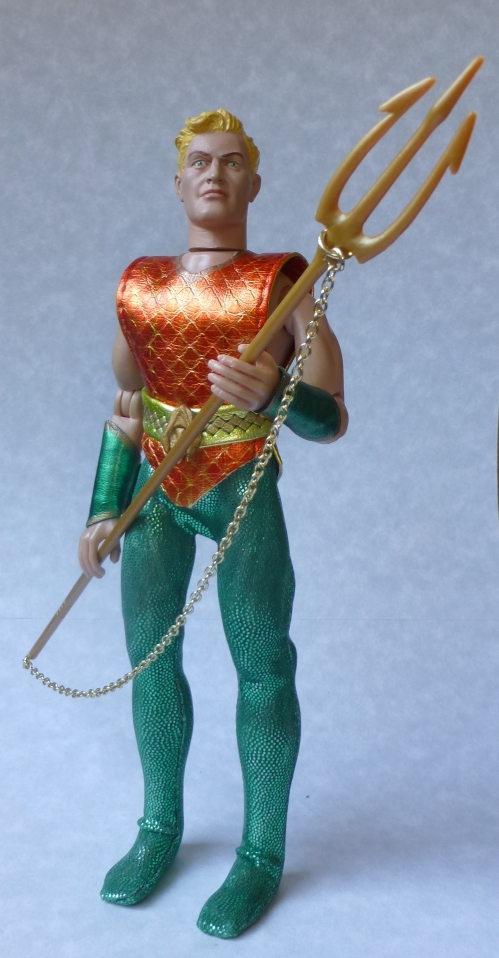 Name: Gary Cornelia
Any Personal Info you are willing to share: (married? Kids? Pets? Occupation? Where from? Other hobbies,/Interests?)
I was born and raised in Sidney Montana which is a small farming community in the eastern end of the state. After a 13 year stopover in Portland, Oregon where I worked with Developmentally Disabled adults, I moved to San Jose, California in 1999 where I live with my husband of 8 years. We have no kids. I have been working for a hospice agency for the last 7 years where I do a educational in-services for hospitals, care facilities and community organizations. I also am fortunate enough to get to meet with families that are facing end-of-life issues and really feel blessed that I am able to work with them and help them during what is probably the most difficult time in their life.
How did you get started collecting Mego?
I guess I have my mom to thank. Her and the Wards Christmas Catalog. I have been a huge Planet of the Apes fan longer than I can remember. I still have a picture I drew of Zira, Cornelius, Taylor and Nova when I was about 6 years old. Anyway, I loved the characters, saw them in the Christmas catalog and that was the start. My mom got me the entire set of figures for Christmas and my birthday through the catalog. I still have my original Zira.
What is your favorite original Mego figure and line?
Without question it has to be Planet of the Apes and of all the figures, Zaius is still my favorite from that line. The sculpt on him was, and still is, one of the most detailed and lifelike of that line. Not sure what happened to the Gorilla.
What is, in your opinion, the biggest "hole" in Mego's original lines. (What figure or figure line is missing that should have been done)
There were several characters that I would have loved to have seen as a kid. More of the POTA figures for sure. There were so many great figures that could have been made from the other POTA movies! As for the WGSH, Green Lantern and more of the "Foes". Cheetah would have been great. And though I was older by this time, I think a full series of Dallas figures would have been great! I'm probably in the minority here but I'm sticking to that!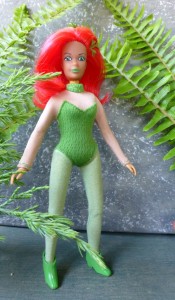 Was it one of these holes that motivated you to start customizing, or something else?
I don't know that it was necessarily a "hole" in any line that caused me to start customizing. I remember finding my Zira figure in a box after many years and figured I'd display her with a couple other things I had. Once she was out, I got the itch to start adding to the collection. I guess it was a way of reclaiming the joy of being a kid again. I ended up with some spare parts and it just kind of snowballed from there. I have always been artistically inclined and it's a great way for me to "recharge" at the end of a busy week or even a day. If I need to zone out or relax, I start working on a figure.
How do you think customizing affects the mego collecting hobby?
I think it definitely energizes it. The different companies out there have seen that there is a demand for new stuff and parts to customize with and new lines. Most of us would have never thought we would see the day when these figures were so popular again! With the new figures coming out and the vast number of really amazingly talented customizers out there, I think we are seeing some great new stuff and I hope we can all keep it going for years to come!
What was your first custom – and please provide a pic if you have one.
I don't recall if I did a female orangutan first or Batwoman. I'm thinking it may have been Batwoman?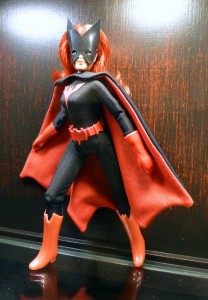 How did it come out? Looking back, would you do anything differently now?
I honestly still really like both of them a lot. For my skill level and knowledge of customizing at the time, I'm pretty proud of them. Batwoman is still on display in my Mego Room right above my computer and the Orangutan? She is living in New York City at the offices of Sesame Street. Seriously. She's living the good life in the Big Apple!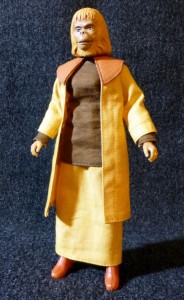 How long have you been customizing, and what have you done/learned that has improved your customizing skills?
I've been at it for about 5 or 6 years now. My sewing skills have improved and so has my painting. I've gotten really good at making my own patterns for clothing and costumes. I've learned tricks that really speed up the process as well as techniques and materials that, I hope, maintain a traditional "Mego" feel to the figures I do.
What resources make it easier for you as a customizer? The recent explosion of offerings by Cast-A-Way, EMCE, FTC, ZICA etc. have given customizers more options than ever. Do you have any favorite go-to pieces – a particular body, accessory, etc – that you use on a regular basis?
Wow. Where to start? I think the array of resources out there is just mind boggling. From boots to bodies. Gloves. Heads. Tons of accessories. As for a favorite "go-to", I'm pretty traditional so I will always try to find a good used original Mego body to start with. Male or Female. I have used some of the other brands as custom fodder, and for the most part they do the job just fine but I just really like the originals! Mego knew what they were doing with the 8" bodies! I do most of my own clothing and costumes. I'd be lost without my sewing machines. My personal favorite material to use is Plasti-Dip. I have used it to make gloves, to cover gloves and boots, make belts, masks, etc. It just sort of ties the whole custom together and, again, gives it a traditional "Mego" feel.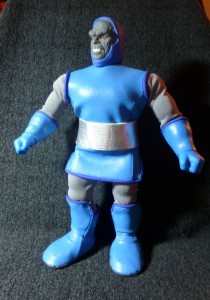 Do you have a favorite custom you've done and do you think it's your best work? If not, what do you think is your best work? (if you have pics of these customs, that would be great!)
Cornelius from the animated Return to the Planet of the Apes. He was the second custom I did from this series a few years back and still remains my favorite. Sadly, I sold him, and though I don't regret a whole lot, I do regret selling him. Hindsight.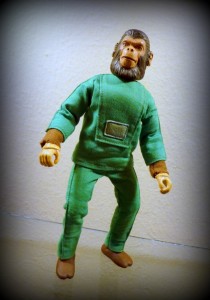 Why do you choose the projects you choose, and what is on your "to do" list in the near future?
Sometimes I get motivated by something I'm watching on TV. DAREDEVIL is a good example. I got hooked on the Netflix series and had to move him to the top of my list. I read a lot of comics also and get inspiration from them. I have several more figures in various stages of being done now. Next up will be another character from Return to the Planet of the Apes and a Red Skull custom to add to my MARVEL shelves. After that I have a project in mind that is going to be a big undertaking but that I think will really put a smile on people's faces! I'm excited for that one and can't wait to be able to share it with the other members!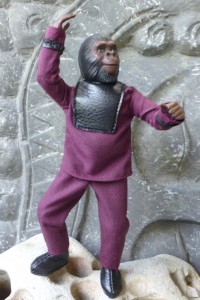 Any tips or words of customizing advice to new customizers?
Do what you love and practice, practice, practice. If you make a mistake or mess something up, its not the end of the world. Take a break, take a breath and just try again. Most importantly, have fun with it!
What do your family and friends think of your Mego custom work/hobby?
My friends and family are very supportive. They see the massive collection I have (over 250 figures) and are kind of speechless. My husband? Another story. He is very proud of me and really appreciates my artistic abilities but would love nothing more than to have an actual working spare bedroom instead of the figure mausoleum that I have going now. Every once in a while, he will move one of them or hide them just to mess with me. I can immediately walk into the room and know something is out of place but it's a game to him. We have fun with it. I have found Spider-man in the shoe closet. Storm in the crisper drawer. He gets pretty creative. I guess it's his way of participating in my hobby.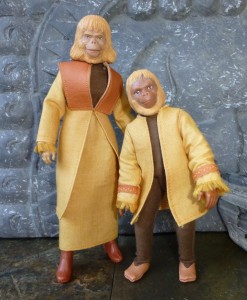 Thanks for sharing Gary.  Your work is fantastic and we are looking forward to seeing more – EH