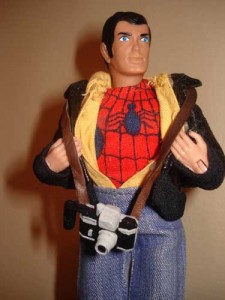 For the month of October we'll be highlighting the work of Derek Combs, aka Megospidey. We originally interviewed Derek in 2007, and thought it would be interesting to catch back up with him.
Derek's original interview can be found here: http://www.megomuseum.com/custom/derekcombs.shtml
The latest on Derek and his customs can be found in the following interview: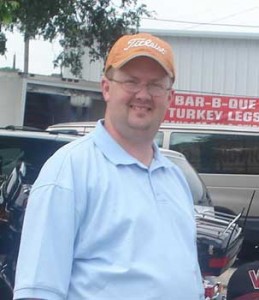 EH: Since your original interview in 2007, any new updates on the home/career/personal front? Family addition(s), one millionth parishioner saved, etc?
DC: I suppose the biggest update is my driving and dating 16 year-old -who -thinks-he's-25-years-old son. He certainly keeps me and my wife hopping. But on the flip side, he scored a 32 on his ACT test the first time taking it as a Junior. Can anyone say free college education? I am still ministering at the same church as I was 4 years ago. No where near my millionth salvation, but that is certainly a worthy goal!
EH: Looking back, your body of work was pretty heavily slanted toward Marvel characters, which isn't too surprising given your Megospidey handle. However, you've been sliding some DC characters into the mix with great results. What finally got you around to doing those?
DC: While I love and will always love Marvel characters (especially the world of Spider-man), DC has some classic characters that translate well into 3D Mego form. Superman, Batman, Shazam, Aquaman – they all have such wonderful suits and looks to them. Some of the most expressive Mego scale heads available are also DC heads. And even though I have somewhat established a reputation for being a Marvel guy, I did read Superman and Batman comics growing up. I suppose those early 70's images have stuck in my head through the years and call upon me to make them as Mego action figures.
EH: Your Scooby Doo line was pretty epic, and the early shots of your Booberry, Frankenberry, and Count Chokula are very promising. These are a great choices for customs; what made you think of doing them? Since it's Halloween season, could we trouble you for the latest group shot?
DC: In our area the Monster Cereals only show up during Halloween. Last October or November I was eating a bowl of Count Chocula and looking at the box thinking, "I really don't like this new look." That sent me to the internet looking for pictures of the originals, and that led me to think about making them as customs. One of our members, StrangeVisitor, encouraged me to do so and that was all I needed. These updated pictures are the prototypes with Anthony's (The Toyroom) uber-cool backer cards. I am planning on bringing several sets and individual figures to MegoMeet 2012 for sale as well as donating one set for the customs auction.
EH: Those are FANTASTIC!! They capture the spirit of the characters perfectly. Anything else 'off the beaten path' in your future plans?
DC: I've been commissioned to make Dr. Syn alias The Scarecrow for a member at the museum. I'm also planning on making an unmasked version Captain America. Most of my time, however, between now and next Summer will be taken up with the Monster Cereal guys.
EH: Getting back to Marvel, you've added quite a few characters to your stable. Your earlier work had an almost factory Mego vibe, like your X-Men for example. Your more current figures, while still keeping the Mego feeling, have definitely evolved as evidenced by your MJ, Black Spidey, Venom, etc. Do you think your style will remain as it is now, or will your figures five years down the road look a lot different?
DC: Whenever I make a figure for myself, I study the artwork as much as I can to notice any and all details of the suit, face, body style, accessories, etc. When I begin work on a new figure, my goal is to make it look as much like the artwork as possible. Most of the time that means it probably won't look very Mego-like when I'm finished. Most superheroes are too muscular and cannot justifiably be made in the Mego-style and still look like the artwork to me. A few do look better as a "what Mego would have done" style, and if so, I will steer the look in that direction. So to answer the question, I will probably be making BOTH styles still 5 years from now.
EH: With the growing number of superhero movies recently released or in production, do you expect to see more customs based on the theater interpretations? So far, customizers have mostly stuck to classic comic book versions.
DC: From what I read on the boards, most of the guys in our age bracket prefer the suits and looks of their childhood. While the newer, updated looks are cool, they simply cannot replace what is etched in our minds. What's interesting is that most of these characters have artwork that predates us from the 40's-60's, but the 1970's art seems to be the look we prefer. I don't see that changing – ever.
EH: Shifting gears a little, a lot of current discussion in the Mego community revolves around the reMego offerings of companies like EMCE, BBP, Mattel, etc. From the standpoint of custom fodder, have you been able to take advantage of any of these lines for any of your projects?
DC: I will use anything and everything I can get my hands on if it will meet my custom needs. For example, my MegoMeet figure last Summer, The Shadow, featured a Cast-a-way overcoat and hands, Doc Mego pants and hat, EMCE body, vintage Mego Wizard shoes, CTVT socks, and a TJ's Toys white shirt. The only line I haven't been able to utilize anything from so far is the Mattel line. Perhaps someday a need will arise and when it does, I will not hesitate to use it.
EH: It's always a pleasure talking customs with you Derek, thanks again. We look forward to seeing more of your projects. For a look at Derek's more recent work, click on the gallery below.