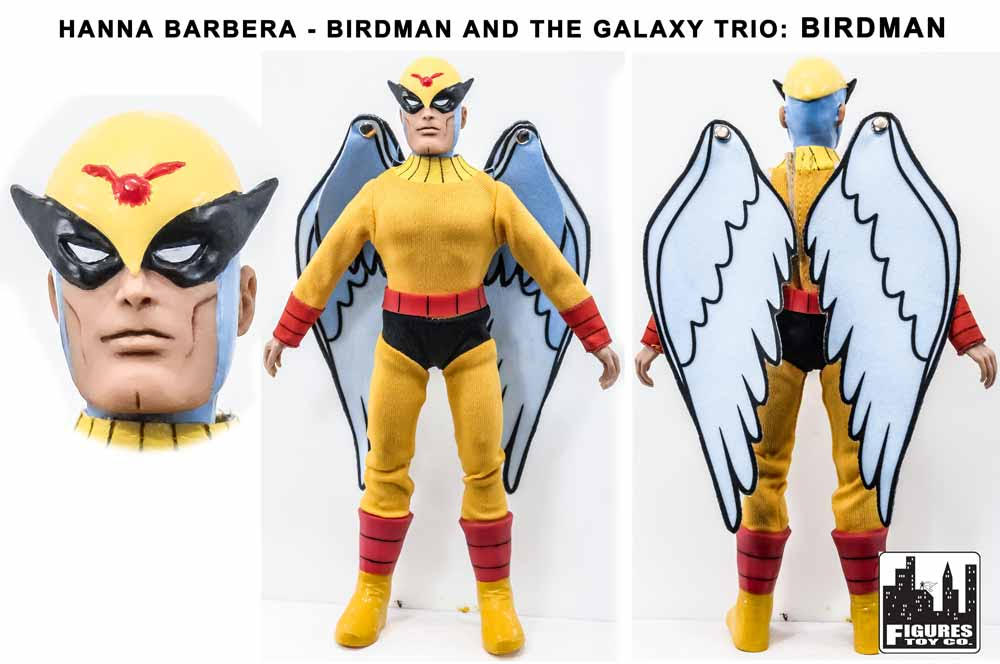 Viewers watched this winged warrior every weekend, and now every day can feel like Saturday morning thanks to Figures Toy Company! Another classic Hanna Barbera character is coming soon to FTC, and he's bringing a few friends with him. Birdman will soon be here to fight FEAR, and he'll be joined just as he was on television by the Galaxy Trio!
Younger fans might only recognize Birdman from his hilarious antics on Adult Swim's Harvey Birdman series, but back in the day BIrdman was front and center on the Saturday morning TV lineup. Every week, he'd face off with foes like Constrictor and Doctor Shark, fighting for justice with his trusted eagle ally Avenger! Those TV memories are now being turned into FTC's latest toy line, one that collectors young and old can appreciate! Besides Birdman, the crew of the Condor One will also be available, as Galaxy Trio members Vapor Man, Meteor Man, and Gravity Girl get the retro treatment from FTC! From a short tenure on television to becoming immortalized in plastic…not a bad deal for all of those heroes, huh?
Figures Toy Company doesn't have a set release date for Birdman and the Galaxy Trio, but you can be that there will be a breaking #MMFTCNEWS update as soon as they hit. However, FTC is expecting a new assortment of items in stock later this month, so make sure you're checking www.figurestoycompany.com for all the latest arrivals! There are plenty of your favorite faces already made as figures that are available now, and if FTC has anything to say about it, they'll be joined by plenty of their friends in the coming months. For now, stay tuned to FTC's social media for up to date info, and come back to Mego Museum next week for another exclusive #MMFTCNEWS update!

Shop for Mego on Ebay and each click supports us a little bit, thanks!
Discuss this on the Mego Museum Forums!