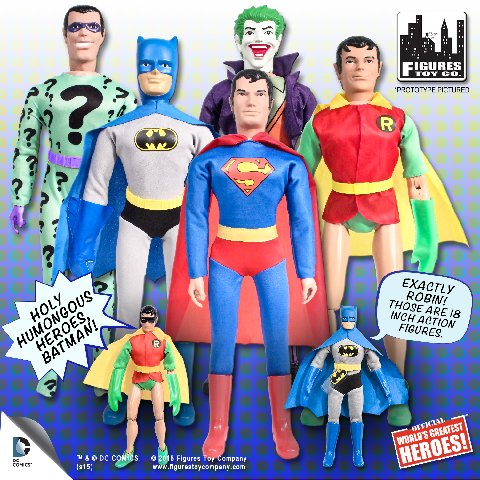 It's time to clear some extra space on your toy shelves, because Figures Toy Company has some BIG news this week! The retro action figure maker is proud to announce a new World's Greatest Heroes series, featuring legendary DC Comics characters in 18 inch retro figure form!
Heroes and villains from the DC Universe will stand tall in this new line, which will launch with a release of 6 figures; Batman, Robin, Superman, Joker, Riddler, and a variant Robin with removable mask.  Figures Toy Company is also updating their packaging for this line, as the 18 inch World's Greatest Heroes will each be released in a window display box, rather than the standard plastic clamshell packaging that their 8 and 12 inch figures come in.
Estimated arrival for these humungous heroes is May, but is subject to change.  In the meantime, you can check out 
Figures Toy Company
 for updates, and follow along on social media with the hashtag #MMFTCNEWS to get all the latest news on the various Figures Toy Company products!

Follow Figures Toy Company on social media!
Instagram: figurestoycompany