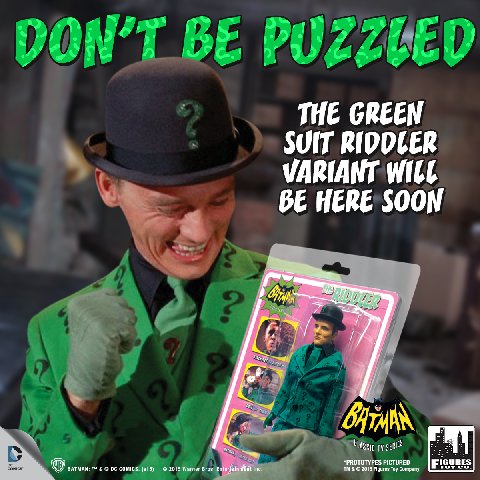 Riddle me this … what's covered in question marks and hides under a hat?
The answer is Figures Toy Company's latest retro figure release in their popular Batman Classic TV Series line: an all new figure based on Frank Gorshin's portrayal of THE RIDDLER!
Limited and numbered to only 1000 pieces, the new Riddler figure comes clad in his trademark three-piece suit and bowler hat, which has been detailed to match the real suit worn on the 1966 Television Series. Emerald City Comics has commissioned Figures Toy Company's skilled sculptor Danny "The Farrow" Anniello to craft a new sculpt for this release, designing the Gorshin likeness that collectors have been clamoring for since the Batman Classic TV Series toy line started.  Figures Toy Company took those requests under consideration, and have now crafted the ultimate Batman '66 Riddler figure for fans to enjoy!
This figure of DC Comics criminal mastermind is available exclusively through Emerald City Comics in Clearwater, Florida!  Visit them on the web at shop.emeraldcitycomics.com and place your order for this figure now!  The Riddler exclusive is expected to sell out quickly, so don't miss your chance to own this question mark-covered crime lord!  If you're a fan of this fantastic figure, be sure to check out www.figurestoycompany.com for all their retro figure releases and updates on upcoming products!  If you want the latest retro figure news each and every Friday, use the hashtag #MMFTCNEWS on social media to find out what's next from Figures Toy Company!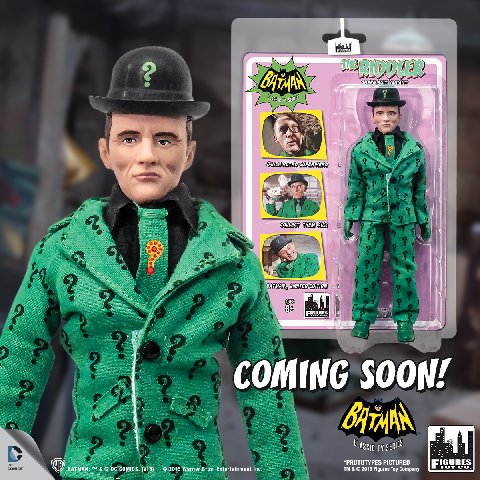 Emerald City Comics
4902 113th Ave N
Clearwater, FL 33760-4831
727-398-BOOK (2665)
www.emeraldcitycomics.com