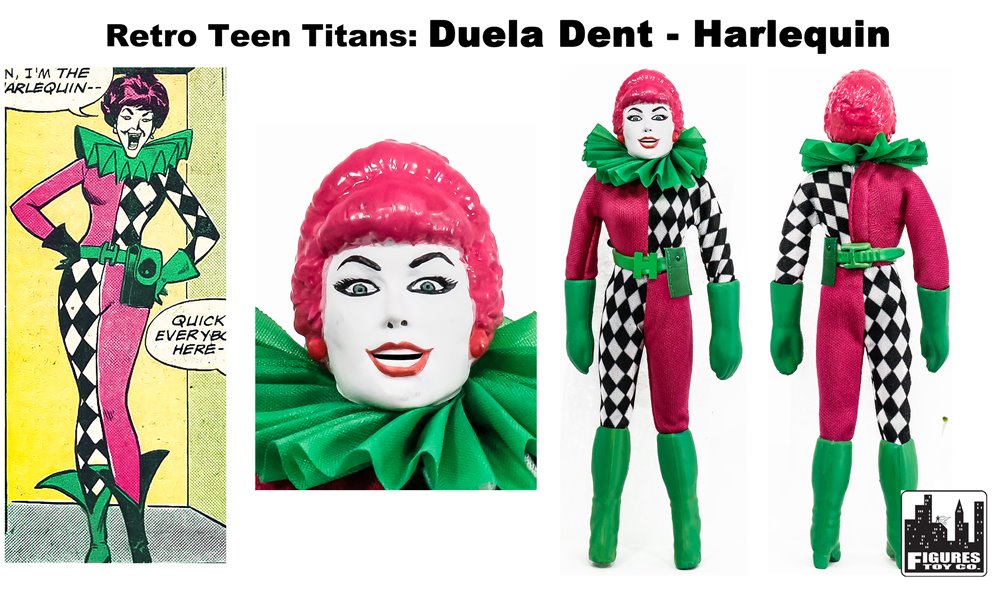 Another Teen Titans team member is the focus of #MMFTCNEWS this week. Don't let her familiar features fool you, because she'll be joining the fight for justice alongside Figures Toy Company's other DC Comics retro figures. She's been called Joker's Daughter and Duela Dent, but the one heading for FTC soon wants to be called Harlequin!
Having changed her name so that she wasn't judged based on dear old dad's actions (and because it was never clear just who was her father), Harlequin was established in DC Comics as a heroine who wanted to balance out her father's actions with heroic ones of her own. While the Teen Titans didn't know how to take to her at first, she proved herself to be a worthy ally to the team. Figures Toy Company previously released Harlequin based on her Joker's Daughter/Duela Dent persona, but now this new release harkens back to her days fighting evil in the pages of the Teen Titans comic book! Her red hair and colorful, checkered costume make her a standout figure among FTC's 2019 releases, and will make her "pop" when she's standing alongside her allies on your toy shelf!
Harlequin will be in stock later this year, so be on the lookout for updates on Figures Toy Company's social media pages regarding her arrival! You'll also get updates on all the previously previewed figures like Black Canary, Creeper, Solovar, Giganta, and many more from the DC Universe! Visit www.figurestoycompany.com to see what's in stock now, as FTC has plenty to offer from their variety of licenses! DC Comics characters, members of KISS and The Monkees, and even a selection of US Presidents can all be yours with the click of a button! For exclusive information and previews on all of FTC's upcoming retro figure offerings, join us back here next Friday (and every Friday!) for more #MMFTCNEWS updates!