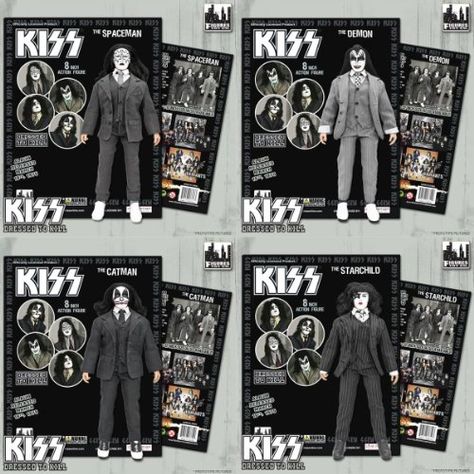 Things are heating up at Figures Toy Company, thanks to the hottest band in the world! Two of FTC's most popular KISS collaborations are making a comeback, because12-inch both the Alive! and Dressed To Kill retro figure series are set for a re-release!
Both the 8 inch and 12 inch versions of each of these series have been sold out and retired by FTC for a while, and many KISS fans and figure collectors have been hoping to get their hands on them somehow. Fortunately for those who missed out the first time around, FTC is making each of the 8 inch sets available for purchase once again! Each of the figures is exactly the same as before, with no changes to their likenesses or costumes. The only change made by Figures Toy Company is to the packaging, as the re-releases will have brand new packaging designs, allowing collectors to differentiate between the originals and the newer sets!
FTC is only the first stop on the tour for these KISS figures…all you have to do is place an order at http://www.figurestoycompany.com and they can take center stage in your collection! Before these retro figures make their return, there are plenty of other ways to get your KISS fix from Figures Toy Company. From their homage to the original 70's KISS figures to retro renditions of the band from the Dynasty and Destroyer eras, there's a lot for the KISS Army to add to their arsenal. In addition to these new KISS figures, keep an eye on FTC for new releases from their other licenses, like Hanna Barbera's Birdman, and a slew of DC Comics characters, from Swamp Thing to The Creeper! Become a fan of Figures Toy Company on social media if you're not already, and come here for an exclusive scoop every Friday when FTC and Mego Museum deliver the latest #MMFTCNEWS to you!


Shop for Mego on Ebay and each click supports us a little bit, thanks!