Mego Corporation and Hasbro have announced today that are will be working together on a series of 8" action figures based on GI Joe: A Real American Hero.
This announcement came in a special live stream event in the Mego Ambassadors Facebook group (link below).
Launching today on Hasbro Pulse, fans can Pre-order the first exclusive 8" GI Joe figures in the form of the Snake Eyes and Storm Shadow two-pack. Click here to order.
The figures will be the first to have the "MA24 band-less body" concept that Mego developed and come with a variety of weapons and accessories.
This is an exciting development for Mego collectors and one that is likely going to bring a new fan base.
"We are so excited with this collaboration between Mego and Hasbro, two great companies who have so much history together in pioneering the path to today's action figures". explains Joel Rosenzweig of Mego Corp "Launching these amazing detailed GI-Joe figures on the eve of the Snake Eyes movie is a testament to the hard work of many people involved who have a strong love for the brand and bringing these figures to our collector's community"
More on this as it develops. Yo Joe!
Pre-Order Link Below!
https://hasbropulse.com/products/g-i-joe-x-mego-ninja-rivals-snake-eyes-storm-shadow-2-pack
Product Description:
G.I. Joe x Mego Ninja Rivals Snake Eyes & Storm Shadow 2-Pack
(Approx. Retail Price: $59.99 / Ages 8 years & up / Available exclusively on Hasbro Pulse in the U.S. / Estimated Ship Date: Fall 2021)
Snake Eyes. Storm Shadow. A rivalry for the ages, born out of the shattered bond between brothers-in-arms. We've teamed up with Mego Corporation, creators of a classic action figure style with soft goods costume pieces, to bring these iconic G.I. Joe characters into the fun, retro Mego style for the first time ever… with the same premium details G.I. Joe fans look for.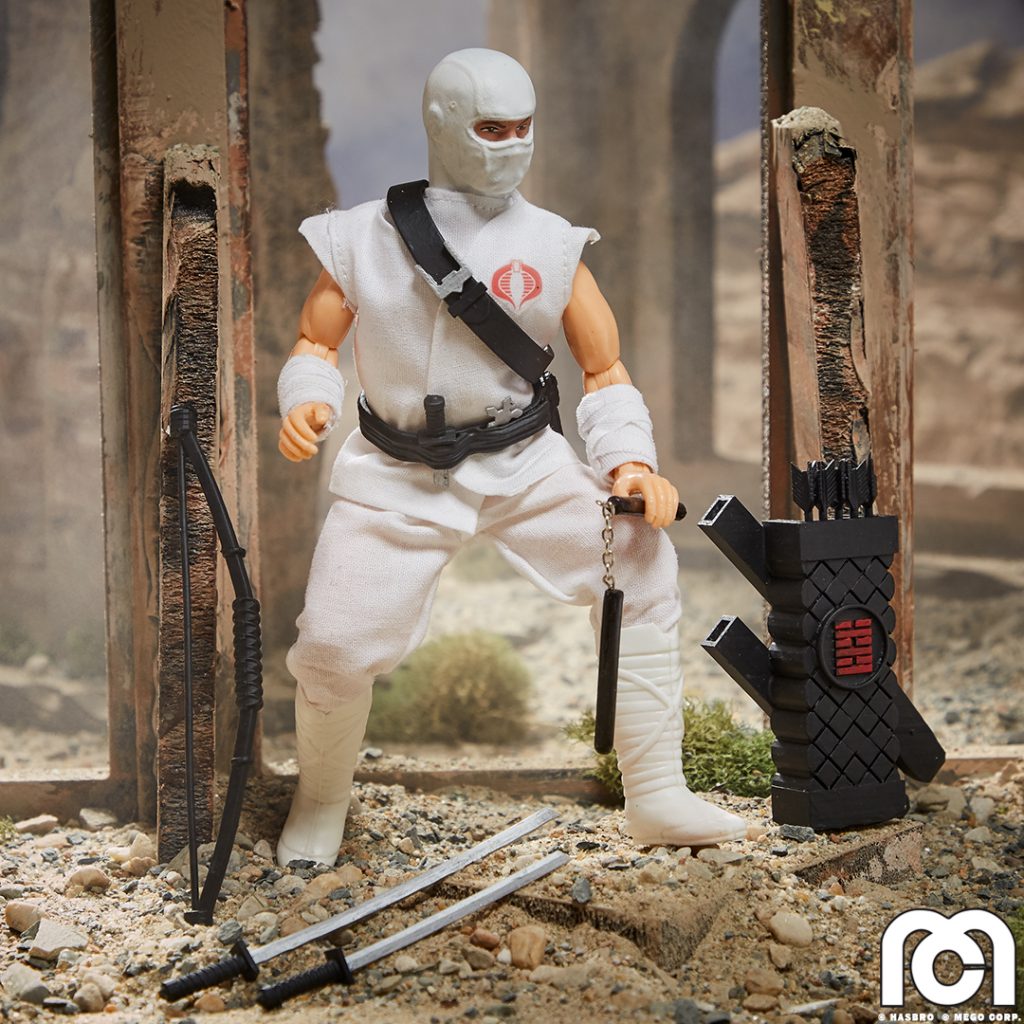 Includes: 2 figures and 14 accessories.
• Legendary Hasbro characters in a nostalgic, 8-inch-scale Mego style
• Premium Hasbro attention to detail
• Detailed helmet sculpt and paint hits honor the original G.I. Joe characters
• Removable, premium soft-goods ninja costume pieces with character-inspired detailing
• Character-inspired weapon and gear accessories
• Highly poseable for play or display… your way
• Collectible packaging inspired by classic G.I. Joe card backs
About Mego Corporation:
Marty Abrams (the father of the modern action figure) has brought his iconic Mego toy brand back! Mego started as a family business in 1954 as an importer of toys from Japan. When Marty was named company president in 1969, he secured the licenses for both DC and Marvel superheroes. Mego took that same successful approach in acquiring the licenses to some of the most popular brands at the time which included Planet of The Apes and Star Trek. The action figure/toy industry would never be the same!
Mego catapulted to unparalleled success at the time with this new strategy of licensed action figures. The "action figure play pattern" – figures, vehicles, and matching play environments, that Marty created, was replicated by every major toy brand at the time and still holds true in today's marketplace. With the multitude of different characters available, all reasonably priced, Mego was able to truly create the mindset of – "Collect them all!"
The name "Mego" became synonymous with the term "action figure" throughout the 1970s, and into the 1980s. If you grew up during this time, you most certainly remember Mego! To this day, the Mego toy brand is still celebrated and loved by countless fans! Mego is one of those revered brands that has become part of the fabric of Pop Culture as we know it!
In 2018, Marty decided the time was right to bring Mego back! Mego initially relaunched in the fall of that year. Today Mego action figures are now available at every major retailer in the United States and available worldwide! Mego once again has all your favorite characters! Explore our exciting lineup of action figures from every genre imaginable – Superheroes, Horror, Pop Culture, Sci-Fi, and more at www.megofigures.com! Be sure to also follow us @MegoCorp on all our social media channels!
#MakeMineMego
FAQ:
Will Mego be producing figure for other Hasbro properties?
We can't speak to future opportunities at this time but are excited to see how the fans react to this collab with Mego and G.I. Joe.
Why is this product only available in the U.S.? Why not Hasbro Pulse Canada or U.K.?
Currently, this product is only available to fans in the U.S. due to region-specific regulations.
Legal Disclaimers:
G.I. Joe and all related characters are trademarks of Hasbro.
MC and Marty Abrams Presents Mego are Trademarks of Mego Corporation, Great Neck, NY © 2021 All Rights Reserved
© 2021 Hasbro. All Rights Reserved.