Mego Happy New Fear Wal-Mart Store Locator- Killer Klowns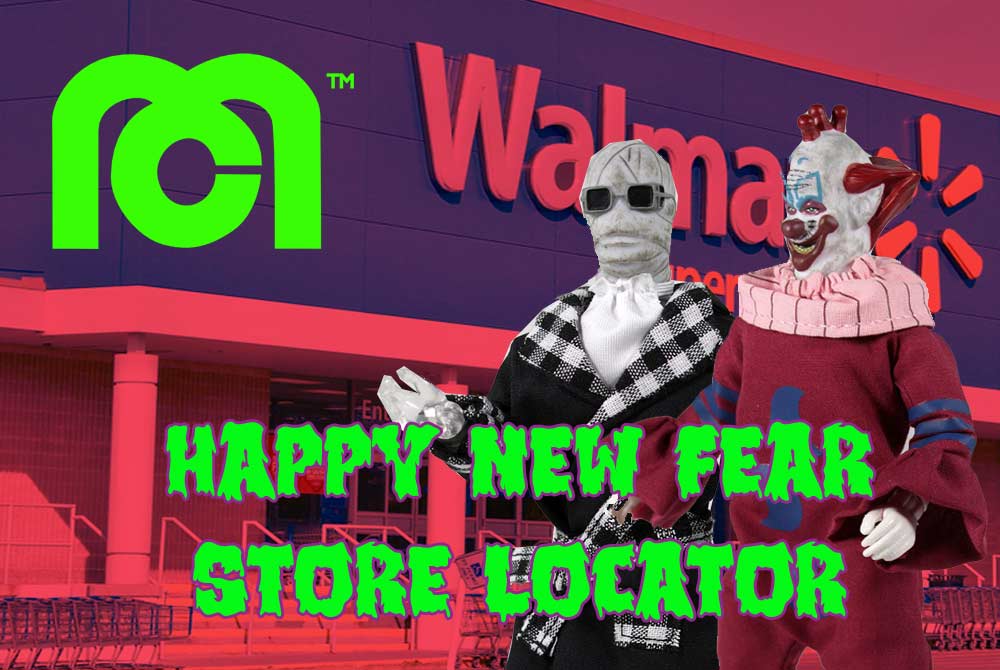 Wal-Mart and Mego Corp are teaming up this Winter for a promotion called "Happy New Fear," which will feature some exclusive items such as window boxed Mego Figures and exclusive Two-Packs. These Happy New Fear End Caps will be in the electronics section of 1200 participating Wal-Mart stores (Mego tells us that they are also attempting to get these available on-line as well) across the United States.
Lucky for us we not only have the list of participating stores but a look at the Killer Klowns from Outer Space Window Boxed Slim Exclusive.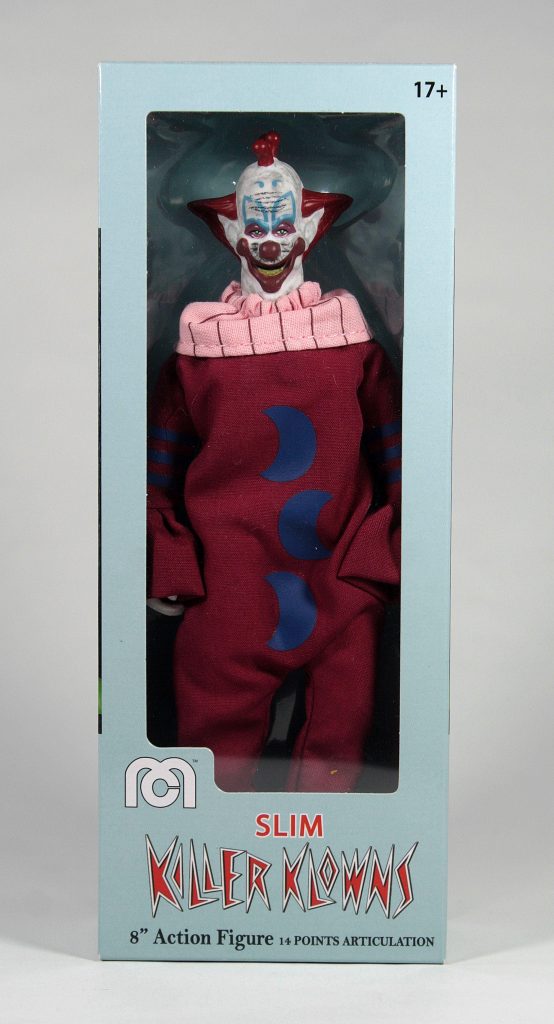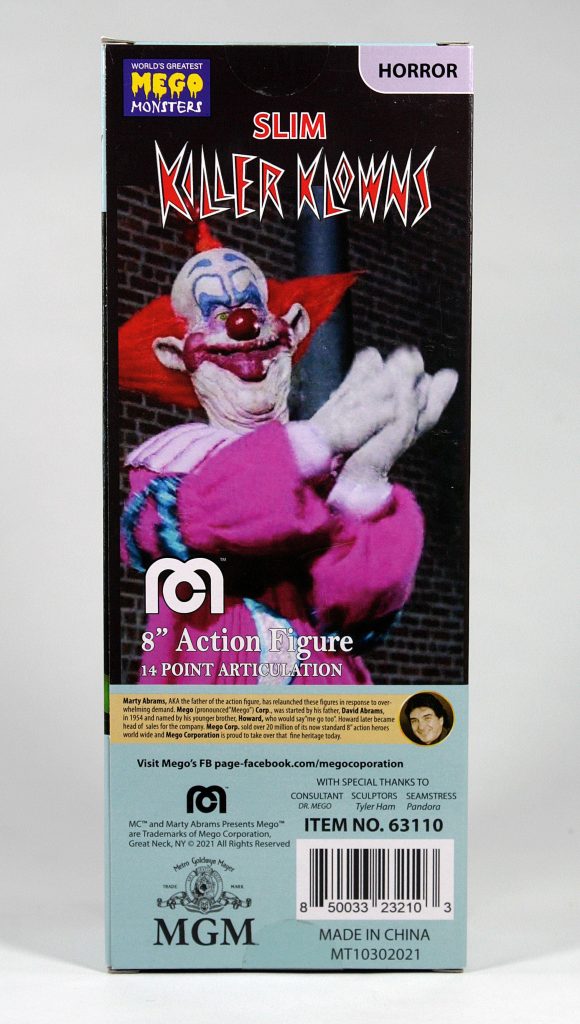 State Building Address Building City
AK 8900 OLD SEWARD HWY ANCHORAGE
AK 537 JOHANSEN EXPY FAIRBANKS
AL 1801 HIGHWAY 78 E JASPER
AL 973 GILBERT FERRY RD SE ATTALLA
AL 630 COLONIAL PROMENADE PKWY ALABASTER
AL 11610 MEMORIAL PKWY SW HUNTSVILLE
AL 4310 MONTGOMERY HWY DOTHAN
AL 301 AVALON AVE MUSCLE SHOALS
AL 626 OLIVE ST SW CULLMAN
AL 4538 US HIGHWAY 231 WETUMPKA
AL 890 ODUM RD GARDENDALE
AL 2780 JOHN HAWKINS PKWY HOOVER
AL 170 E FORT MORGAN RD GULF SHORES
AL 145 KELLEY BLVD MILLBROOK
AL 165 VAUGHAN LN PELL CITY
AL 5601 AL HIGHWAY 157 CULLMAN
AR 161 N WALMART DR HARRISON
AR 65 WAL MART DR MOUNTAIN HOME
AR 798 W SERVICE RD WEST MEMPHIS
AR 2700 S SHACKLEFORD RD LITTLE ROCK
AR 8301 ROGERS AVE FORT SMITH
AR 2875 W MARTIN LUTHER KING BLVD FAYETTEVILLE
AR 3509 E RACE AVE SEARCY
AR 3919 NO. MALL AVE FAYETTEVILLE
AR 133 ARKANSAS BLVD TEXARKANA
AR 4450 E MCCAIN BLVD NORTH LITTLE ROCK
AR 304 S ROCKWOOD DR CABOT
AR 4870 ELM SPRINGS RD SPRINGDALE
AR 4208 PLEASANT CROSSING BLVD ROGERS
AZ 755 S 20TH AVE SAFFORD
AZ 5401 S WHITE MOUNTAIN RD SHOW LOW
AZ 500 N HIGHWAY 90 BYP SIERRA VISTA
AZ 7150 E SPEEDWAY BLVD TUCSON
AZ 2003 E RODEO DR COTTONWOOD
AZ 5695 HIGHWAY 95 N LAKE HAVASU CITY
AZ 2840 HIGHWAY 95 BULLHEAD CITY
AZ 2900 S PACIFIC AVE YUMA
AZ 5845 W BELL RD GLENDALE
AZ 7975 W PEORIA AVE PEORIA
AZ 1650 W VALENCIA RD TUCSON
AZ 6131 E SOUTHERN AVE MESA
AZ 199 W 5TH ST DOUGLAS
AZ 3396 STOCKTON HILL RD KINGMAN
AZ 4915 N PIMA RD SCOTTSDALE
AZ 1825 W BELL RD PHOENIX
AZ 3721 E THOMAS RD PHOENIX
AZ 15355 N NORTHSIGHT BLVD SCOTTSDALE
AZ 4505 E MCKELLIPS RD MESA
AZ 1955 S STAPLEY DR MESA
AZ 13770 W BELL RD SURPRISE
AZ 7635 N LA CHOLLA B TUCSON
AZ 18551 N 83RD AVE GLENDALE
AZ 5010 N 95TH AVE GLENDALE
AZ 240 W BASELINE RD MESA
AZ 1606 S SIGNAL BUTTE RD MESA
AZ 5290 S POWER RD GILBERT
AZ 12900 W THUNDERBIRD RD EL MIRAGE
AZ 1613 N MAIN ST SAN LUIS
AZ 41650 W MARICOPA CASA GRANDE H MARICOPA
AZ 21055 E RITTENHOUSE RD QUEEN CREEK
AZ 2501 W HAPPY VALLEY RD STE 34 PHOENIX
AZ 6145 N 35TH AVE PHOENIX
AZ 2501 S AVENUE B YUMA
AZ 14111 N PRASADA GATEWAY AVE SURPRISE
CA 3223 E HAMMER LN STOCKTON
CA 2150 N WATERMAN AVE EL CENTRO
CA 6225 COLONY ST BAKERSFIELD
CA 11896 AMARGOSA RD VICTORVILLE
CA 40130 10TH ST W PALMDALE
CA 2050 W REDLANDS BLVD REDLANDS
CA 1800 N PERRIS BLVD PERRIS
CA 1601 S LOWER SACRAMENTO RD LODI
CA 79295 US HWY 111 LA QUINTA
CA 1819 E NOBLE AVE VISALIA
CA 1231 S SANDERSON AVE HEMET
CA 1250 W HENDERSON AVE PORTERVILLE
CA 301 MONTARA RD BARSTOW
CA 6250 VALLEY SPRINGS PKWY RIVERSIDE
CA 900 E WASHINGTON BLVD CRESCENT CITY
CA 4210 HIGHLAND AVE HIGHLAND
CA 58501 29 PALMS HWY YUCCA VALLEY
CA 1950 AUTO CENTER DRIVE GLENDORA
CA 900 PLEASANT GROVE BLVD ROSEVILLE
CA 5125 EAST KINGS CANYON RD FRESNO
CA 7150 CAMINO ARROYO GILROY
CA 3010 W GRANT LINE RD TRACY
CA 1101 SANGUINETTI ROAD SONORA
CA 2001 N ROSE AVE OXNARD
CA 2701 N TEXAS ST FAIRFIELD
CA 82-491 AVENUE 42 INDIO
CA 1720 E MAIN ST WOODLAND
CA 323 W SHAW AVE CLOVIS
CA 1275 N AZUSA AVE COVINA
CA 1800 N MAIN ST SALINAS
CA 8270 DELTA SHORES CIR S SACRAMENTO
CA 3412 COLLEGE AVE SAN DIEGO
CA 13331 BEACH BLVD WESTMINSTER
CA 2220 S BRADLEY RD SANTA MARIA
CA 3600 W MCFADDEN AVE SANTA ANA
CA 19821 RINALDI ST PORTER RANCH
CA 1515 DANA DR REDDING
CA 2300 N TUSTIN ST ORANGE
CA 6650 HEMBREE LN WINDSOR
CA 8230 TALBERT AVE HUNTINGTON BEACH
CA 32225 TEMECULA PKWY TEMECULA
CA 1290 E ONTARIO AVE CORONA
CA 681 LINCOLN AVE NAPA
CA 37140 47TH ST E PALMDALE
CA 1731 E AVENUE J LANCASTER
CA 44009 OSGOOD RD FREMONT
CA 4651 FIRESTONE BLVD SOUTH GATE
CA 4001 HALLMARK PKWY SAN BERNARDINO
CA 10355 TRINITY PKWY STOCKTON
CA 3943 GRAND AVE CHINO
CA 26471 CARL BOYER DR SANTA CLARITA
CA 5454 CROSSINGS DR ROCKLIN
CA 755 RIVERPOINT CT WEST SACRAMENTO
CA 350 WALTERS RD SUISUN CITY
CA 1333 N MOUNTAIN AVE ONTARIO
CA 13401 MAIN ST HESPERIA
CA 8450 LA PALMA AVE BUENA PARK
CA 5000 RHONDA RD ANDERSON
CA 5075 GOSFORD RD BAKERSFIELD
CA 1827 WALNUT GROVE AVE ROSEMEAD
CA 5821 ANTELOPE RD SACRAMENTO
CA 530 WOOLLOMES AVE DELANO
CA 1375 N DAVIS RD. SALINAS
CO 4200 DILLON DR PUEBLO
CO 3333 CLARK ST ALAMOSA
CO 2285 E KEN PRATT BLVD LONGMONT
CO 4080 W NORTHERN AVE PUEBLO
CO 250 W 65TH ST LOVELAND
CO 745 US HIGHWAY 287 LAFAYETTE
CO 3010 BLAKE AVE GLENWOOD SPRINGS
CO 171 YODER AVE AVON
CO 3201 E PLATTE AVE COLORADO SPRINGS
CO 9901 GRANT ST THORNTON
CO 6310 S US HIGHWAY 85-87 FOUNTAIN
CO 2881 NORTH AVE GRAND JUNCTION
CO 707 S 8TH ST COLORADO SPRINGS
CO 5650 S CHAMBERS RD AURORA
CO 9499 SHERIDAN BLVD WESTMINSTER
CO 1155 S CAMINO DEL RIO DURANGO
CO 1250 E MAGNOLIA ST FORT COLLINS
CO 16218 JACKSON CREEK PKWY MONUMENT
CO 10900 E BRIARWOOD AVE CENTENNIAL
CO 78 N MCCULLOCH BLVD PUEBLO WEST
CO 7800 SMITH RD DENVER
CO 1575 SPACE CENTER DR COLORADO SPRINGS
CO 7155 SHERIDAN BLVD WESTMINSTER
CO 200 W 136TH AVE WESTMINSTER
CO 4651 W 121ST AVE BROOMFIELD
CO 11550 MERIDIAN MARKET VW FALCON
CO 7101 E 128TH AVE BRIGHTON
CO 4500 WEITZEL ST TIMNATH
CO 1300 BARLOW RD FORT MORGAN
CO 920 47TH AVE GREELEY
CO 2545 RIMROCK AVE GRAND JUNCTION
CO 5550 E WOODMEN RD COLORADO SPRINGS
CO 1000 AIRPORT RD RIFLE
CO 3301 TOWER RD AURORA
CO 2514 MAIN ST LONGMONT
CT 420 BUCKLAND HILLS DR MANCHESTER
CT 120 COMMERCIAL PKWY BRANFORD
CT 150 BARNUM AVENUE CUTOFF STRATFORD
CT 3164 BERLIN TPKE NEWINGTON
CT 67 NEWTOWN RD DANBURY
CT 910 WOLCOTT ST WATERBURY
CT 515 SAW MILL RD WEST HAVEN
DE 939 N DUPONT BLVD MILFORD
DE 705 MIDDLETOWN WARWICK RD MIDDLETOWN
DE 263 WALMART DR CAMDEN
DE 1251 CENTERVILLE RD WILMINGTON
FL 1024 S STATE ROAD 19 PALATKA
FL 2600 SW 19TH AVENUE RD OCALA
FL 2120 US HIGHWAY 92 W AUBURNDALE
FL 2767 W US HIGHWAY 90 LAKE CITY
FL 3501 S FLORIDA AVE LAKELAND
FL 2501 CITRUS BLVD LEESBURG
FL 4444 W VINE ST KISSIMMEE
FL 3653 S ORLANDO DR SANFORD
FL 11250 E COLONIAL DR ORLANDO
FL 8101 S JOHN YOUNG PKWY ORLANDO
FL 10855 S US HIGHWAY 1 PORT SAINT LUCIE
FL 5555 20TH ST VERO BEACH
FL 10500 W COLONIAL DR OCOEE
FL 1239 STATE ROAD 436 STE 101 CASSELBERRY
FL 1700 S ORANGE BLOSSOM TRAIL APOPKA
FL 1485 COMMERCIAL WAY SPRING HILL
FL 355 CYPRESS GARDENS BLVD WINTER HAVEN
FL 845 PALM BAY RD NE WEST MELBOURNE
FL 14821 BEN C PRATT/6 MILE CYPRE FORT MYERS
FL 1575 LAND O LAKES BLVD LUTZ
FL 4965 HIGHWAY 90 MILTON
FL 8745 STATE ROAD 54 NEW PORT RICHEY
FL 5315 CORTEZ RD W BRADENTON
FL 2101 S HIGHWAY 77 LYNN HAVEN
FL 2001 US HIGHWAY 1 SEBASTIAN
FL 6830 NORMANDY BLVD JACKSONVILLE
FL 6767 103RD ST JACKSONVILLE
FL 2461 E GULF TO LAKE HWY INVERNESS
FL 8808 BEACH BLVD JACKSONVILLE
FL 725 N TYNDALL PKWY CALLAWAY
FL 2650 CREIGHTON RD PENSACOLA
FL 899 BLANDING BLVD ORANGE PARK
FL 5800 US HIGHWAY 98 N LAKELAND
FL 8001 US HIGHWAY 19 N PINELLAS PARK
FL 4400 W TENNESSEE ST TALLAHASSEE
FL 9990 BELVEDERE RD WEST PALM BEACH
FL 5851 NW 177TH ST HIALEAH
FL 4600 MOBILE HWY STE 122 PENSACOLA
FL 1000 N WICKHAM RD MELBOURNE
FL 4700 S FLAMINGO RD COOPER CITY
FL 4980 E SILVER SPRINGS BLVD OCALA
FL 5571 W HILLSBORO BLVD COCONUT CREEK
FL 11225 TAMIAMI TRL N NAPLES
FL 8651 NW 13TH TER DORAL
FL 12555 W SUNRISE BLVD SUNRISE
FL 3767 GULF BREEZE PKWY GULF BREEZE
FL 19910 BRUCE B DOWNS BLVD TAMPA
FL 3801 TAMPA RD OLDSMAR
FL 9300 NW 77TH AVE HIALEAH
FL 1471 E OSCEOLA PKWY KISSIMMEE
FL 1601 RINEHART RD SANFORD
FL 1425 NE 163RD ST NORTH MIAMI BEACH
FL 1580 BRANAN FIELD RD MIDDLEBURG
FL 101 HOWLAND BLVD DELTONA
FL 7450 CYPRESS GARDENS BLVD WINTER HAVEN
FL 6650 COLLIER BLVD NAPLES
FL 28500 STATE ROAD 54 WESLEY CHAPEL
FL 1208 E BRANDON BLVD BRANDON
FL 6225 E STATE ROAD 64 BRADENTON
FL 1675 NW SAINT LUCIE WEST BLVD PORT ST LUCIE
FL 13227 CITY SQUARE DR JACKSONVILLE
FL 5991 S GOLDENROD RD ORLANDO
FL 1800 NE 12TH AVE GAINESVILLE
FL 3200 NW 79TH ST MIAMI
FL 8990 TURKEY LAKE RD ORLANDO
FL 34 BAHIA AVE OCALA
FL 10251 SHOPS LN JACKSONVILLE
FL 4225 45TH ST WEST PALM BEACH
FL 4770 COLONIAL BLVD FORT MYERS
FL 6192 GUNN HWY TAMPA
FL 11900 ATLANTIC BLVD JACKSONVILLE
FL 904 CYPRESS PKWY KISSIMMEE
FL 12610 US HIGHWAY 19 HUDSON
FL 550 US HIGHWAY 27 CLERMONT
FL 9205 GIBSONTON DR GIBSONTON
FL 9570 SW HIGHWAY 200 OCALA
GA 30983 HIGHWAY 441 S COMMERCE
GA 10300 INDUSTRIAL BLVD NE COVINGTON
GA 400 SHALLOWFORD RD NW GAINESVILLE
GA 440 ATLANTA HWY N.W. WINDER
GA 2423 US HIGHWAY 80 W DUBLIN
GA 2425 MEMORIAL DR WAYCROSS
GA 12182 HIGHWAY 92 WOODSTOCK
GA 1450 BOWENS MILL RD SE DOUGLAS
GA 1955 E MONTGOMERY XRD SAVANNAH
GA 101 MARKET PLACE BLVD CARTERSVILLE
GA 4166 JIMMY LEE SMITH PKWY HIRAM
GA 6000 OGEECHEE RD SAVANNAH
GA 2510 REDMOND CIR NW ROME
GA 147 NORTHSIDE DR E STATESBORO
GA 751 W OGLETHORPE HWY HINESVILLE
GA 3109 E 1ST ST VIDALIA
GA 340 NORMAN DR VALDOSTA
GA 1215 E 16TH AVE CORDELE
GA 6065 JONESBORO RD MORROW
GA 88 HIGHLAND XING EAST ELLIJAY
GA 1830 US HIGHWAY 82 W TIFTON
GA 450 W BELMONT DR CALHOUN
GA 260 BOBBY JONES EXPY AUGUSTA
GA 5448 WHITTLESEY BLVD STE B COLUMBUS
GA 3795 BUFORD DR BUFORD
GA 3515 VICTORY DR COLUMBUS
GA 2720 WATSON BLVD WARNER ROBINS
GA 3040 BATTLEFIELD PKWY FORT OGLETHORPE
GA 7001 CONCOURSE PKWY DOUGLASVILLE
GA 1133 E W CONNECTOR AUSTELL
GA 2635 PLEASANT HILL RD DULUTH
GA 160 POOLER PKWY POOLER
GA 5955 ZEBULON RD MACON
GA 135 WILLOW LN MCDONOUGH
GA 1100 THORNTON RD LITHIA SPRINGS
GA 6149 OLD NATIONAL HWY COLLEGE PARK
GA 1400 HUDSON BRIDGE RD STOCKBRIDGE
GA 3245 LAWRENCEVILLE SUWANEE RD SUWANEE
GA 3105 COBB PKWY NW KENNESAW
GA 502 BOOTH RD WARNER ROBINS
GA 98 POWER CENTER DR DAWSONVILLE
GA 4221 ATLANTA HWY LOGANVILLE
GA 6435 BELLS FERRY RD WOODSTOCK
GA 210 COBB PKWY S MARIETTA
GA 4949 BILL GARDNER PKWY LOCUST GROVE
HI 95-550 LANIKUHANA AVE MILILANI
HI 94-595 KUPUOHI ST WAIPAHU
HI 75-1015 HENRY ST KAILUA KONA
IA 3003 N HIGHWAY 61 MUSCATINE
IA 525 BRANDILYNN BLVD CEDAR FALLS
IA 324 W AGENCY RD WEST BURLINGTON
IA 4151 4TH ST SW MASON CITY
IA 3036 1ST AVE S FORT DODGE
IA 5811 ELMORE AVE DAVENPORT
IA 1940 VENTURE DR OTTUMWA
IA 1500 N JEFFERSON WAY INDIANOLA
IA 5101 SE 14TH ST DES MOINES
IA 1001 73RD ST WINDSOR HEIGHTS
IA 3201 MANAWA CENTRE DR COUNCIL BLUFFS
IA 4200 DODGE ST DUBUQUE
IA 3601 29TH AVE SW CEDAR RAPIDS
IA 3501 8TH ST SW ALTOONA
IA 2801 COMMERCE DR CORALVILLE
IA 2715 S 25TH ST CLINTON
IA 3101 FLOYD BLVD SIOUX CITY
IA 5491 HIGHWAY 151 MARION
IA 2150 E 1ST ST GRIMES
ID 1450 NORTH 2ND EAST REXBURG
ID 4240 YELLOWSTONE AVE CHUBBUCK
ID 8300 W OVERLAND RD BOISE
ID 2100 12TH AVE RD NAMPA
ID 550 W HONEYSUCKLE AVE HAYDEN
ID 5875 E FRANKLIN RD NAMPA
ID 252 CHENEY DR W TWIN FALLS
ID 500 S UTAH AVE IDAHO FALLS
IL 1730 E JACKSON ST MACOMB
IL 1870 W MAIN ST SALEM
IL 1941 W MORTON AVE JACKSONVILLE
IL 2608 GREEN MOUNT COMMONS DR BELLEVILLE
IL 2802 OUTER DR MARION
IL 110 DAVIDSON RD MOUNT VERNON
IL 1316 S STATE ST JERSEYVILLE
IL 400 JUNCTION DR GLEN CARBON
IL 919 GIACONE DR BENTON
IL 201 MATTES AVE VANDALIA
IL 1040 COLLINSVILLE CROSSING BLV COLLINSVILLE
IL 659 KNOX SQUARE DR GALESBURG
IL 5307 RT. 251 PERU
IL 4041 VETERANS DR OTTAWA
IL 4115 E LINCOLNWAY STERLING
IL 401 RIVER RD EAST PEORIA
IL 2424 W JEFFERSON ST JOLIET
IL 2080 N STATE ROUTE 50 BOURBONNAIS
IL 3315 N UNIVERSITY ST PEORIA
IL 1706 W REYNOLDS ST PONTIAC
IL 2552 W 75TH ST NAPERVILLE
IL 1530 WEST HWY 50 O FALLON
IL 5211 BROADWAY ST QUINCY
IL 314 WEST ARMY TRAIL ROAD BLOOMINGDALE
IL 9265 159TH ST ORLAND HILLS
IL 200 S BOLINGBROOK DR BOLINGBROOK
IL 6590 GRAND AVE GURNEE
IL 2610 N PROSPECT AVE CHAMPAIGN
IL 2545 IL ROUTE 26 S FREEPORT
IL 9450 JOLIET RD HODGKINS
IL 3930 44TH AVENUE DR MOLINE
IL 4101 N VERMILION ST STE A DANVILLE
IL 5630 W TOUHY AVE NILES
IL 505 S DUNLAP AVE SAVOY
IL 2300 US HIGHWAY 34 OSWEGO
IL 1275 LAKE AVE WOODSTOCK
IL 2225 W MARKET ST BLOOMINGTON
IL 1100 LEJUNE DR SPRINGFIELD
IL 16241 S FARRELL RD LOCKPORT
IL 4781 E ROCKTON RD ROSCOE
IL 4000 IL ROUTE 173 ZION
IL 2000 ORCHARD RD MONTGOMERY
IL 2900 KIRK RD AURORA
IL 1601 18TH ST SILVIS
IL 420 WEBER ROAD ROMEOVILLE
IL 12690 S ROUTE 59 PLAINFIELD
IL 1410 S RANDALL RD ALGONQUIN
IL 475 E IL ROUTE 173 ANTIOCH
IL 3902 W RIVERSIDE BLVD ROCKFORD
IL 1640 S GALENA AVE DIXON
IL 17550 SOUTH HALSTED STREET HOMEWOOD
IL 2500 W 95TH ST EVERGREEN PARK
IN 4040 N NEWTON ST JASPER
IN 2500 PROGRESS PKWY SHELBYVILLE
IN 2363 HIGHWAY 135 NW CORYDON
IN 2125 N MORTON ST FRANKLIN
IN 3200 JOHN WILLIAMS BLVD BEDFORD
IN 100 SYCAMORE ESTATES DR AURORA
IN 3240 SOUTHWESTERN MARION
IN 2501 WALTON BLVD WARSAW
IN 240 MALL RD LOGANSPORT
IN 410 GRAND VALLEY BLVD MARTINSVILLE
IN 735 WHITFIELD DR COLUMBUS
IN 2304 LINCOLNWAY E GOSHEN
IN 5311 COLDWATER RD FORT WAYNE
IN 7245 US 31 S INDIANAPOLIS
IN 3221 W 86TH ST INDIANAPOLIS
IN 505 TOURING DR AUBURN
IN 10617 E WASHINGTON ST INDIANAPOLIS
IN 1835 S US HIGHWAY 231 CRAWFORDSVILLE
IN 1601 NO. CASS ST WABASH
IN 730 US HIGHWAY 66 E TELL CITY
IN 2016 N WAYNE ST ANGOLA
IN 2321 CHARLES ST ANDERSON
IN 2700 W BROADWAY ST PRINCETON
IN 2505 N OAK DR PLYMOUTH
IN 3313 W STATE RD 45 BLOOMINGTON
IN 333 BOYD BLVD LA PORTE
IN 2800 WAL MART DR HUNTINGTON
IN 6087 US HIGHWAY 6 PORTAGE
IN 316 INDIAN RIDGE BLVD MISHAWAKA
IN 175 COUNTRY ROAD 6 W ELKHART
IN 9500 E US HIGHWAY 36 AVON
IN 7325 N KEYSTONE AVE INDIANAPOLIS
IN 1133 NO EMERSON ROAD GREENWOOD
IN 700 W IRELAND RD SOUTH BEND
IN 10735 PENDLETON PIKE INDIANAPOLIS
IN 10105 LIMA RD FORT WAYNE
IN 2399 S STATE ROAD 46 TERRE HAUTE
IN 30830 OLD US 20 ELKHART
IN 1100 5TH AVE HAMMOND
IN 10420 MAYSVILLE RD FORT WAYNE
IN 8599 HIGH POINTE DR NEWBURGH
IN 1309 E HACKBERRY STREET SALEM
KS 5000 10TH AVE LEAVENWORTH
KS 101 BLUEMONT AVE MANHATTAN
KS 2301 INDUSTRIAL RD EMPORIA
KS 2900 S 9TH ST SALINA
KS 2020 N NELSON DR DERBY
KS 1905 E 17TH AVE HUTCHINSON
KS 501 E PAWNEE ST WICHITA
KS 6110 W KELLOGG DR WICHITA
KS 3030 N ROCK RD WICHITA
KS 11701 METCALF AVE OVERLAND PARK
KS 1501 SW WANAMAKER RD TOPEKA
KS 10600 W 21ST ST N WICHITA
KS 395 N K 7 HWY OLATHE
KY 150 WALTON AVE BOWLING GREEN
KY 1801 ELIZABETHTOWN RD LEITCHFIELD
KY 5130 HINKLEVILLE RD PADUCAH
KY 112 OSBOURNE WAY GEORGETOWN
KY 420 FACTORY OUTLET DR HANSON
KY 177 WASHINGTON DR SOMERSET
KY 100 WALTON AVE DANVILLE
KY 1195 BARRETT BLVD HENDERSON
KY 1859 BYPASS RD WINCHESTER
KY 100 WALMART DR ELIZABETHTOWN
KY 301 LEONARDWOOD RD FRANKFORT
KY 1015 NEW MOODY LN LA GRANGE
KY 1165 WALMART WAY RADCLIFF
KY 175 WALMART PLAZA DR MONTICELLO
KY 120 DANIEL BOONE PLZ HAZARD
KY 351 RIVER HILL DR ASHLAND
KY 7625 DOERING DR FLORENCE
KY 240 WAL MART WAY MAYSVILLE
KY 6711 ALEXANDRIA PIKE ALEXANDRIA
KY 28402 US HIGHWAY 119 SOUTH WILLIAMSON
KY 4051 NICHOLASVILLE RD LEXINGTON
KY 500 W NEW CIRCLE RD LEXINGTON
KY 7101 CEDAR SPRINGS BLVD LOUISVILLE
KY 3151 LEITCHFIELD RD OWENSBORO
KY 545 CONESTOGA PKWY SHEPHERDSVILLE
KY 12981 SHELBYVILLE RD MIDDLETOWN
KY 1201 MORGANTOWN RD BOWLING GREEN
KY 175 OUTER LOOP LOUISVILLE
LA 3636 MONROE HWY PINEVILLE
LA 925 KEYSER AVE NATCHITOCHES
LA 2204 S 5TH ST LEESVILLE
LA 9550 MANSFIELD RD SHREVEPORT
LA 3142 AMBASSADOR CAFFERY PKWY LAFAYETTE
LA 880 N HIGHWAY 190 COVINGTON
LA 39142 NATCHEZ DR SLIDELL
LA 4810 LAPALCO BLVD MARRERO
LA 904 S RANGE AVE DENHAM SPRINGS
LA 8912 VETERANS MEMORIAL BLVD METAIRIE
LA 1901 TCHOUPITOULAS ST NEW ORLEANS
LA 17585 AIRLINE HWY PRAIRIEVILLE
MA 250 HARTFORD AVE BELLINGHAM
MA 742 MAIN ST NORTH OXFORD
MA 36 PARAMOUNT DR RAYNHAM
MA 295 PLYMOUTH ST HALIFAX
MA 780 LYNNWAY LYNN
MA 141 SPRINGFIELD RD WESTFIELD
MA 1180 FALL RIVER AVE SEEKONK
MA 300 COLONY PLACE RD PLYMOUTH
MA 301 FALLS BLVD QUINCY
MA 20 SOOJIAN DR LEICESTER
MA 137 TEATICKET HWY TEATICKET
MA 25 TOBIAS BOLAND WAY WORCESTER
MA 591 MEMORIAL DR CHICOPEE
MD 17850 GARLAND GROH BLVD HAGERSTOWN
MD 8155 ELLIOTT RD EASTON
MD 1000 E PULASKI HWY ELKTON
MD 645 S PHILADELPHIA BLVD ABERDEEN
MD 7400 GUILFORD DR FREDERICK
MD 6721 CHESAPEAKE CENTER DR GLEN BURNIE
MD 6400A RIDGE RD SYKESVILLE
MD 11416 OCEAN GTWY BERLIN
MD 1 FRANKEL WAY COCKEYSVILLE
MD 7081 ARUNDEL MILLS CIR HANOVER
MD 6210 ANNAPOLIS RD LANDOVER HILLS
ME 900 STILLWATER AVE BANGOR
ME 100 MOUNT AUBURN AVE AUBURN
ME 781 MAIN ST PRESQUE ISLE
ME 17 MYRICK ST ELLSWORTH
ME 50 BOULDER WAY BIDDEFORD
MI 4730 ENCORE BLVD MOUNT PLEASANT
MI 8917 E 34 RD CADILLAC
MI 950 EDELWEISS PARKWAY GAYLORD
MI 4845 24TH AVE FORT GRATIOT
MI 1680 PACKARD HWY CHARLOTTE
MI 21400 PERRY AVE BIG RAPIDS
MI 3921 WILDER RD BAY CITY
MI 1500 S CENTERVILLE RD STURGIS
MI 2150 N TELEGRAPH RD MONROE
MI 1601 E US HIGHWAY 223 ADRIAN
MI 3999 ALPINE AVE NW COMSTOCK PARK
MI 4313 CORUNNA RD FLINT
MI 555 E GENESEE ST LAPEER
MI 2107 S 11TH ST NILES
MI 6020 B DR N BATTLE CREEK
MI 4854 W US HIGHWAY 10 LUDINGTON
MI 5323 E COURT ST N BURTON
MI 1180 M 32 W ALPENA
MI 1920 S STEPHENSON AVE IRON MOUNTAIN
MI 601 N LINCOLN RD ESCANABA
MI 33201 VAN DYKE AVE STERLING HEIGHTS
MI 3301 N PONTIAC TRL COMMERCE
MI 910 JOE MANN BLVD MIDLAND
MI 29555 PLYMOUTH RD LIVONIA
MI 9190 HIGHLAND RD WHITE LAKE
MI 5110 TIMES SQUARE PL OKEMOS
MI 7555 TELEGRAPH RD TAYLOR
MI 10772 W CARSON CITY RD GREENVILLE
MI 51450 SHELBY PKWY SHELBY TOWNSHIP
MI 5851 MERCURY DR DEARBORN
MI 6065 GULL RD KALAMAZOO
MI 5650 BAY RD SAGINAW
MI 2750 COOK RD WEST BRANCH
MI 1700 W MICHIGAN AVE JACKSON
MI 8350 SHAVER RD PORTAGE
MI 14700 US HIGHWAY 31 GRAND HAVEN
MI 7000 E MICHIGAN AVE SALINE
MI 14900 DIX TOLEDO RD SOUTHGATE
MN 1550 BLAKE AVE ALBERT LEA
MN 1752 N FRONTAGE RD HASTINGS
MN 13020 RIVERDALE DR NW COON RAPIDS
MN 415 34TH ST N DILWORTH
MN 4611 STATE HIGHWAY 29 S ALEXANDRIA
MN 7295 GLORY RD BAXTER
MN 1300 HIGHWAY 15 S HUTCHINSON
MN 5815 NORELL AVE N OAK PARK HEIGHTS
MN 1308 HIGHWAY 33 S CLOQUET
MN 3400 55TH ST NW ROCHESTER
MN 2101 2ND AVE SE CAMBRIDGE
MN 25 25TH ST SE ROCHESTER
MN 9451 DUNKIRK LN N MAPLE GROVE
MN 18185 ZANE ST NW ELK RIVER
MN 8101 OLD CARRIAGE CT SHAKOPEE
MN 295 TYLER RD S RED WING
MN 9165 CAHILL AVE INVER GROVE HEIGHTS
MN 955 FRONTENAC DR WINONA
MO 1303 S MAIN ST SIKESTON
MO 1800 S JEFFERSON AVE LEBANON
MO 1310 PREACHER ROE BLVD WEST PLAINS
MO 301 E COOPER ST WARRENSBURG
MO 650 S TRUMAN BLVD FESTUS
MO 2623 W 7TH ST JOPLIN
MO 2825 N KANSAS EXPY SPRINGFIELD
MO 407 N STATE ST DESLOGE
MO 1700 N STATE ROUTE 291 HARRISONVILLE
MO 500 S BISHOP AVE ROLLA
MO 1701 A ROY DR WASHINGTON
MO 600 NE CORONADO DR BLUE SPRINGS
MO 2206 N BALTIMORE ST KIRKSVILLE
MO 2203 PATSY LN EXCELSIOR SPRINGS
MO 3201 W BROADWAY BLVD SEDALIA
MO 2004 W MARLER LN OZARK
MO 3315 S CAMPBELL AVE SPRINGFIELD
MO 4201 N BELT HWY SAINT JOSEPH
MO 1000 NE SAM WALTON LN LEES SUMMIT
MO 1661 JUNGERMANN RD SAINT PETERS
MO 653 GRAVOIS BLUFFS BLVD FENTON
MO 10300 E HIGHWAY 350 RAYTOWN
MO 2201 MICHIGAN AVE ARNOLD
MO 3270 TELEGRAPH RD SAINT LOUIS
MO 2021 E INDEPENDENCE ST SPRINGFIELD
MO 100 THF BLVD CHESTERFIELD
MO 1307 HIGHWAY K O FALLON
MO 1101 BRANSON HILLS PKWY BRANSON
MO 11601 E US HIGHWAY 40 KANSAS CITY
MO 1900 MAPLEWOOD COMMONS DR MAPLEWOOD
MO 100 COMMERCIAL LN PINEVILLE
MO 6100 RONALD REAGAN DR LAKE SAINT LOUIS
MO 3390 N HIGHWAY 67 FLORISSANT
MS 2301 S HARPER RD CORINTH
MS 5520 HIGHWAY 80 E PEARL
MS 1621 HIGHWAY 15 N LAUREL
MS 6811 SOUTHCREST PKWY SOUTHAVEN
MS 9350 HIGHWAY 49 GULFPORT
MS 3615 SANGANI BLVD DIBERVILLE
MS 127 GRANDVIEW BLVD MADISON
MT 2750 PROSPECT AVE HELENA
MT 2525 KING AVE W BILLINGS
MT 1500 N 7TH AVE BOZEMAN
MT 4000 US-93 BUS MISSOULA
MT 170 HUTTON RANCH RD KALISPELL
MT 1649 MAIN ST BILLINGS
MT 3555 MULLAN RD MISSOULA
NC 2406 W ROOSEVELT BLVD MONROE
NC 2525 US HIGHWAY 70 SE HICKORY
NC 720 E US HIGHWAY 74 ROCKINGHAM
NC 2241 ROCKFORD ST MOUNT AIRY
NC 1226 E DIXIE DR ASHEBORO
NC 169 NORMAN STATION BLVD MOORESVILLE
NC 60 AIRPORT RD ARDEN
NC 306 N GENERALS BLVD LINCOLNTON
NC 1550 SKIBO RD FAYETTEVILLE
NC 4601 RAMSEY ST FAYETTEVILLE
NC 200 COLUMBUS CORNERS DR WHITEVILLE
NC 3105 DR MARTIN LUTHER KING JR NEW BERN
NC 670 LILLINGTON HWY SPRING LAKE
NC 548 CC CAMP RD ELKIN
NC 5135 CAROLINA BEACH RD WILMINGTON
NC 4500 FAYETTEVILLE RD RALEIGH
NC 210 GREENVILLE BLVD SW GREENVILLE
NC 3000 E FRANKLIN BLVD GASTONIA
NC 5226 SIGMON RD WILMINGTON
NC 323 S ARLINGTON ST SALISBURY
NC 135 TOWN CENTER LOOP WAYNESVILLE
NC 4424 W WENDOVER AVE GREENSBORO
NC 2420 SUPERCENTER DR NE KANNAPOLIS
NC 4550 KESTER MILL RD WINSTON SALEM
NC 200 WATAUGA VILLAGE DR BOONE
NC 1130 S MAIN ST KERNERSVILLE
NC 7701 S RAEFORD RD FAYETTEVILLE
NC 530 S GRAHAM HOPEDALE RD BURLINGTON
NC 3475 PARKWAY VILLAGE CT WINSTON SALEM
NC 561 YOPP RD JACKSONVILLE
NC 8035 MARKET ST WILMINGTON
NC 1001 SHILOH GLENN DR MORRISVILLE
NC 2908 US HIGHWAY 70 W GOLDSBORO
NC 5825 THUNDER RD CONCORD
NC 805 TOWN CENTRE BLVD CLAYTON
NC 10050 GLENWOOD AVE RALEIGH
NC 223 N MYRTLE SCHOOL RD GASTONIA
NC 9820 CALLABRIDGE CT CHARLOTTE
NC 4545 FAYETTEVILLE RD RAEFORD
ND 2717 ROCK ISLAND PL BISMARCK
ND 2551 32ND AVE S GRAND FORKS
ND 4731 13TH AVE S FARGO
ND 1400 SKYLINE BLVD BISMARCK
ND 3757 55TH AVE S FARGO
ND 5755 GATEWAY DR GRAND FORKS
NE 3322 AVENUE I SCOTTSBLUFF
NE 2250 N DIERS AVE GRAND ISLAND
NE 3803 OSBORNE DR W HASTINGS
NE 6304 N 99TH ST OMAHA
NE 4700 N 27TH ST LINCOLN
NE 1606 S 72ND ST OMAHA
NE 11350 WICKERSHAM BLVD GRETNA
NE 12850 L ST OMAHA
NH 3 COMMERCE DR HOOKSETT
NH 59 WALTONS WAY SOMERSWORTH
NH 254 LOWELL RD HUDSON
NH 85 STATE ROUTE 101A AMHERST
NH 58 PLAISTOW RD PLAISTOW
NH 326 N BROADWAY SALEM
NH 116 FARMINGTON RD ROCHESTER
NH 725 GOLD ST MANCHESTER
NH 35 FRESH RIVER RD EPPING
NJ 3501 ROUTE 42 TURNERSVILLE
NJ 525 ROUTE 72 W MANAHAWKIN
NJ 2106 MOUNT HOLLY RD BURLINGTON
NJ 4620 BLACK HORSE PIKE MAYS LANDING
NJ 1300 US HIGHWAY 22 PHILLIPSBURG
NJ 1885 STATE ROUTE 57 STE 100 HACKETTSTOWN
NJ 1126 US HIGHWAY 9 OLD BRIDGE
NJ 1740 ROUTE 38 LUMBERTON
NJ 326 W MAIN ST FREEHOLD
NJ 40 INTERNATIONAL DR S FLANDERS
NJ 1070 W LANDIS AVE VINELAND
NJ 2000 CLEMENTS BRIDGE RD STE 10 DEPTFORD
NJ 1050 W EDGAR RD LINDEN
NJ 189 US HIGHWAY 46 SADDLE BROOK
NJ 1840 S BLACK HORSE PIKE WILLIAMSTOWN
NJ 1 COOPERTOWN BLVD SOMERDALE
NJ 1501 US HIGHWAY 22 WATCHUNG
NJ 220 ENTERPRISE DR ROCKAWAY
NJ 1130 HIGHWAY 77 BRIDGETON
NJ 820 COOPER ST WOODBURY
NM 3800 N LOVINGTON HWY HOBBS
NM 4500 N MAIN ST STE A ROSWELL
NM 3728 N PRINCE ST CLOVIS
NM 4600 E MAIN ST FARMINGTON
NM 3251 CERRILLOS RD SANTA FE
NM 301 SAN MATEO BLVD SE ALBUQUERQUE
NM 400 EUBANK BLVD NE ALBUQUERQUE
NM 2701 CARLISLE BLVD NE ALBUQUERQUE
NM 2401 S CANAL ST CARLSBAD
NM 1650 W MALONEY AVE GALLUP
NM 233 S NEW YORK AVE ALAMOGORDO
NM 2501 HIGHWAY 180 E SILVER CITY
NM 2550 COORS BLDV. NW ALBUQUERQUE
NM 2250 MAIN ST NW LOS LUNAS
NM 901 UNSER BLVD SE RIO RANCHO
NM 66 STATE ROAD 344 EDGEWOOD
NM 3331 RINCONADA BLVD LAS CRUCES
NM 1550 S VALLEY DR LAS CRUCES
NM 2266 WYOMING BLVD NE ALBUQUERQUE
NV 6005 S EASTERN AVE LAS VEGAS
NV 3615 S RAINBOW BLVD LAS VEGAS
NV 3770 US HIGHWAY 395 S CARSON CITY
NV 300 E LAKE MEAD PKWY HENDERSON
NV 2944 MOUNTAIN CITY HWY ELKO
NV 2333 RENO HWY FALLON
NV 2310 E SERENE AVE LAS VEGAS
NV 540 MARKS ST HENDERSON
NV 8060 W TROPICAL PKWY LAS VEGAS
NV 5198 BOULDER HWY LAS VEGAS
NV 6464 N DECATUR BLVD LAS VEGAS
NV 4505 W CHARLESTON BLVD LAS VEGAS
NV 5065 PYRAMID WAY SPARKS
NV 1120 W PIONEER BLVD MESQUITE
NV 7200 ARROYO CROSSING PKWY LAS VEGAS
NY 4765 COMMERCIAL DR NEW HARTFORD
NY 6788 STATE ROUTE 31 E NEWARK
NY 297 GRANT AVE AUBURN
NY 20823 STATE ROUTE 3 WATERTOWN
NY 1540 MILITARY RD NIAGARA FALLS
NY 279 TROY RD EAST GREENBUSH
NY 10401 BENNETT RD FREDONIA
NY 470 ROUTE 211 E MIDDLETOWN
NY 4235 VETERAN DR GENESEO
NY 1400 COUNTY RD 64 HORSEHEADS
NY 6265 BROCKPORT SPENCERPORT RD BROCKPORT
NY 25 CONSUMER SQ PLATTSBURGH
NY 800 LOUDON ROAD LATHAM
NY 4133 VETERANS MEMORIAL DR BATAVIA
NY 3000 FORD STREET EXT OGDENSBURG
NY 710 HORATIO ST UTICA
NY 891 ROUTE 9 QUEENSBURY
NY 5396 STATE HIGHWAY 12 NORWICH
NY 101 SANFORD FARMS SHOPPING CTR AMSTERDAM
NY 6438 BASILE ROWE EAST SYRACUSE
NY 3290 SHERIDAN DR AMHERST
NY 5054 STATE HIGHWAY 23 ONEONTA
NY 161 CENTEREACH MALL CENTEREACH
NY 1000 STATE ROUTE 36 HORNELL
NY 30 CATSKILL CMNS CATSKILL
NY 5033 TRANSIT RD WILLIAMSVILLE
NY 5360 SOUTHWESTERN BLVD HAMBURG
NY 5399 W GENESEE ST CAMILLUS
NY 441 COMMERCE DR VICTOR
NY 200 DUTCH MEADOWS LN GLENVILLE
NY 1890 OLD COUNTRY RD RIVERHEAD
NY 1818 STATE ROUTE 3 FULTON
NY 311 ROUTE 9W GLENMONT
NY 425 STATE ROUTE 31 MACEDON
OH 1840 E US HIGHWAY 36 URBANA
OH 2825 PROGRESS WAY WILMINGTON
OH 2450 ALLENTOWN RD LIMA
OH 2400 MICHIGAN ST SIDNEY
OH 1996 E MAIN ST ASHLAND
OH 354 PRIVATE DRIVE 288 SOUTH POINT
OH 7680 BRANDT PIKE HUBER HEIGHTS
OH 6244 WILMINGTON PIKE DAYTON
OH 100 WALMART DR JACKSON
OH 8451 COLERAIN AVE CINCINNATI
OH 359 N LEXINGTON SPRINGMILL RD ONTARIO
OH 911 HEBRON RD HEATH
OH 555 COLEMANS CROSSING BLVD MARYSVILLE
OH 2801 W STATE ROUTE 18 TIFFIN
OH 2500 TIFFIN AVE FINDLAY
OH 4380 LEAVITT RD LORAIN
OH 131 W GYPSY LANE RD BOWLING GREEN
OH 231 BLUEBELL DR SW NEW PHILADELPHIA
OH 1575 COSHOCTON AVE MOUNT VERNON
OH 1215 S MAIN ST BRYAN
OH 2016 MILLENNIUM BLVD CORTLAND
OH 1300 DORAL DR POLAND
OH 8585 PEARL RD STRONGSVILLE
OH 8288 CINCINNATI DAYTON RD WEST CHESTER
OH 905 SINGLETARY DR STREETSBORO
OH 85 RIVER TRCE CHILLICOTHE
OH 5200 WEST POINTE PLAZA COLUMBUS
OH 2100 N BECHTLE AVE SPRINGFIELD
OH 1505 MAIN ST HAMILTON
OH 2600 STATE ROUTE 59 RAVENNA
OH 2700 W STATE ST ALLIANCE
OH 2145 EASTERN AVE GALLIPOLIS
OH 8659 COLUMBUS PIKE LEWIS CENTER
OH 2793 TAYLOR ROAD EXT REYNOLDSBURG
OH 2875 E STATE ST SALEM
OH 1 MASSILLON MARKETPLACE DR SW MASSILLON
OH 222 E SMOKERISE DR WADSWORTH
OH 2400 HARDING HWY LIMA
OH 7235 MARKET PLACE DR AURORA
OH 1815 E OHIO PIKE AMELIA
OH 929 E STATE ST ATHENS
OH 2900 TOWNE BLVD MIDDLETOWN
OH 2850 MAYSVILLE PIKE ZANESVILLE
OH 6067 N RIDGE RD MADISON
OH 200 S TUTTLE RD SPRINGFIELD
OH 250 TALLMADGE RD KENT
OH 2801 CUNNINGHAM RD CINCINNATI
OH 1300 E ASH ST PIQUA
OH 1275 E 2ND ST FRANKLIN
OH 2687 N MEMORIAL DR LANCASTER
OH 3400 STEELYARD DR CLEVELAND
OH 10240 COLERAIN AVE CINCINNATI
OH 35901 CHESTER RD AVON
OH 6674 WINCHESTER BLVD CANAL WINCHESTER
OH 1221 GEORGESVILLE RD COLUMBUS
OH 1804 N CLINTON ST DEFIANCE
OH 7725 HOKE RD ENGLEWOOD
OH 1693 STRINGTOWN RD GROVE CITY
OH 2485 POSSUM RUN RD MANSFIELD
OK 1500 S LYNN RIGGS BLVD CLAREMORE
OK 4901 S MILL ST PRYOR
OK 196 SHAWNEE MALL DR SHAWNEE
OK 1715 N COMMERCE ST ARDMORE
OK 12101 E 96TH ST N OWASSO
OK 333 N INTERSTATE DR NORMAN
OK 1002 NW SHERIDAN RD LAWTON
OK 501 SW 19TH ST MOORE
OK 1225 W I-35 FRONTAGE EDMOND
OK 2301 W KENOSHA ST BROKEN ARROW
OK 220 S HIGHWAY 97 SAND SPRINGS
OK 6625 S MEMORIAL DR TULSA
OK 3712 W MAIN ST DURANT
OK 2019 E 81ST ST TULSA
OK 10938 S MEMORIAL DR TULSA
OK 2000 W MEMORIAL RD OKLAHOMA CITY
OK 1801 BELLE ISLE BLVD OKLAHOMA CITY
OK 6310 S ELM PL BROKEN ARROW
OK 9011 NE 23RD ST OKLAHOMA CITY
OK 12200 S WACO AVE GLENPOOL
OK 6301 NW QUANNAH PARKER TRL LAWTON
OR 3600 WASHBURN WAY KLAMATH FALLS
OR 3002 STACEY ALLISON WAY WOODBURN
OR 1350 N 1ST ST HERMISTON
OR 2051 NEWMARK AVE COOS BAY
OR 1775 E IDAHO AVE ONTARIO
OR 1360 CENTER DR MEDFORD
OR 20120 PINEBROOK BLVD BEND
OR 300 NW OAKTREE LN REDMOND
OR 2125 NW STEWART PKWY ROSEBURG
OR 4550 W 11TH AVE EUGENE
OR 1330 GOLDFISH FARM RD SE ALBANY
PA 2801 E MARKET ST BLDG B YORK
PA 1275 N HERMITAGE RD HERMITAGE
PA 10180 US HIGHWAY 522 S LEWISTOWN
PA 1665 N ATHERTON ST STATE COLLEGE
PA 120 AJK BLVD LEWISBURG
PA 16086 CONNEAUT LAKE RD MEADVILLE
PA 30 TRINITY POINT DR WASHINGTON
PA 2028 N CENTER AVE SOMERSET
PA 20 INDUSTRIAL DR DU BOIS
PA 20245 ROUTE 19 CRANBERRY TOWNSHIP
PA 5900 PERKIOMEN AVE READING
PA 100 LUNGER DR BLOOMSBURG
PA 495 EISENHOWER DR HANOVER
PA 1730 LINCOLN WAY E CHAMBERSBURG
PA 3942 BRODHEAD RD MONACA
PA 900 COMMERCE BLVD DICKSON CITY
PA 6520 CARLISLE PIKE STE 550 MECHANICSBURG
PA 1355 E LEHMAN ST LEBANON
PA 2600 PLANK ROAD COMMONS ALTOONA
PA 2200 GREENGATE CENTRE CIR GREENSBURG
PA 180 LEVITTOWN CTR LEVITTOWN
PA 2601 MACARTHUR RD WHITEHALL
PA 980 N SUSQUEHANNA TRL SELINSGROVE
PA 1000 TOWN CENTER DRIVE YORK
PA 373 BENNER PIKE STATE COLLEGE
PA 3722 EASTON NAZARETH HWY EASTON
PA 1825 DOWNS DR ERIE
PA 2351 CENTURY DR WEST MIFFLIN
PA 2501 W STATE ST NEW CASTLE
PA 250 SUMMIT PARK DR PITTSBURGH
PA 2034 LINCOLN HWY E LANCASTER
PA 890 E MAIN ST EPHRATA
PA 100 SARA WAY BELLE VERNON
PA 1515 BETHLEHEM PIKE HATFIELD
PA 195 N WEST END BLVD QUAKERTOWN
PA 723A OLD WILLOW AVE HONESDALE
PA 100 COLONY LN LATROBE
PA 167 HOGAN BLVD MILL HALL
PA 60 NOBLE BLVD CARLISLE
PA 100 WALMART DR NORTH VERSAILLES
PA 2100 SUMMIT RIDGE PLZ MOUNT PLEASANT
PA 5370 ALLENTOWN PIKE TEMPLE
PA 1091 MILLCREEK RD ALLENTOWN
PA 4301 BYBERRY ROAD PHILADELPHIA
PA 300 WALMART DR EBENSBURG
PA 100 CHIPPEWA TOWN CTR BEAVER FALLS
PA 6700 HOLLYWOOD BLVD DELMONT
PA 650 S TROOPER RD NORRISTOWN
PA 100 CROSSINGS BLVD ELVERSON
PA 50 FOSTER BROOK BLVD BRADFORD
PA 2101 BLAIR MILL RD WILLOW GROVE
PA 100 HIGHLANDS MALL NATRONA HEIGHTS
PA 2010 VILLAGE CENTER DR TARENTUM
PA 50 NEWBERRY PKWY ETTERS
PA 2200 WASHINGTON PIKE CARNEGIE
PA 2030 FRUITVILLE PIKE LANCASTER
PA 800 COMMONS DR OXFORD
PR 975 AVE HOSTOS STE 2100 MAYAGUEZ
PR 3535 AVE MILITAR STE 193 ISABELA
PR PLZ PAIMA REAL PR #3 KM 77.6 HUMACAO
PR CARR #2 SECTOR LA VIRGENCITA I TOA BAJA
PR 501 AVE WEST MAIN BAYAMON
PR PLAZA CAYEY 102 8000 AVE. JESU CAYEY
PR PLAZA CANOVANAS HWY 3 INT NEW CANOVANAS
RI 650 BALD HILL RD WARWICK
SC 3812 LIBERTY HWY ANDERSON
SC 1283 BROAD ST SUMTER
SC 2035 WHISKEY RD AIKEN
SC 2751 BEAVER RUN BLVD SURFSIDE BEACH
SC 2377 DAVE LYLE BLVD ROCK HILL
SC 2709 CHURCH ST STE A CONWAY
SC 230 N BELTLINE DR FLORENCE
SC 1451 WOODRUFF RD GREENVILLE
SC 805 HWY 9 BYPASS WES LANCASTER
SC 141 DORMAN CENTRE DR SPARTANBURG
SC 1636 SANDIFER BLVD SENECA
SC 2401 AUGUSTA RD WEST COLUMBIA
SC 3027 WADE HAMPTON BLVD TAYLORS
SC 1201 KNOX AVE NORTH AUGUSTA
SC 2151 E MAIN ST SPARTANBURG
SC 7400 RIVERS AVE NORTH CHARLESTON
SC 508 NW BYPASS 72 GREENWOOD
SC 3950 GRANDVIEW DR SIMPSONVILLE
SC 1151 STONECREST BLVD TEGA CAY
SC 3581 RICHLAND AVE W AIKEN
SC 4875 OLD YORK RD ROCK HILL
SC 300 BYPASS 25 NE GREENWOOD
SD 3001 BROADWAY AVE YANKTON
SD 1201 29TH ST SE WATERTOWN
SD 3820 7TH AVE SE ABERDEEN
SD 2233 6TH ST. BROOKINGS
SD 1101 E SPRUCE ST MITCHELL
SD 5521 E ARROWHEAD PKWY SIOUX FALLS
TN 201 LANNY BRIDGES AVE COVINGTON
TN 2200 BROOKMEADE DR COLUMBIA
TN 175 JI BELL LN SAVANNAH
TN 3360 TOM AUSTIN HWY SPRINGFIELD
TN 2171 S HIGHLAND AVE JACKSON
TN 3200 FORT HENRY DR KINGSPORT
TN 3034 RHEA COUNTY HWY DAYTON
TN 220 CENTURY BLVD BRISTOL
TN 1880 N MAIN ST SHELBYVILLE
TN 768 S JEFFERSON AVE COOKEVILLE
TN 1815 DECATUR PIKE ATHENS
TN 915 N CHANCERY ST MCMINNVILLE
TN 3050 WILMA RUDOLPH BLVD CLARKSVILLE
TN 1102 NO. GATEWAY AVE ROCKWOOD
TN 3755 E ANDREW JOHNSON HWY GREENEVILLE
TN 2000 OLD FORT PKWY MURFREESBORO
TN 547 W CHURCH ST LEXINGTON
TN 475 CROCKETT TRACE DR MORRISTOWN
TN 168 OBED PLZ STE 108 CROSSVILLE
TN 5824 NOLENSVILLE PIKE NASHVILLE
TN 1001 OVER MOUNTAIN DR ELIZABETHTON
TN 4495 KEITH ST NW CLEVELAND
TN 4424 LEBANON PIKE HERMITAGE
TN 911 HIGHWAY 321 N LENOIR CITY
TN 2500 W STONE DR KINGSPORT
TN 1680 FORT CAMPBELL BLVD CLARKSVILLE
TN 3111 BROWNS MILL RD JOHNSON CITY
TN 525 KIMBALL CROSSING DR KIMBALL
TN 373 S ILLINOIS AVE OAK RIDGE
TN 6777 CLINTON HWY KNOXVILLE
TN 7550 NORRIS FWY KNOXVILLE
TN 7420 CHAPMAN HWY KNOXVILLE
TN 2020 GUNBARREL RD STE 250 CHATTANOOGA
TN 3950 AUSTIN PEAY HWY MEMPHIS
TN 5764 HIGHWAY 153 HIXSON
TN 8445 WALBROOK DR KNOXVILLE
TN 3051 KINZEL WAY KNOXVILLE
TN 577 N GERMANTOWN PKWY CORDOVA
TN 2012 MEMORIAL BLVD MURFREESBORO
TN 4959 MAIN ST SPRING HILL
TN 4331 HIGHWAY 66 S ROGERSVILLE
TN 2315 MADISON ST CLARKSVILLE
TN 3550 CUMMINGS HWY CHATTANOOGA
TN 4040 NOLENSVILLE PIKE NASHVILLE
TN 5588 LITTLE DEBBIE PKWY OOLTEWAH
TN 300 PLEASANT GROVE RD STE 600 MOUNT JULIET
TN 150 TANNER LN CLINTON
TN 3035 HAMILTON CHURCH RD ANTIOCH
TN 589 W MAIN ST ALGOOD
TN 490 GREENWAY VIEW DR CHATTANOOGA
TX 1601 W STATE HIGHWAY 114 GRAPEVINE
TX 930 N WALNUT CREEK DR STE 800 MANSFIELD
TX 700 E ENNIS AVE ENNIS
TX 23561 US HWY 59 PORTER
TX 2720 E HIGHWAY 190 COPPERAS COVE
TX 2410 E EXPRESSWAY 83 MISSION
TX 1200 E JACKSON AVE MCALLEN
TX 2440 GILMER RD LONGVIEW
TX 1400 LOWES BLVD KILLEEN
TX 2700 CENTRAL FWY WICHITA FALLS
TX 2800 W NOLANA AVE MCALLEN
TX 496 S BIBB AVE EAGLE PASS
TX 502 E FM 351 BEEVILLE
TX 3829 US HIGHWAY 77 CORPUS CHRISTI
TX 1515 S LOOP 288 DENTON
TX 4530 WOODROW BEAN EL PASO
TX 10727 GATEWAY BLVD W EL PASO
TX 201 W MARCY DR BIG SPRING
TX 6410 INTERSTATE 45 LA MARQUE
TX 1650 STATE HIGHWAY 351 ABILENE
TX 5610 SAN BERNARDO AVE LAREDO
TX 3801 W STATE HIGHWAY 31 CORSICANA
TX 6300 OAKMONT BLVD FORT WORTH
TX 5501 SHERWOOD WAY SAN ANGELO
TX 1025 SAWDUST RD SPRING
TX 4517 N MIDLAND DR MIDLAND
TX 4145 DOWLEN RD BEAUMONT
TX 3401 S 31ST ST TEMPLE
TX 4610 S COULTER ST AMARILLO
TX 2151 W OAKLAWN RD PLEASANTON
TX 1313 N FRY RD KATY
TX 3115 EDGAR BROWN DR WEST ORANGE
TX 200 US HIGHWAY 80 E MESQUITE
TX 2701 E MAIN ST ALICE
TX 6401 NE LOOP 820 NORTH RICHLAND HILLS
TX 401 W COMMERCE ST BROWNWOOD
TX 1209 S INTERSTATE 35 NEW BRAUNFELS
TX 2225 W INTERSTATE 20 GRAND PRAIRIE
TX 1701 E END BLVD N MARSHALL
TX 1501 N INTERSTATE 27 PLAINVIEW
TX 4320 FRANKLIN AVE WACO
TX 702 W LOOP 289 LUBBOCK
TX 401 E US HIGHWAY 82 SHERMAN
TX 1836 S MAIN ST WEATHERFORD
TX 9441 ALAMEDA AVE EL PASO
TX 7239 SW LOOP 410 SAN ANTONIO
TX 2721 BOCA CHICA BLVD BROWNSVILLE
TX 15955 FM 529 RD HOUSTON
TX 488 HIGHWAY 71 W BASTROP
TX 150 W EL DORADO BLVD FRIENDSWOOD
TX 3450 FM 1960 RD W HOUSTON
TX 13750 EAST FWY HOUSTON
TX 3130 LAWRENCE RD WICHITA FALLS
TX 1515 N LOOP 1604 E SAN ANTONIO
TX 1213 E TRINITY MILLS RD CARROLLTON
TX 1521 INTERSTATE 35 N BELLMEAD
TX 1126 W US HIGHWAY 77 SAN BENITO
TX 620 S INTERSTATE 35 GEORGETOWN
TX 4600 7TH ST BAY CITY
TX 4109 S STAPLES ST CORPUS CHRISTI
TX 1801 MARKETPLACE DR GARLAND
TX 4801 S COOPER ST ARLINGTON
TX 9451 FM 1960 BYPASS HUMBLE
TX 2727 DUNVALE RD HOUSTON
TX 1700 DALLAS PKWY PLANO
TX 4122 L B J FWY DALLAS
TX 4000 NEW BOSTON RD TEXARKANA
TX 7101 GATEWAY BLVD W EL PASO
TX 13484 NORTHWEST FWY HOUSTON
TX 8700 N HIGHWAY 146 BAYTOWN
TX 5501 HIGHWAY 6 MISSOURI CITY
TX 1635 MARKET PLACE BLVD IRVING
TX 7401 SAMUELL BLVD DALLAS
TX 6801 S BROADWAY AVE TYLER
TX 1107 SHAVER ST PASADENA
TX 900 N SALINAS BOULEVARD DONNA
TX 5336 GOLDEN TRIANGLE BOULEVARD FORT WORTH
TX 730 W EXCHANGE PKWY ALLEN
TX 7451 MCCART AVE FORT WORTH
TX 201 WALTON WAY CEDAR PARK
TX 18121 MARSH LN DALLAS
TX 305 SINGING OAKS SPRING BRANCH
TX 13900 HORIZON BLVD HORIZON CITY
TX 3040 COLLEGE PARK DR THE WOODLANDS
TX 555 W INTERSTATE 30 GARLAND
TX 621 UPTOWN BLVD CEDAR HILL
TX 1035 HICKORY CREEK BLVD HICKORY CREEK
TX 2700 S KIRKWOOD RD HOUSTON
TX 2020 HEIGHTS DR HARKER HEIGHTS
TX 215 E MILE 3 RD PALMHURST
TX 4215 CANYON DR AMARILLO
TX 10001 WOODLANDS PKWY WOODLANDS
TX 9598 ROWLETT RD HOUSTON
TX 5655 E SAM HOUSTON PKWY N HOUSTON
TX 1710 BROADWAY ST PEARLAND
TX 2320 BOB BULLOCK LOOP LAREDO
TX 12900 NO. I-35 SVC RD SB AUSTIN
TX 10505 BROADWAY ST PEARLAND
TX 4401 HIGHWAY 83 SOUTH LAREDO
TX 1118 SILBER RD HOUSTON
TX 9500 CLIFFORD ST FORT WORTH
TX 1911 MARSHA SHARP FWY LUBBOCK
TX 4006 ESTES PKWY LONGVIEW
TX 4101 S MCCOLL RD EDINBURG
TX 11210 POTRANCO RD SAN ANTONIO
TX 3060 JUSTIN RD HIGHLAND VILLAGE
TX 400 N HIGHWAY 67 MIDLOTHIAN
TX 9235 N SAM HOUSTON PKWY E HUMBLE
TX 6315 82ND ST LUBBOCK
TX 13003 TOMBALL PKWY HOUSTON
TX 1705 EXPRESSWAY 83 PENITAS
TX 8840 BENBROOK BLVD BENBROOK
TX 4412 NORTH FWY HOUSTON
TX 2750 W UNIVERSITY DR DENTON
TX 22605 STATE HIGHWAY 249 TOMBALL
TX 1732 PRECINCT LINE RD HURST
TX 9025 SPENCER HWY LA PORTE
TX 8315 FM 78 CONVERSE
TX 1421 FRONTAGE RD ALAMO
TX 5001 MCKINNEY RANCH PKWY MCKINNEY
TX 3302 SE MILITARY DR SAN ANTONIO
TX 1228 N HIGHWAY 377 ROANOKE
TX 21150 KUYKENDAHL RD SPRING
TX 1721 N CUSTER RD MCKINNEY
TX 1401 N SAGINAW BLVD SAGINAW
TX 9300 S INTERSTATE 35 STE B AUSTIN
TX 1701 W FM 646 RD LEAGUE CITY
TX 600 HEWITT DR WACO
TX 915 E RANDOL MILL RD ARLINGTON
TX 2000 US HIGHWAY 181 PORTLAND
TX 8555 PRESTON RD FRISCO
TX 3404 WEST STAN SCHLUETER LOOP KILLEEN
TX 20310 US HIGHWAY 59 NEW CANEY
TX 6801 W ADAMS AVE TEMPLE
TX 701 W PRINCETON DR PRINCETON
TX 3440 S BRYANT BLVD SAN ANGELO
UT 625 W TELEGRAPH ST WASHINGTON
UT 5469 S REDWOOD RD TAYLORSVILLE
UT 745 W HILL FIELD RD LAYTON
UT 4848 S 900 W RIVERDALE
UT 1550 N MAIN ST NORTH LOGAN
UT 11328 S JORDAN GTWY SOUTH JORDAN
UT 660 S 1750 W SPRINGVILLE
UT 2610 PIONEER RD ST GEORGE
UT 221 W PARRISH LN CENTERVILLE
UT 1200 S COMMERCE WAY PERRY
UT 350 HOPE AVE SALT LAKE CITY
UT 1052 TURF FARM RD PAYSON
UT 10 E 1300 S RICHFIELD
UT 5675 W 6200 S WEST VALLEY CITY
UT 1632 N 2000 W CLINTON
UT 9151 S QUARRY BEND DR SANDY
UT 585 N STATE ST LINDON
VA 976 COMMONWEALTH BLVD MARTINSVILLE
VA 5350 CLEARBROOK VILLAGE LN ROANOKE
VA 780 COMMONWEALTH DR NORTON
VA 1851 W MAIN ST SALEM
VA 1028 RICHMOND AVE STAUNTON
VA 3900 WARDS RD LYNCHBURG
VA 2350 S PLEASANT VALLEY RD WINCHESTER
VA 671 SOUTHPARK BLVD COLONIAL HEIGHTS
VA 515 MOUNT CROSS RD DANVILLE
VA 12000 IRON BRIDGE RD CHESTER
VA 6819 WALTON LN GLOUCESTER
VA 4001 COLLEGE AVE BLUEFIELD
VA 12401 JEFFERSON AVE NEWPORT NEWS
VA 8386 SUDLEY RD MANASSAS
VA 1800 CARL D SILVER PKWY FREDERICKSBURG
VA 900 WALMART WAY MIDLOTHIAN
VA 45415 DULLES CROSSING PLZ STERLING
VA 13245 LEE HWY BRISTOL
VA 4807 VALLEY VIEW BLVD NW ROANOKE
VA 700 JAMES MADISON HWY WARRENTON
VA 1149 NIMMO PKWY VIRGINIA BEACH
VA 731 E ROCHAMBEAU DR WILLIAMSBURG
VA 1050 REGIONAL PARK RD LEBANON
VA 1098 FREDERICK BLVD PORTSMOUTH
VA 14501 HANCOCK VILLAGE ST CHESTERFIELD
VA 164 CAMP CREEK PKWY GORDONSVILLE
VA 3227 OLD FOREST RD LYNCHBURG
VA 632 GRASSFIELD PKWY CHESAPEAKE
VA 10001 SOUTHPOINT PKWY FREDERICKSBURG
VA 7530 TIDEWATER DR NORFOLK
WA 909 E WISHKAH ST ABERDEEN
WA 100 E WALLACE KNEELAND BLVD SHELTON
WA 2000 N WENATCHEE AVE WENATCHEE
WA 1601 NW LOUISIANA AVE CHEHALIS
WA 6797 STATE HIGHWAY 303 NE BREMERTON
WA 762 OUTLET COLLECTION WAY AUBURN
WA 310 31ST AVE SE PUYALLUP
WA 540 7TH AVE LONGVIEW
WA 1700 SE MEADOWBROOK BLVD COLLEGE PLACE
WA 15727 E BROADWAY AVE SPOKANE VALLEY
WA 221E NE 104TH AVE VANCOUVER
WA 8924 QUILCEDA BLVD MARYSVILLE
WA 2301 FREEWAY DR MOUNT VERNON
WA 2301 W WELLESLEY AVE SPOKANE
WA 9000 NE HIGHWAY 99 VANCOUVER
WA 20307 MOUNTAIN HWY E SPANAWAY
WA 1399 NAT WASHINGTON WAY EPHRATA
WA 2801 DUPORTAIL ST RICHLAND
WA 16502 MERIDIAN E PUYALLUP
WA 1401 GALAXY DR NE LACEY
WA 7001 BRIDGEPORT WAY W LAKEWOOD
WA 17100 STATE ROUTE 507 SE YELM
WA 1486 DIKE ACCESS RD WOODLAND
WA 4010 172ND ST NE ARLINGTON
WA 5900 LITTLEROCK RD SW TUMWATER
WA 6600 W NOB HILL BLVD YAKIMA
WA 21200 OLHAVA WAY NW POULSBO
WA 430 SE 192ND AVE VANCOUVER
WI 3711 S TAYLOR DR SHEBOYGAN
WI 351 S WASHBURN ST OSHKOSH
WI 2501 WEST AVE RICE LAKE
WI 3705 TOWER AVE SUPERIOR
WI 4115 CALUMET AVE MANITOWOC
WI 2440 W MASON ST GREEN BAY
WI W190N9855 APPLETON AVE GERMANTOWN
WI 6701 S 27TH ST FRANKLIN
WI 250 WOLF RUN MUKWONAGO
WI 377 N ROLLING MEADOWS DR FOND DU LAC
WI 3107 MARKET PL ONALASKA
WI 1901 MARKET WAY WATERTOWN
WI 250 CROSSROADS DR PLOVER
WI 955 MUTUAL WAY APPLETON
WI 226100 RIB MOUNTAIN DR WAUSAU
WI 1244 EAST GREEN BAY SHAWANO
WI 4198 NAKOOSA TRL MADISON
WI 2785 MILWAUKEE RD BELOIT
WI 3049 OAKES RD STURTEVANT
WI 3355 S 27TH ST MILWAUKEE
WI 3701 E CALUMET ST APPLETON
WI 1819 E GENEVA ST DELAVAN
WI 4433 VANGUARD DR SHEBOYGAN
WI 428 WALTON DR PLYMOUTH
WI 130 COMMERCE ST WISCONSIN DELLS
WI 2151 ROYAL AVE MONONA
WI W159S6530 MOORLAND RD MUSKEGO
WI 2786 COMMERCIAL BLVD CHIPPEWA FALLS
WI 1220 THEIL ST HARTFORD
WV 200 ACADEMY DR RIPLEY
WV 800 FOXCROFT AVE MARTINSBURG
WV 32 TYGART MALL LOOP FAIRMONT
WV 701 GRAND CENTRAL AVE VIENNA
WV 400 THREE SPRINGS DR WEIRTON
WV 2700 MOUNTAINEER BLVD SOUTH CHARLESTON
WV 75 RETAIL CIRCLE MORGANTOWN
WV 3333 US ROUTE 60 HUNTINGTON
WV 77 NORMAN MORGAN BLVD LOGAN
WV 5680 HAMMONDS MILL RD MARTINSBURG
WV 25 NICHOLS DR BARBOURSVILLE
WY 201 GATEWAY BLVD ROCK SPRINGS
WY 4400 E 2ND ST CASPER
WY 4255 CY AVE CASPER