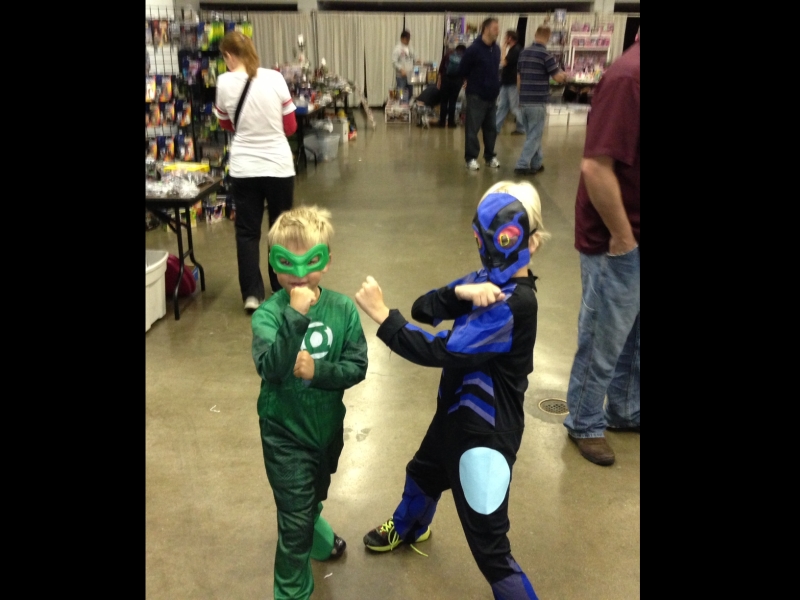 The tenth annual Columbus Toy Show took place this past Sunday at Veterans Memorial Auditorium in Columbus, Ohio. There were plenty of museum members, and plenty of Mego merchandise, to be found……
Green Lantern and Blue Beetle are part of the Piatt clan, aka museum member Godzilla. Other museum attendees included Duncan, GaryB, BiotronTim, Luey, EMCE Hammer, and durgos. Most of the aforementioned are regulars at CTS, as dealers, buyers, or both. This was Greg 'Luey' Mason's first year, and thankfully we have him hooked for future engagements.
As could be expected, Greg's table had the juiciest Mego offerings. I spent a lot of time staring at his pristine yellow-legged Aquaman, but it was hard to focus with all of the boxed and carded goodness on his table. Across the way BiotronTim had a nice menu of Micronauts, Shoguns, etc. He was even smilier than usual, having found one of his grails – a boxed Biotron Halloween costume from the 70s.
There is a fun story to be shared about a particular boxed Catwoman sale, but I will save that for the participants. The following pics are just a taste of what CTS has to offer. We were fortunate to run into local photographer and toy picker extraordinaire Sean Dean who took hundreds of photos, and we will post a link shortly.
A good time was had by all. Dates for upcoming shows will be posted at www.ctspromotions.com