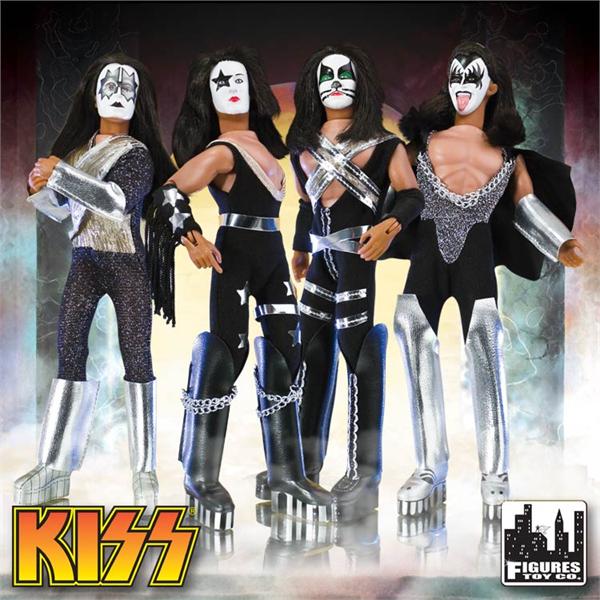 The Mego Museum touched base recently with Anthony Balasco of Figures Toy Company to discuss past, present, and potential offerings in Mego scale figures and accessories including their exciting new line of figures based on the immortal rock band KISS.
EH: We appreciate you taking the time to chat with us. Obviously everyone is chomping at the bit to hear anything and everything about Figures Toy Company's upcoming KISS line, but before we discuss that I would like to get a little background on the company and its past offerings. Figures Toy Company has been around for as long as I can remember in one incarnation or another. Can you share how things started?
AB: I started Figures Inc, now known as Figures Toy Company, back in 1989 when I was 19 years old basically out of my bedroom. Given my age I always had a fondness for Mego figures and also Star Wars. I was not the type of child to take things out of the package and play with them. For the most part, I kept them in their packages or if I did open them I displayed them. I simply just accumulated toys and kept them. Then in 1988-1989 I was in a Waldenbook store and discovered a magazine called "Toy Shop." After browsing thru Toy Shop I began to see what things were worth and realized some of the collectibles were still on the clearance aisles of most local toy stores in the Northeast where I grew up. So I decided to start buying and selling toys.
EH: What made you decide to enter the Mego-like arena with Classic TV Toys?
AB: Back in 1998 we made a line of Three Stooges figures that were similar to Mego but only about 7 inches tall and at the same time for a reason I cannot remember made some Mego size Superhero colored boots and reproduction shoes. After selling these reproduction items for a number of years I decided it was time for somebody to try to bring back the 8 inch action figure market. Being that I sold a great deal of horror related items from 1989 to 2005 we decided to try the Mad Monsters.
 

EH: There were several licenses in play in a short period of time. What were the best sellers? Are there any that in hindsight you wish you hadn't pursued? Any "lessons learned" that helped you prepare for the KISS project?
AB: The Munsters, Space 1999 and Happy Days were the best sellers by far and to be honest were moving at a rapid pace, releasing figures by the series rather quickly and we then encountered some quality issues. We were then encouraged by the Mego community to sell parts, bodies and accessories. The main lesson we learned was quality control and to not accept anything that is not 100% perfect. So preparing for our new KISS figures we have two new factories based in China that will be producing them for us.

EH: Most people I know have high praise for the clothing and accessories from CTVT, whether they be from the licensed figures or stand alone runs. The bodies went through a few incarnations, and were offered in various colors, including glow-in-the-dark which are my personal favorites. Can you share how they evolved?
AB: Basically we listened to the customers who were nice enough to give their opinions and suggestions and acted on them. Some of the figures that were overproduced back in 2005 made sense to part them out for the customers who make custom figures.
EH: CTVT had a reputation for being open to customer input as you mentioned, which resulted in production runs of some of the most requested items over the years. Do you expect that to continue?
AB: We actually have three very good factories right now and are looking for customer input for items to make. We plan on going full force in 2012 into custom clothing and accessories but would love to hear from the end user customers with their ideas. Please email me directly at figinc@aol.com. I personally read each email and take everything into consideration.

EH: Will Figures Toy Company/CTVT continue to offer bodies in different colors after the products from India are exhausted? I would love to be able to buy a China-made figure in clear or glow-in-the-dark.
AB: Yes, coming soon, please send suggestions.

EH: Thanks for the background Anthony. Now let's jump forward to 2012, and the announcement that surprised most Mego collectors……you guys are making KISS figures! New 8″ and 12″ bodies based on the original Mego designs, made in China; a license that had to be pricey – tell us how this bold enterprise began!

AB: We have kept this a secret for over a year now and are proud to have obtained what we think is one the key licenses for the Mego type figure market. KISS also has a very big following on its own as we are finding out.

EH: The figures are almost ready to hit the street. Was it a smooth process from licensing through production?
AB: Actually no, we started the KISS in early 2011 but the Japanese earthquake that happened last year actually put the factory we were using out of business thus leaving us to scramble to find a new one and causing a major delay. We now have found an even better factory that is making the figures for us.

EH: Was it always the plan to make the figures in both scales? Are you going to take a wait-and-see approach, or is the intent to continue both scales with each release?
AB: Yes, we wanted to replicate the 12 inch figure for customers who did not get them back in the 70's or that cannot afford the collectible prices they now command. Based on our pre-selling the 12 inch figures to our surprise are doing very well, KISS fans are buying both sizes. I had to make sure they were made in 8 inch for the 8 inch collectors. Each series we release will be in both sizes.
EH: The packaging for these is just gorgeous; it really pops. Anything you can tell us about who was involved or how the design came to be?
AB: Our graphics are now done in house at our facility in Tampa Fl, we currently employ two designers.
EH: There's been a lot of speculation as to what versions of the band will make it into production after the initial run. What are the chances we'll see Eric Carr or Vinnie Vincent in future assortments? Will we see an unmasked set?
AB: Here is what we are working on, but anything can change.
Dressed to Kill
1st KISS Album
New Era Sonic Boom with Tommy Thayer and Eric Singer
Newly sculpted heads rather than using the 1st Series Retro figure heads

Trying to get permission to do
Unmasked figures from 1983-1994, Lick it Up thru Revenge
Eric Carr
Bruce Kulick etc
EH: With all the tooling involved for these new bodies, can we safely assume that there are more licensed properties in the future? If so, can you give any hints?
AB: Right now we want to concentrate on KISS and then go forward. Before KISS we obtained "My Favorite Martian." We have a prototype made but we are not sure if it will make production. I will send you a picture if you would like to post it to see if there is any interest.
EH: Of course we'd love to see it! Speaking of tooling, are there any production pictures yet of the 8″ version of the body? What can be seen in the pictures of the prototypes is *very* encouraging.
AB: I will send you one for your review.
EH: We'll anxiously await those photos. Thanks again Anthony for taking time to talk to us. We hope that you and Steve will visit the Mego Museum soon – please keep us posted!
For pictures and ordering info, go to Figures Toy Company