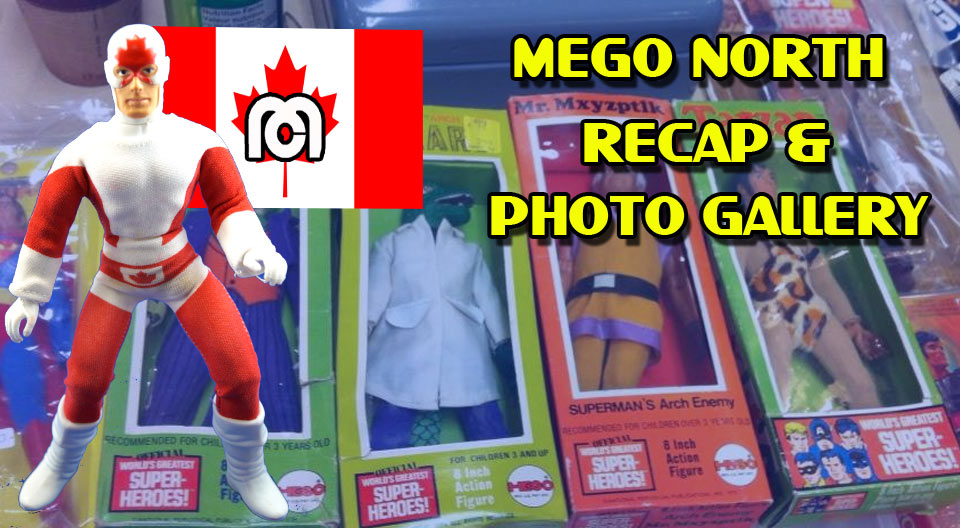 This past Sunday, the third gathering of Canadian Mego Collectors AKA "Mego North" was held within the confines of Canadian Toy Con in Burlington, Ontario.
While understandably a smaller group than the annual Mego Meet convention , Mego North was no less a jubilant experience  where members could put faces to Mego forum screen names and for lurkers to "decloak" briefly and say hello.
As a result, the show had an above average presence of vintage Mego toys as well as some fantastic deals on ReMego figures from EMCE, Figures Toy Company Diamond Select, and ODEON.
At each event, a limited edition custom Mego North exclusive figure of a Canadian icon is offered, this year's Igor sold out quickly.
All  attendees were invited to join in on a post Mego North dinner celebration held across the street immediately after the show. It was a positive way to wind down what turned out to be a whirl wind of toy talk and laughter.
Thanks to everyone who came by, said hello and made the event one of the most fun we've had in memory. Mego Lives, Eh!
Special thanks to Sam Noir for the additional photos.
More news like this every week in our newsletter Subscribe today!
Join us at the world's only dedicated Mego Forum.
Follow the MegoMuseum on Twitter