When we published our list of the "Top Ten Mego Superhero items that never got made" recently, we forget to mention one of the more interesting rumors that swirl around the World's Greatest Toy Company.
The concept that Mego was developing "World's Greatest Superhero" vitamins was confirmed by the late Neal Kublan when interviewed by Robyn Adams.
In the interview, Kublan recalled several things, Marvel at the time was owned by Vitamin company (Hudson who would release Spider-Man vitamins) so Mego chose to use the DC characters exclusively. DC's main objection was children believing they could fly like Superman if ingesting them (and thus getting into harm) and finally, he believed that the abundance of strict testing killed the overall project.
That's all we knew until Rob Usdin, whose father Laurence worked at Mego for 9 years, unearthed this treasure from the 1977 Mego shareholders report and shared it with us.

Right there in black and white, Mego had started the subsidiary called "Nutra-Child Inc" to begin marketing "World's Greatest Superheroes" vitamins and hopes were high that it would be a cash cow.
This information is interesting but the real prize is a photo of the Mego World's Greatest Superheroes Vitamins themselves, voila: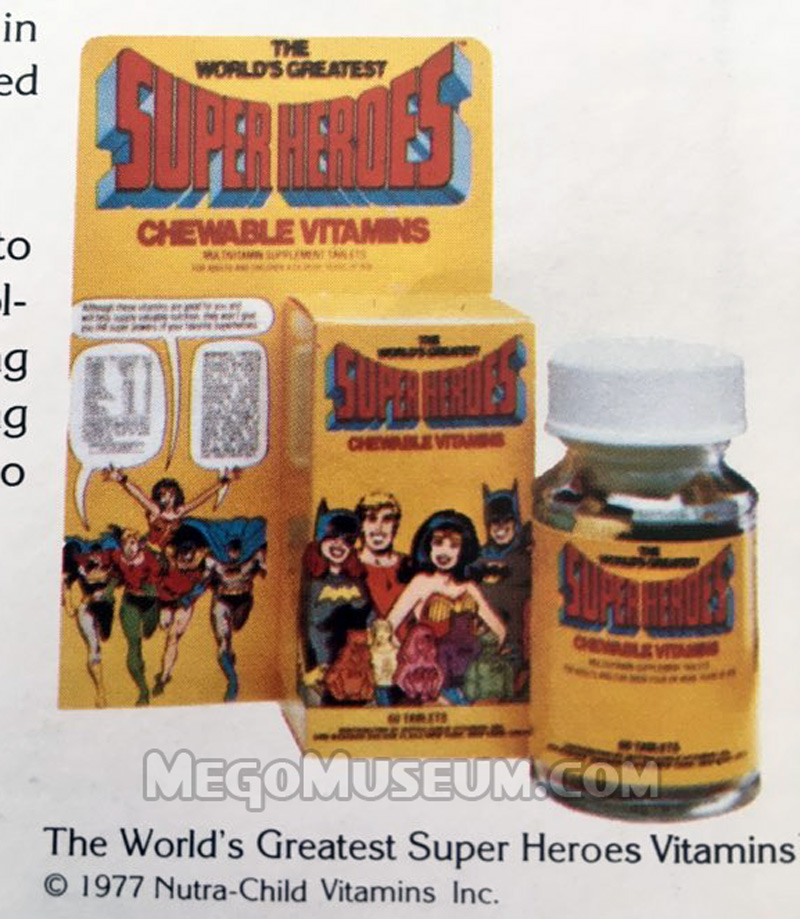 As you can see, Superman is absent from the packaging, which jives with Kublan's comments about "DC felt kids would take a Superman vitamin and try to fly" but obviously, no problem with them being to be swim like Aquaman!
Edited to add: The awesome Wonder Woman Collectors website has vintage packaging and advertising from the limited release of the WGSH Vitamins.
What a wonderful and strange discovery, just goes to show, we're not done learning about Mego yet. We're very grateful to Rob for this wonderful discovery.
Mego Meet 2018 is June 1st & 2nd – Columbus, Ohio

Shop for Mego on Ebay and each click supports us a little bit, thanks!
Discuss this on the Mego Museum Forums!
Like the Mego Museum on Facebook