It's a great day for Mego collectors as the new book by Benjamin Holcomb is finally here. We try to take an objective look at "World's Greatest Toys" here: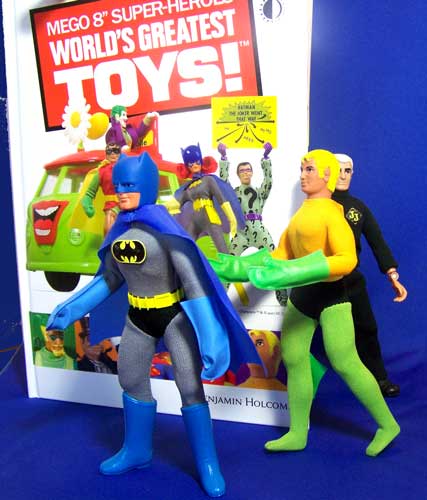 It's a bit difficult to review a book like "World's Greatest Toys" without showing a level of bias. In fact, I almost didn't do a review at all for fear of sounding like a shill but the book itself is an achievement and thus deserves acknowledgement.
The first thing you read in WGT is the acknowledgements, most of the names are familiar to me, I "see" them almost everyday. These people donated pictures, scans or in many cases transported their actual items across state lines, so WGT author Benjamin Holcomb could use his fantastic photographic skills on them. People helped because they wanted this book to happened.
it's the best example of what a collector community should be, a person has a vision and others pitch in. Actually holding this book made me happy, it's here, it happen.
The content of "World's Greatest Toys" is devoted to the Mego 8" Superheroes, it's done this way so Benjamin could put the line under the microscope like it has never been done before. Despite all the sneak peaks on his blog and at the WGT forum, I couldn't believe how many surprises he left in there, how much I didn't know about the toys I've spent so much time thinking about.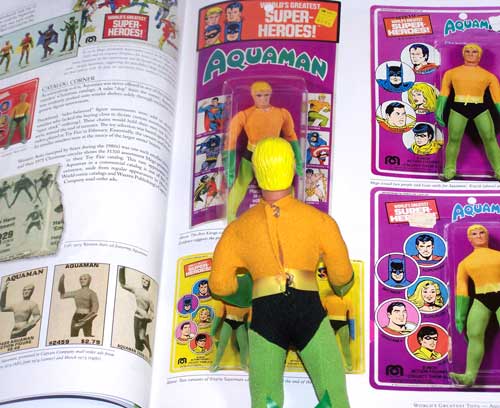 The research put into this is apparent right from page one, interviews with people like Stan Weston, the "father" of the World's Greatest Superheroes give a new insight into how the line was born. For the Tarzan chapter, we get documentation from the Burroughs family archives, did you know Mego paid a $7,234.36 in total for the Tarzan license because the figure sold poorly? I certainly didn't, this is just one of the hundreds of wonderful surprises that WGT has in store.
The book's layout is probably the true star however, from Superman right down to the Teen Titans you are awash in striking graphics featuring figure variantions, catalog pages and of course the most superhero packaging known to man. The World's Greatest Superhero packaging is known for it's brilliant use of colour and the book makes the best of this, the colours bound off the brilliant white pages.
I originally wanted to showcase my favourite image from the book, I couldn't because it was too hard to pick just one.
Artist Otto Lange offers amazing treats with his oil renderings of the WGSH, they add a certain legitimacy to this hobby and I'm grateful for their inclusion.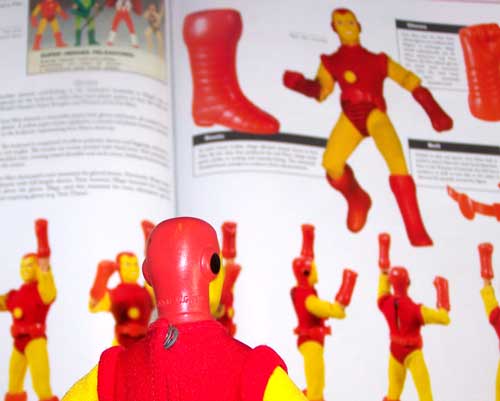 WGT also dispels many myths and rumours that have haunted Mego collectors for years. From the minor such as where Pin Pin cards country of origin (France, not Canada) to the fact that Mr. Mxyzptlk's head sculpt wasn't changed because it frightened children as it had been pontificated in the past.
The book ends with a rare glimpse inside Mego itself with rare candid photographs and insider advertising.
"World's Greatest Toys" is a book by Twomorrows publishing but it's more than that, it's the coffee table book that you will not be able to put down, it's a love letter to a company that brought joy to children of the 70's. It's a crazy time warp that will make you want to crack open your MOC Batman and Robin and head down to the sandbox.
Reading this book will have you cruising Ebay, you have been warned.......
Want to discuss World's Greatest Toys? Visit the MegoMuseum Forums and have your say.