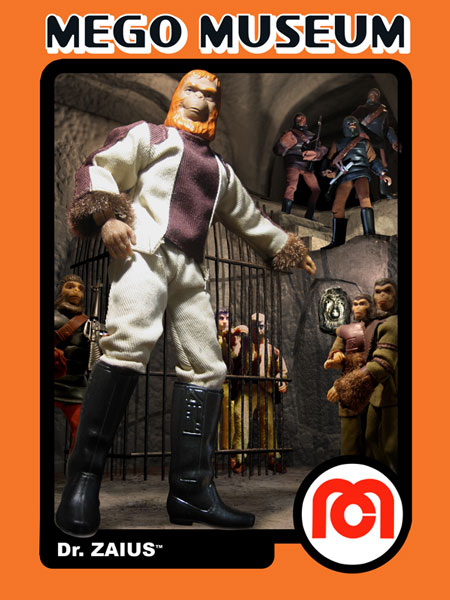 Introduction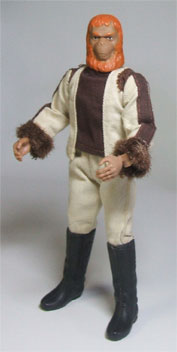 Dr. Zaius is the lone Orangutan figure of the Mego Planet of the Apes line, based on the character from the first two Apes movies, played masterfully by the venerable Shakespearean actor Maurice Evans. As Minister of Science and Chief Defender of the Faith, Zaius was responsible for the preservation of Ape Culture, which also meant that it was his duty to stifle discovery of the "long dead but superior human culture."
Mego sculptors did a wonderful job of capturing the likeness of Zaius. His beige outfit includes knee-pants and a jacket, with vertical strips of brown fabric representing the leather glyphics of the originals, and fake fur cuffs. An orange outfit would have been more accurate, but Mego fans should be thankful they didn't get Dr. Zaius in blue, as he was depicted in dozens of other toy lines.
Dr. Zaius came in the coolest of ALL Ape boots: Very tall and made in black plastic, these boots had fantastic "Glyphics" molded into the upper sides. These boots were unique to Zaius, and never used for any other figure. Very first issue figures, however, were packaged with a simpler black hero boot (available with the fishing outfit for Action Jackson). He was available on a type1 and type 2 body although type 1 is much more common. The only really significant variation found on Dr. Zaius is hair color, which could range from yellow to orange.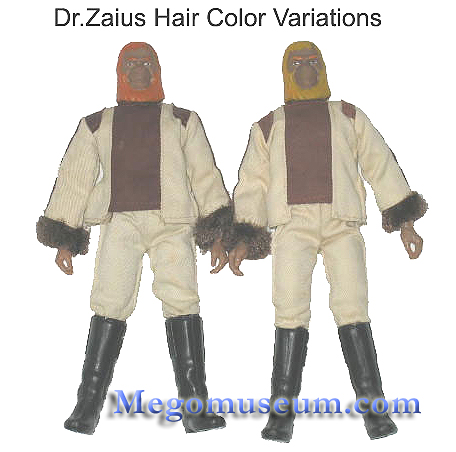 Other than the two kinds of boots, there are no outfit variants for Mego Zaius, other than the different shades of hair colouring which really doesn't count.
Packaging List
1st issue larger card ( square or round blister)
Kresge Card
2nd issue smaller card ( 1973 copyright between feet, no age recommendation)
2nd issue smaller card ( silver/black stripe over 1973 copyright, age recommendation added)
2nd issue smaller card ( 1973 copyright removed completely, age recommendation)
Bullmark box (Japan)
2nd issue card with Baravelli sticker (Italy)
Bradgate/ Palitoy card (UK)
Palitoy card (UK)
Cipsa Box (Mexico)
Mailer box
Treehouse Giftset ( came with set in plastic baggie)
1st issue Card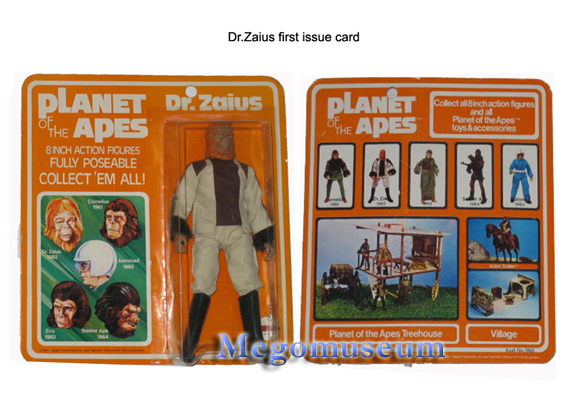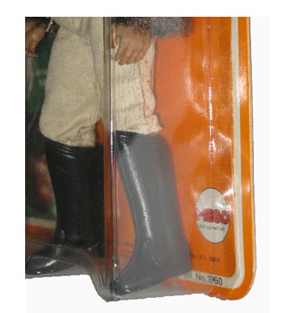 The Mego Zauis first issue card is taller and wider than the common second issue (See the Cornelius page for exact size comparison). The figure will always have a type 1 body and may sport the black hero booties.
Kresge Card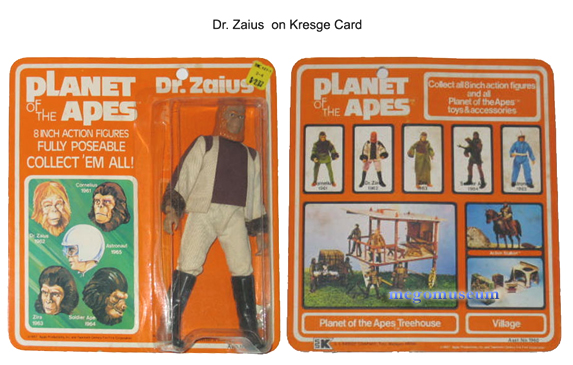 it's not commonly known that Mego printed Kresge cards for the apes like they did with the heroes, as you can see it's essentially a 1st version card with the kresge logo and price printed directly on.
Second Issue Card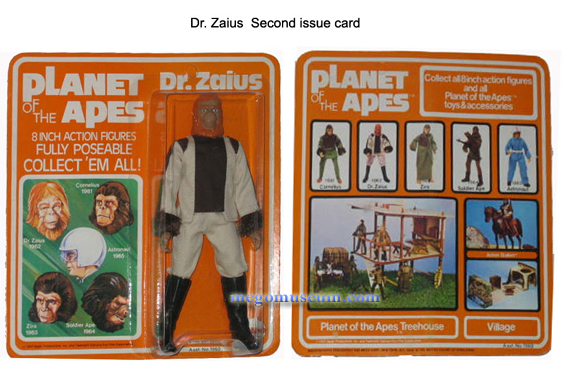 You're most likely to find Dr Zaius on this second issue Mego card, the body type will vary however.