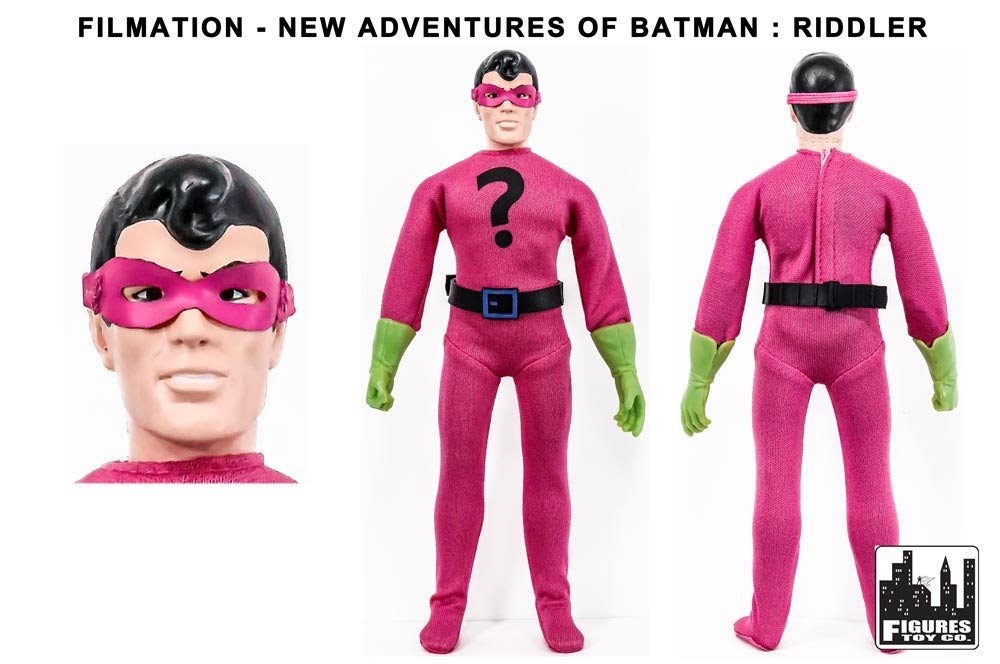 What famous character made an impact on Bat-fans without appearing in one episode of The New Adventures of Batman? The same one who is being unveiled in today's #MMFTCNEWS update! Figures Toy Company is pleased to announce that The Riddler is slated to join Joker and Batman in the new toy line based on the TV show, without ever having battled Batman on it!
This is confusion that only someone like The Riddler could be responsible for, so let's clear it up for collectors. Because he was already appearing in "Challenge of the Super Friends", neither Riddler nor Scarecrow were available to be used on the new Batman cartoon. However, The Riddler is shown in the opening of the show, dressed a little differently. Using that cameo in the cartoon as inspiration, FTC has crafted an all new Riddler figure featuring him in the pink jumpsuit as shown in the intro to The New Adventures of Batman! Now collectors can enjoy this rare sight of Riddler in pink for a long time to come!
With three figures confirmed for The New Adventures of Batman line, Figures Toy Company has the eyes of eager fans on them to see what's next. More figures from this and other series will be announced over time right here as #MMFTCNEWS exclusives, and daily updates, hints, and previews can be seen across all of FTC's social media pages. For fans who are looking to add something new right away, be sure to check out www.figurestoycompany.com for all of FTC's available items, featuring classic characters from DC Comics and Hanna Barbera, KISS in an assortment of their iconic stage costumes, and Three Stooges figures inspired by their classic shorts! Visit their site to check out hundreds of collectibles available now from FTC, and put playtime on pause next Friday so you can come back here for another edition of #MMFTCNEWS!
Subscribe to the MegoMuseum News and get #MMFTCNEWS every Friday!