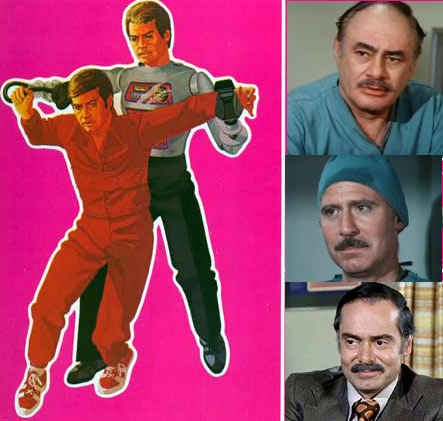 BifBangPow!'s Jason Labowitz was a guest on the SiriusXM radio show, Geek Time today and gave Mego fans a few new teases for 2012.
1) For San Diego Comic Con there will  Oscar Goldman briefcase lunch box containing a Rudy Wells figure. Instead of choosing a single Rudy headsculpt, BifbangPow is including three depicting every actor who portrayed the character so whether you prefer Balsam or are more of an Oppemheimer fan, it's all up to you! (personally I think Martin E. Brooks is the dreamiest)
2) A version of the popular figured dubbed by Kenner as "Maskatron" (based on the episode Day of the Robot) will be coming,
3) Variant Cylons such as gold and battle damaged are in the works.
Thanks to Museum member SciFiGuyLA for the tip

Order Six Million Dollar Man Steve Austin & Bigfoot Action Figures from Entertainment Earth!