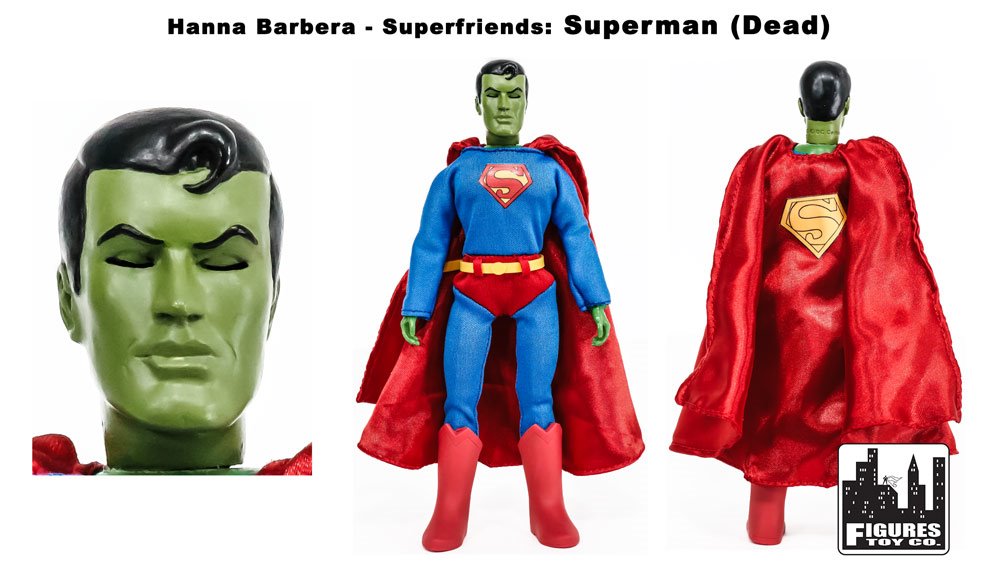 Fans of DC Comics will remember the Death of Superman storyline as one of the most memorable and controversial sagas in comic book history, but did you know that Superman had previously met his end on an episode of Super Friends? Figures Toy Company is preparing to remind collectors of one of the saddest episodes in the history of that show with their latest entry in their popular Super Friends retro figure line. Today's #MMFTCNEWS is your first look at the variant "Dead" Superman!
In the last episode of the Super Friends/Super Powers franchise that ever aired, the Man of Steel was done in by Kryptonite poisoning, turning him green and making him a goner. FTC is now recapturing the moment that we thought we'd never see Superman again with an all new retro figure, featuring Superman with green toned skin. FTC has shown that they're willing to dive deep into the DC archives for inspiration for their figures, and this new Superman is no exception!
This new Superman figure is just one of many Super Friends figures still in the works at Figures Toy Company. Darkseid, Desaad, and more are all expected to be available on Figures Toy Company later this year! While you're waiting, check out all of FTC's other offerings, like an entire series dedicated to Superman and his supporting cast, his Super Friends allies and their enemies, figures from other Hanna Barbera cartoons such as Space Ghost and Scooby Doo, and much more! Find out more about upcoming FTC products on their social media pages, and check out another edition of #MMFTCNEWS next (and every) Friday for exclusive updates!