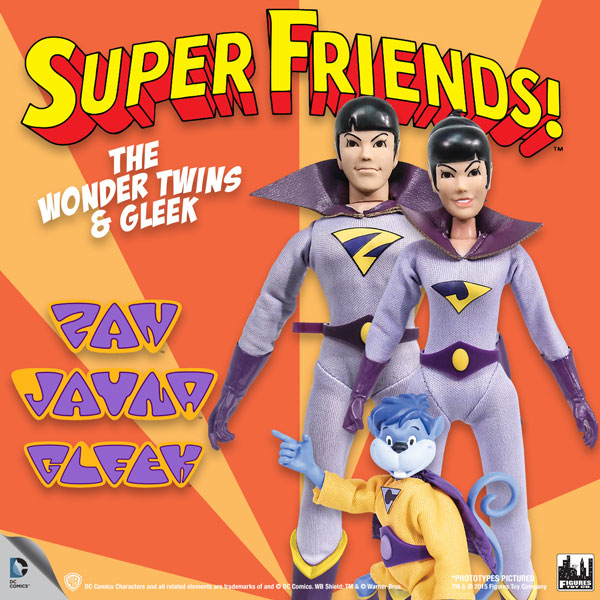 Figures Toy Company is ready to activate their retro figure powers and bring you the latest addition to their Super Friends line: The Wonder Twins!  That's right, fan favorites Zan and Jayna will be released in an upcoming Super Friends three pack with their space monkey sidekick, Gleek!
These will be the first multi pack retro figures for the DC Comics characters that were originally created for the Super Friends cartoon.  Both Zan and Jayna have been created in the traditional retro figure style, with costumes based on their trademark outfits and likenesses sculpted by Danny "The Farrow" Anniello.  Gleek is different than your standard retro figure, as he has been created with a body type that reflects his small stature as compared to his retro figure counterparts!  All three of these latest Super Friends releases are fully poseable figures, and will be encased together in Figures Toy Company plastic clamshell packaging.
Estimated release date for these young heroes is early 2016! For updates on the Super Friends line and all the other retro figures that Figures Toy Company has to offer, follow them on social media, and visit 
Figures Toy Company
 !  If you want breaking news each and every week on all of the upcoming toy lines, make sure to use the hashtag #
MMFTCNEWS
on social media so that you don't miss it!