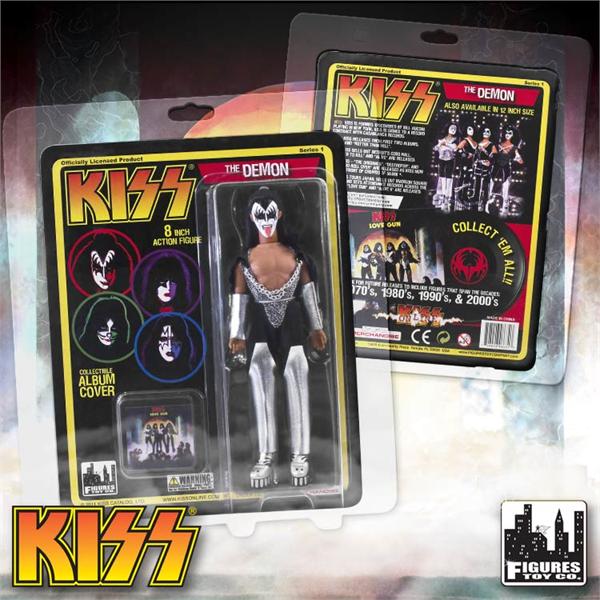 Figures Toy Company to Release Retro 8 and 12 inch KISS Action Figures
Tampa, Fl- January 27, 2012 – Finally!! "You Want It You Got It"  "The Hottest Band in the World"  "KISS"
KISS Collectors, Rock Fans get ready. Figures Toy Company is about to introduce KISS action figures, reminiscent of the action figures first released in 1977-1978 by the Mego Toy Company.  These figures will have rooted hair, cloth clothing, 16 points of articulation and for the first time will be available in 8 inch as well as a re-release of the 12 inch.
CFO Anthony Balasco states, "I never understood why 8 inch KISS action figures were not produced back in the 1970's when The Mego Toy Company had already released the 12 inch versions. Our first release will have the retro look from the 1970's, but future releases will cover all time periods in KISS's 40 year musical career from 1972 to 2012″. Look for special exclusives and limited edition releases. Collectors will be able to find these at toy stores, comic shops, music stores and on-line retailers starting in March 2012.
The deal was brokered by Live Nation Merchandise, KISS's Global licensing agent.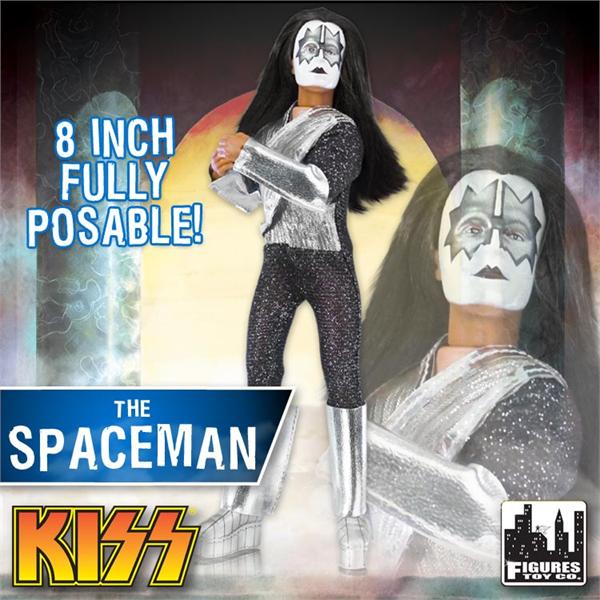 About KISS
KISS, the legendary American rock band was founded in 1972. Four decades later KISS remains one of the most influential bands in the history of Rock and Roll. Their achievements include the release of approximately 44 albums, sales of over 100 million albums, sold out concerts tours around the world and the incredible support of over 6 million Face Book fans worldwide. KISS has performed at the Super Bowl, 2002 Winter Olympics, 2009 Finale of American Idol, 2005 Rockin' The Corps Concert. In 2009, KISS was nominated for induction into the Rock and Roll Hall of Fame. KISS is currently in the recording studio recording their 2012 Album, "Monster".
For all things KISS, visit www.KISSONLINE.com
About Figures Toy Company
Figures Toy Company was started back in 1989 by Anthony Balasco who sold collectible toys through print catalogs, print ads and direct selling at collectible toy shows. In 1998, Anthony partnered with Steve Sandberg and obtained the licensees to manufacture Replica Wrestling Belts. Figures Toy Company now manufactures WWE, WCW, ECW Replica Wrestling Belts, 8 inch Retro Type action figures and continues to work on product directly aimed at the collectible consumer.
Please visit www.figurestoycompany.com for more details.
Contact:
Steve Sandberg
Figures Toy Company
12826 Commodity Place
Tampa FL 33626
Phone 813-749-0800
email : figinc@aol.com
Contact:
Anthony Balasco
Figures Toy Company
12826 Commodity Place
Tampa FL 33626
Phone 813-749-0800
email : figinc@aol.com
About Live Nation Entertainment:
Live Nation Entertainment (NYSE:LYV) is the largest live entertainment company in the world: connecting 200 million fans to 100,000 events in over 40 countries which has made Ticketmaster.com the #3 eCommerce website in the world. For additional information, visit www.livenation.com/investors.