Action figures have fascinated kids and adults alike since the dawn of… well, action figures, and some of the most interesting examples of the art are now up for auction in the latest go-around from Hake's Auctions. Some are old, some are new, most are rare, and some are one-of-a-kind. Check out some of the shining examples below, then go see if they have anything else that's up your alley! Auction ends November 14th-15th!
Mego World's Greatest Heroes Iron Man (Carded)
Sure, you can buy Mego figures at Target nowadays, but some of the original 1970s Mego figures are incredibly rare, especially when you look at how they were offered. This carded example of Iron Man was only available briefly, after his initial run as a boxed figure, and was quickly dropped from the line, because nobody cared about Iron Man in 1975. AFA-graded at a 75, this is the only graded copy of this carded figure in existence, which is why it will go for big bucks.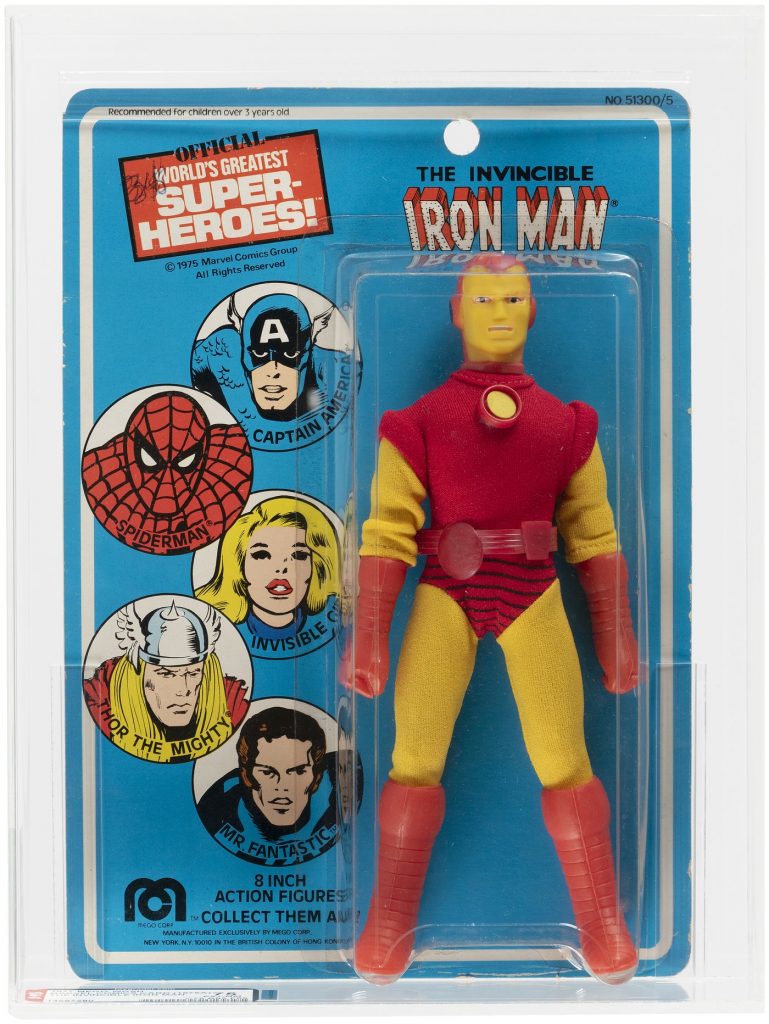 Star Wars "Uzay Savascilari" Turkish Darth Vader ("Kara Lider")
Star Wars was a global phenomenon, but not every country enjoyed Star Wars in the same way. Turkey, for example, enjoyed it as "Uzay Savascilari," and knew Darth Vader as "Kara Lider". They also got their unlicensed action figures from a company called SB Products, which hit stores in 1988 and featured card art of the actual toys, as opposed to movie photos. Carded examples are rare, and this one has the highest recorded grade.
Star Wars Darth Vader Collector Case, Gold Prototype
While not made of real gold, there is something very extravagant about seeing a gold Darth Vader collector case. A prototype, probably made to test the colors for the C-3PO collector's case, this gold Vader would not look out of place in the hands (or around the neck) of a hip-hop mogul, or possibly Mr. T, to protect his vintage Star Wars figure collection.
Transformers Series 2 Jetfire AFA 90 (1985)
One of the most egregious examples of mold re-use in the Transformers line, Jetfire famously used a Super Valkyrie toy from the anime series Super Dimension Fortress Macross, which had already been (briefly) released on VHS in the US by 1984, and would appear as part of Robotech in 1985. That's probably why the cartoon version of Jetfire looked very, very different, but that doesn't make the toy look any less cool. With the large packaging window and amazing box art (front and back), you almost don't care that it's sealed in a graded case.
TMNT Surfin' Leo with Mondo Mutant Surfer Tube AFA 85
The important thing to remember about the "Surfin' Turtles" subset of the Teenage Mutant Ninja Turtles is that they lived, not in California, but in New York City. In the sewers. Now, we're pretty sure there is surfing in the greater tri-state area, but we suspect most of the surfing was done in the raw sewage flowing under the city. At least with this "Surfer Tube," which actually floats, there is less of a chance of getting accidentally submerged in the stuff. Looks like Leo was the smart one.
G.I. Joe ARAH Serpentor with Air Chariot AFA 80 (Canadian)
One of the biggest events of a young boy's life in the 1980s may very well have been when Dr. Mindbender combined the DNA of history's greatest leaders to create Serpentor. Not only was there now a chance Cobra might actually get some stuff accomplished, he had an awesome name, a great costume and a frickin' snake-headed air chariot. So owning the toy was like a dream come true! Relive that glory with this graded example, with amazing box art and bilingual packaging. Vive la Cobra!
Real Ghostbusters Mr. Stay-Puft (scared) AFA 9.25
While the Hake's auction has a variety of vintage Ghostbusters toys on the block, including an Ecto-1, it's also got a modern Ghostbusters toy! The NYCC-exclusive Scared Mr. Stay-Puft was the last figure released in the popular Real Ghostbusters toy line by Diamond Select Toys, and this graded example was encased with its flap open, so you can see the figure AND the interior box art of the four Busters. Only 500 were made!
Indiana Jones Jumbo Map Room Playset AFA 9.5
Gentle Giant LTD's Jumbo figure line has been going on for over a decade now, mainly focusing on Star Wars characters. Well, now it's expanded to include Indiana Jones, and the first release was of the famed adventurer with the Map Room Playset. This boxed set was exclusive to SDCC 2023, limited to 1000 pieces, and got a high grade from AFA – the perfect combo!