Warning
: Trying to access array offset on value of type null in
/home/megomuse/public_html/wp-content/themes/magazine-premium/template-parts/content.php
on line
13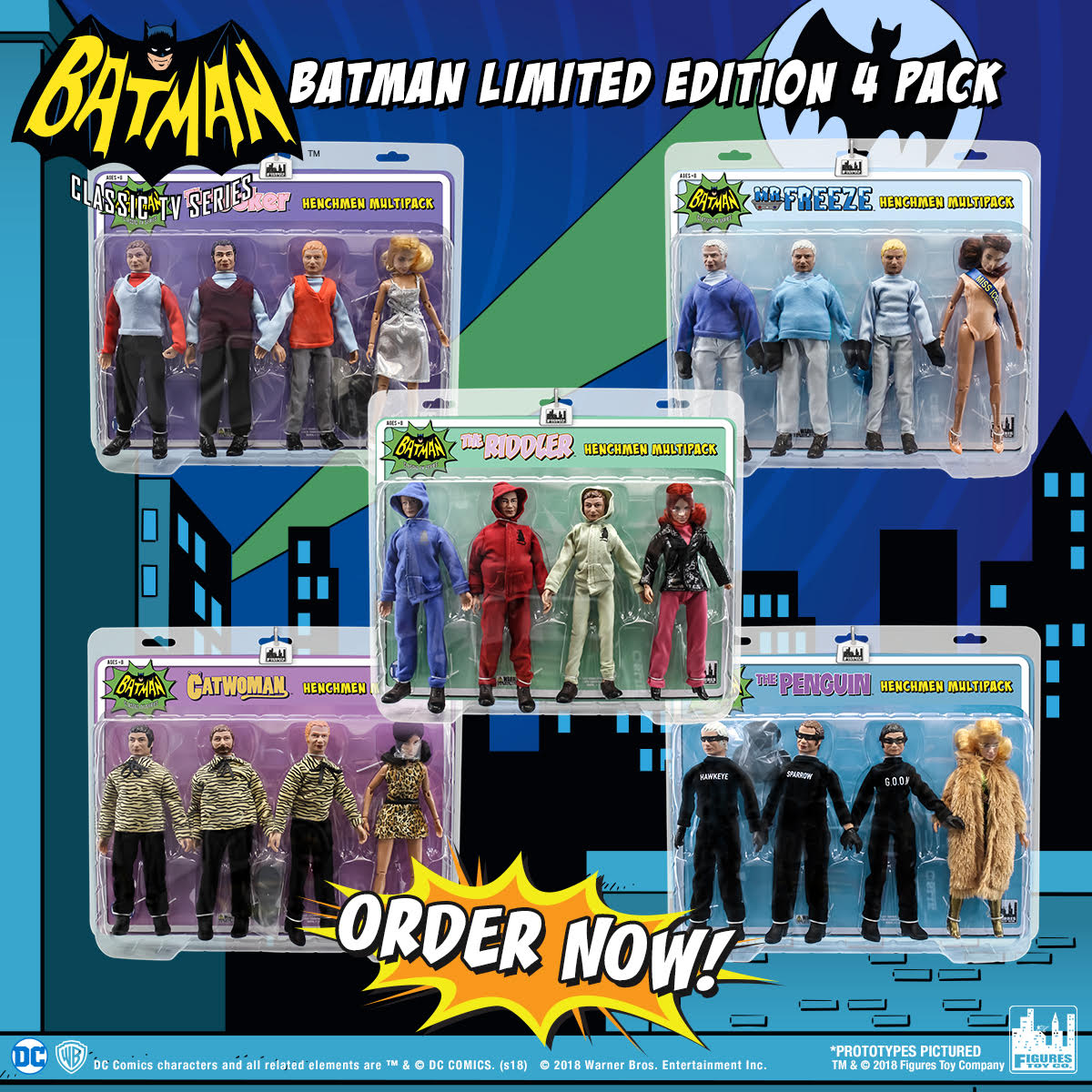 There's dirty work being done in Gotham City, because some of its most infamous criminals have sent in a horde of henchmen and henchwomen! The River Rat Gang! The Grand Order of Occidental Nighthawks! Miss Iceland (but not on ice)! Did Figures Toy Company put out a criminal casting call? Or are there more retro figure rogues running around?
As a supplement to the popular Batman Classic TV Series toy line, Figures Toy Company is releasing 5 character specific Henchmen sets, based on the goons and girls seen on the classic 1966 Batman TV Series! These latest retro figures represent the supporting cast of characters who got mixed up in the mayhem created by their respective villains! Each set is a Limited Edition containing 3 male figures and 1 female figure, and each character set has clothing based on the characters from the '66 TV show! Surround your Dynamic Duo figures with foes to fight, or compliment your Classic TV Series collection with this Limited Edition sets!
Henchmen multi-packs for The Joker, Mr. Freeze, The Riddler, Catwoman, and Penguin will be available soon at www.figurestoycompany.com and are being made in limited quantities. Aside from these new releases, there's still plenty of fresh faces that just came in during the holiday season, like Catwoman figures featuring the likenesses of Eartha Kitt and Julie Newmar, Scooby-Doo (and Scooby-Dum!), Betty Kane Batgirl, and many other creations inspired by DC Comics and Hanna Barbera animation! The new year is starting off strong for FTC, and there's a lot more in the works, so be sure to follow the #MMFTCNEWS updates every Friday to see what else might make its way into your figure collection!
Discuss this on the Mego Museum Forums!