Warning
: Trying to access array offset on value of type null in
/home/megomuse/public_html/wp-content/themes/magazine-premium/template-parts/content.php
on line
13
MEGO 2 OFFERS NEW YORK TOY FAIR MEDIA A SNEAK PEEK OF THEIR NEW 2XL
COBOT
MEGO 2 OFFERS NEW YORK TOY FAIR MEDIA A SNEAK PEEK OF THEIR NEW 2XL
COBOT:  
THE FUTURE OF INTERACTIVE SMART TOYS
2XL Cobot: the Next Generation of Interactive Smart Toys – Will be Live for the First Time at Toy
Fair New York – September 30 – October 3, 2023
at The License to Play Booth

New York, NY – Saturday, September 30, 2023 — At Toy Fair New York, Mego, a name steeped
in the toy industry history, will offer a first-time sneak peek of their groundbreaking creation – the
2XL Cobot (collaborative robot), that takes interactive family fun to unprecedented
heights. Media previews and demonstrations will take place at the License to Play booth
during Toy Fair New York at the Jacob Javits Center, 429 11th Ave, New York, NY
10001, from 10 am – 12 noon each day, Saturday, September 30 – Tuesday, October 3,
2023.

The 2XL is being introduced by Mego2. The first creation of the partnership of Mego and
D1srupt1ve Inc., Mego2 builds on the long tradition of Mego, with a special focus on game-
changing NextGen Tech Smart Toys – incorporating D1srupt1ve's M.A.G.I.C.* technology at its
core.

The 2XL Cobot boasts the following features:
 Builds Pro-Social Skills: 2XL Cobot helps children develop verbal interaction and
social skills conversationally, building their vocabulary in a fun and engaging way.
 Limitless Conversation: With realistic human-like interaction, 2XL can dive deep into
subjects, create stories with your child and grow in sophistication with your child's age.
 Multiple Languages: The 2 XL Cobot is able to seamlessly switch between more than
30 languages during conversations, aiding language learning.
 Single or Group Interactions:  The 2 XL Cobot adapts dynamically to multiple people,
like friends and family, and brings them into the conversation and stories it creates with
them.  
 Secure Conversations: Children will enjoy 2XL's ever-changing content with parental
control guardrails in place to ensure safe and positive interactions. 
 Guard Rails: 2XL features customizable guardrails – to offer positive reinforcement and
monitor conversations for off-topic subjects. 
The Mego 2 XL also features facial expressions conveying emotions, a parent app with
enhanced safety controls, it is compliant with global privacy rules and security regulations, and it
is COPPA Certified. 
 
MEDIA PREVIEW HOURS – LICENSE TO PLAY BOOTH AT NEW YORK TOY FAIR: 
 Saturday, September 30:  10 am – 12 noon 
 Sunday, October 1:           10 am – 12 noon 
 Monday, October 2:          10 am – 12 noon
 Tuesday, October 3:          10 am – 12 noon 

About Mego:  
Established in 1954, Mego has been a pioneer in the world of toys, revolutionizing playtime with
its iconic 8-inch action figures from beloved franchises such as Star Trek and Batman. After a
successful reboot in the 2010s, Mego has continued to shape the toy and collectibles market,
proving that classic toys never go out of style. 

About Mego 2: 
Mego 2 is a unique collaboration between the storied Mego Corporation and the visionary
game-changers at D1srupt1ve Inc. Founded in 1954, Mego redefined the toy industry with its
iconic 8-inch action figures. D1srupt1ve harnesses the potential of artificial intelligence (AI)
collaboration and serves as a catalyst for innovation, reshaping diverse aspects of daily life and
industry standards.  Mego 2 is the culmination of the dynamic partnership between these two
forces, building upon Mego's legacy and infusing it with a focus on NextGen Tech Toys. It
embodies a commitment to interactive, imaginative, and socially enriching toys, delivering a new
era of play that fuses tradition with innovation. Mego 2 exemplifies the boundless possibilities
technology offers in reshaping the world of toys and entertainment. 

About D1srupt1ve: 
D1srupt1ve stands at the forefront of a paradigm shift, fostering a culture that challenges and
redefines conventional business landscapes. Leveraging a synergistic network of consortium
companies and strategic partners, D1srupt1ve serves as a catalyst for innovation, reshaping
diverse aspects of daily life and industry standards. At its core, the company harnesses the
potential of artificial intelligence (AI) collaboration, viewing it as an essential tool in expediting
transformative and impactful changes. Through this approach, D1srupt1ve not only embraces
change but actively engineers the future, fostering a world where innovation is not just
welcomed but expected. 
 
For media inquiries, please contact: 
 John McCook, 917.767. 3403, Jmccook@rubensteinpr.com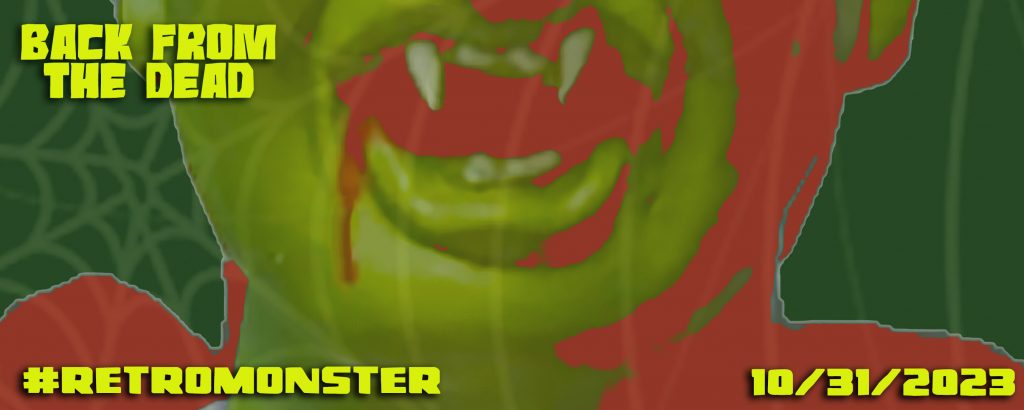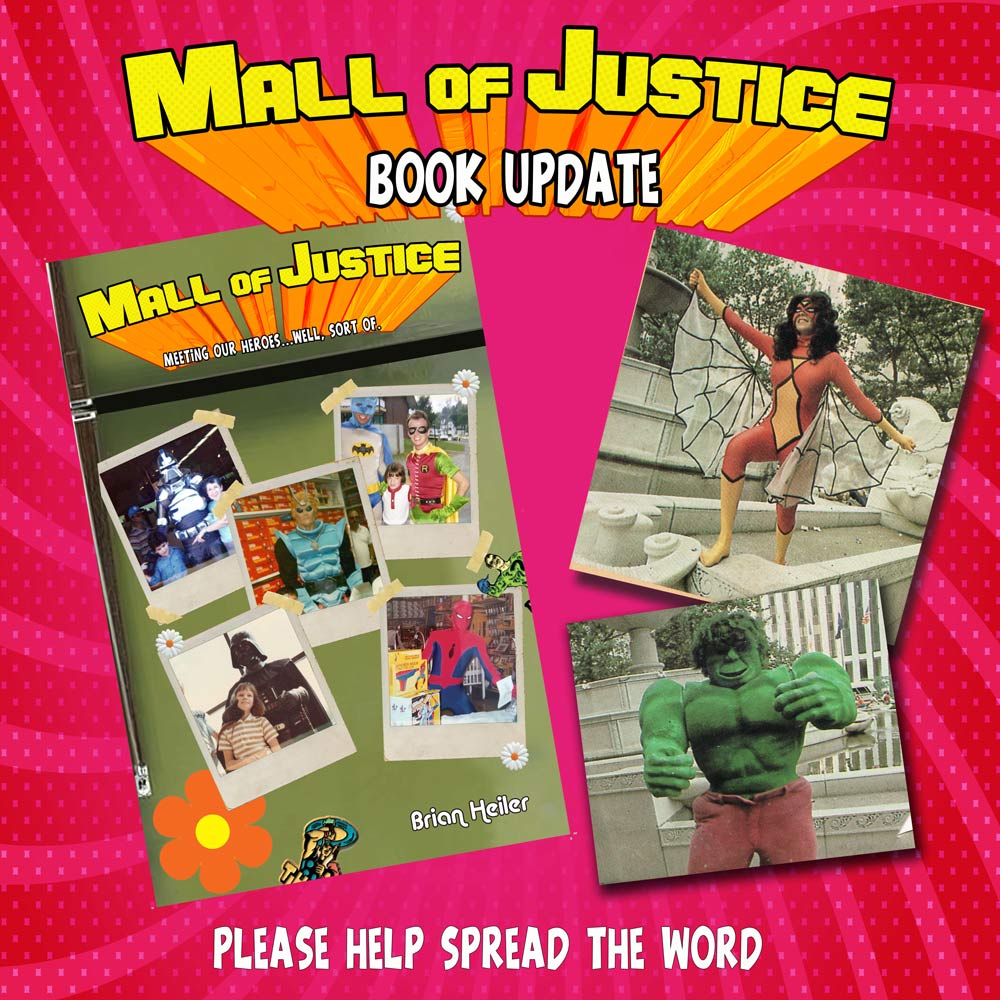 "Mall of Justice," is almost here , I once again plead with you for submissions. I want to share your photos and stories if you met He-Man at Toys R Us or Captain America at a Car wash. It doesn't matter if "Chewbacca" was a guy wearing loafers in a gorilla mask; that's a bonus!
Send your stories and photos to toyventuresmag@gmail.com, and I'll do my best to include them in the publication.

Each week the Mego Super Collector Newsletter gives out news from the "Mego-Verse" including updates from Mego, Figures Toy Company, NECA, White Elephant Toyz, Super Joe Unlimited, Beast Kingdom, Funko, Brentzdolls, Cotswold Collectibles, Super-7 and more.
Issue10 of Toy-Ventures Magazine features a complete guide to the Mego Comic Action Heroes and for a limited time includes a free Amigo's Del Terror . Get it now at the PlaidStallions store.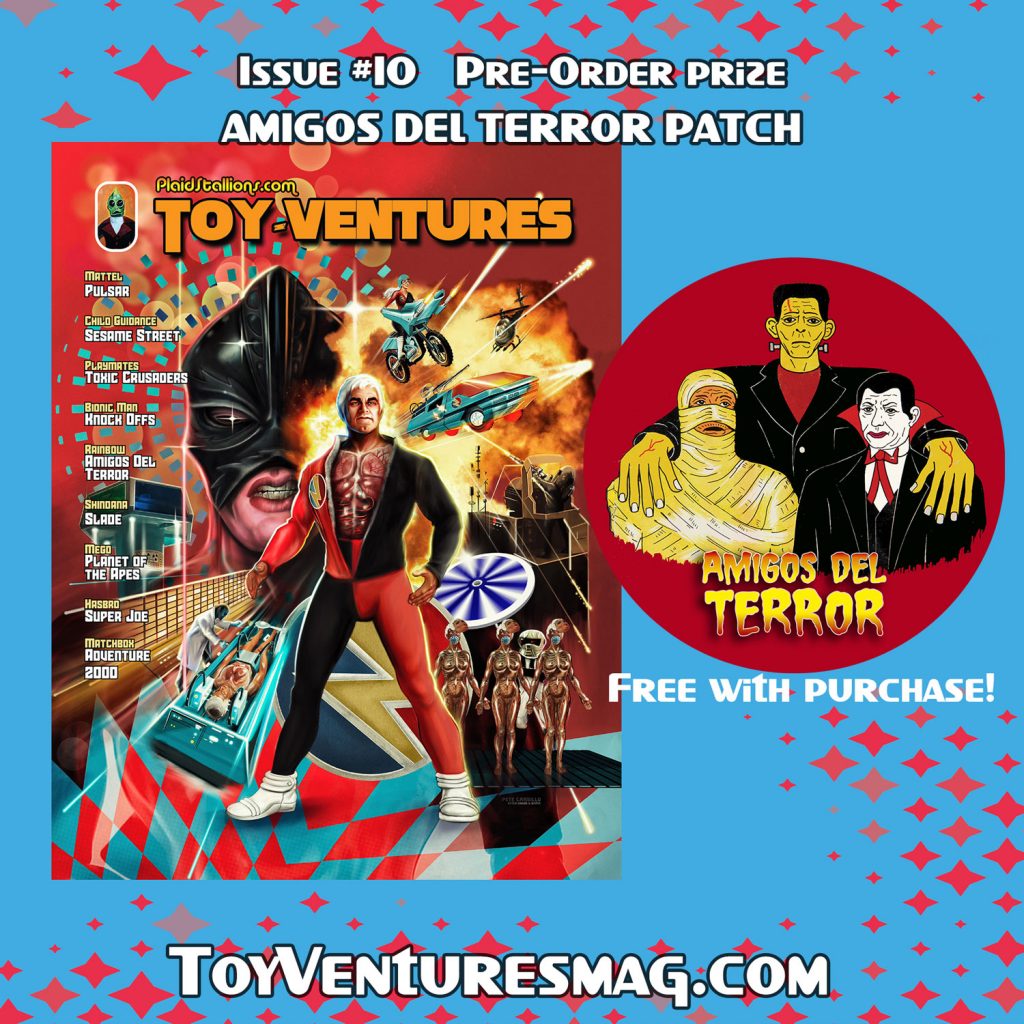 Friends of the Mego Museum: