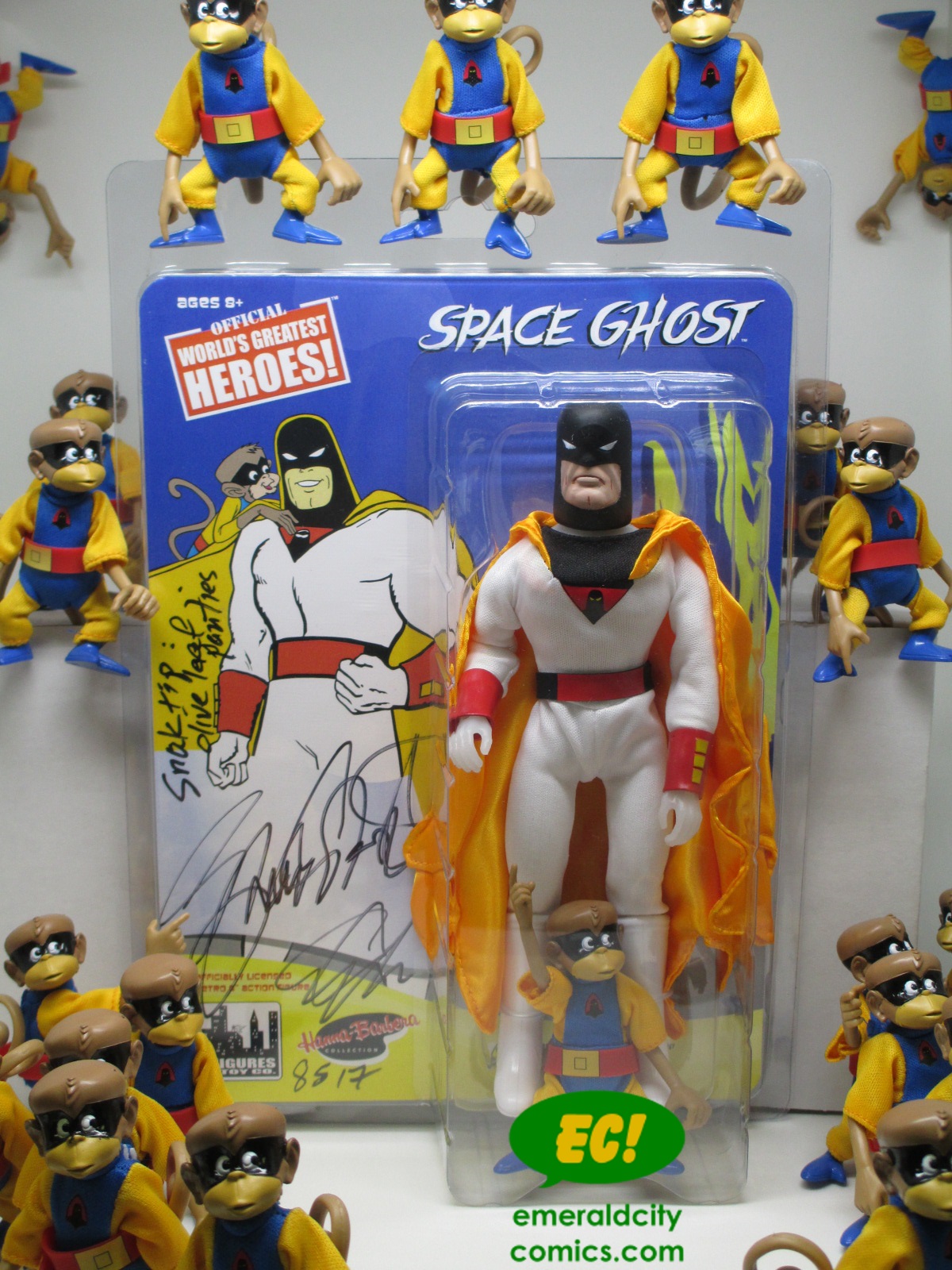 Figures Toy Company's latest exclusive is a collectible that will be coveted by fans from coast to coast! In conjunction with their friends at Emerald City Comics, FTC will be releasing a limited amount of Autographed Space Ghost & Blip sets! Not only were these sets signed by George Lowe, who voiced Space Ghost on the popular Space Ghost Coast to Coast TV show, but a select amount of the Space Ghost figures are available as Glow In The Dark variants!
These aren't your ordinary signatures either. George was nice enough to include some funny "snak tips" along with his autograph! Why have an ordinary old signature when you can enjoy having George's humor on display along with the beloved Hanna Barbera hero! For those collectors seeking something a little different, only 75 versions of the Glow In The Dark Space Ghost have been made, while the standard Space Ghost & Blip pack is limited to only 25 pieces! These are limited in every sense of the word!
If you want to find these quirky collectibles from Figures Toy Company, you'll have to visit their friends at Emerald City Comics (www.emeraldcitycomics.com) to place an order! The standard edition Space Ghost sets signed by George Lowe will retail at $69.99, which the new Glow In The Dark editions will retail at $79.99. If you're looking for other exclusives and more, then you'll find what you want over at http://www.figurestoycompany.com/ today and every day! From the Three Stooges to the Teen Titans, their retro figures have brought a sense of nostalgia to the collectors market, and there's even more on the way! For all the latest FTC news stay tuned to their social media, and don't forget to follow along for exclusive updates with #MMFTCNEWS every Friday!
Discuss this on the Mego Museum Forums!
Like the Mego Museum on Facebook