Breaker! Breaker! More Mego Catalog pages!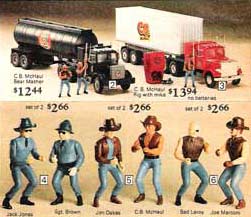 Yet another addition to the department store catalog section , today we feature the 1978 Sears spread of Mego CB McHaul. CB didn't get a lot of Catalog time so this is a pretty rare glimpse.

Be sure to check out the Mego Museum CB Mchaul Section after, it's got oodles of revised content and information.
And not to be a tease but we've got fantastic Mego discoveries on the way, a real trip into Mego R&D, stay tuned......
Cool Customs
Check out this great Seven of Nine custom by K with real rooted hair. The Custom of the week is this mean looking Professor Zoom.
The Customizer of the month is John Farley, a guy we know as type3toys, John is a talented craftsman, check out his cool work.