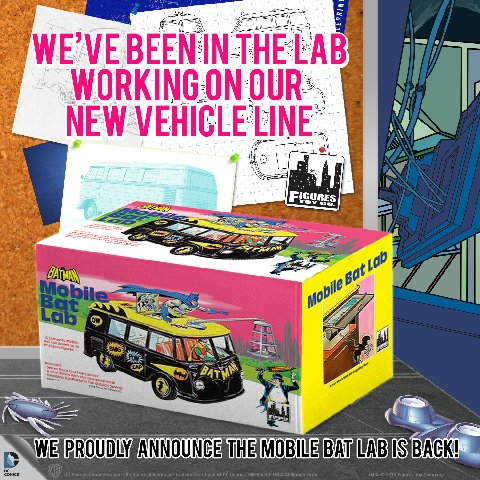 Prepare yourselves for a wild ride! Figure Toy Company is happy to announce that later this year, the World's Greatest Heroes will be ready to roll out in an all new series of vehicles that will be compatible with their 8 inch retro action figures!
Inspired by several of DC Comics most popular heroes, there are currently four vehicles in production. Figures Toy Company will be bringing us a reproduction of one of Mego's most popular vehicle sets; Batman's Mobile Bat Lab! Not only is the Caped Crusader getting the vehicle treatment, but you'll also be able to capture criminals with the Gotham City Police Van, ride faster than a speeding bullet in the Superman Van, and have your heroes hit the road in the Teen Titans Van! Each vehicle will include an exclusive World's Greatest Heroes 8 inch action figure, available only in the vehicle set!
Don't let these vehicles pass you by! Figures Toy Company expects them to race into stock in late 2015. Additional updates and images will be released in the coming months, so make sure to check out Figures Toy Company for more news. In the meantime, keep up on all the Figures Toy Company breaking news, exclusive updates, and product information on social media by using the hashtag #MMFTCNEWS!