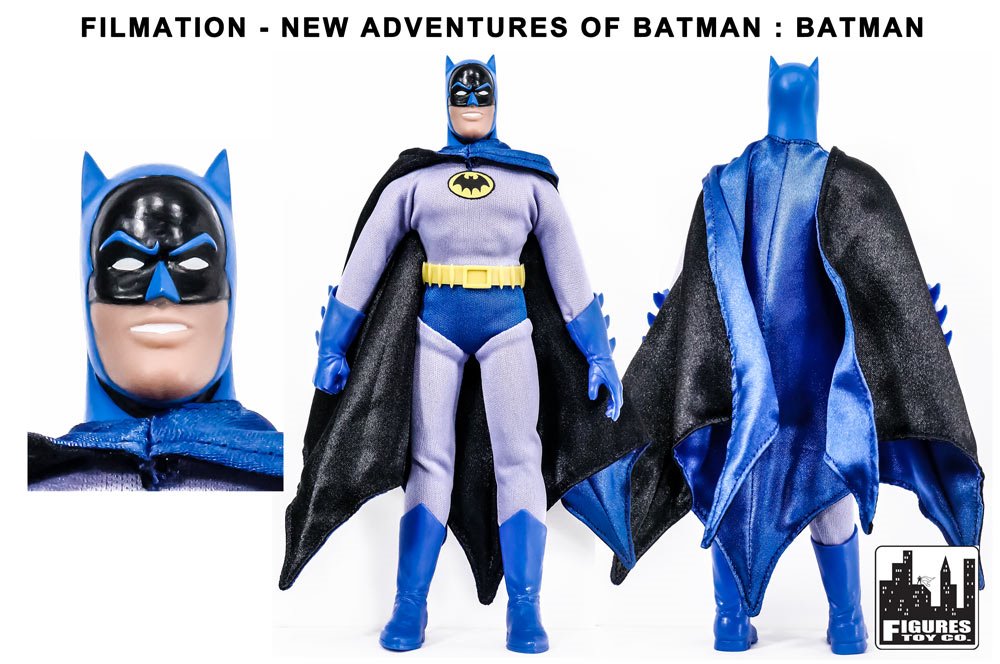 Get ready for new adventures with new action figures from FTC! Figures Toy Company has been hard at work crafting a new line of Caped Crusader collectibles, this one based on a classic cartoon! In today's #MMFTCNEWS, take your first look at both the Batman and The Joker retro figures from FTC's upcoming New Adventures of Batman series!
For those who aren't familiar with the inspiration for FTC's latest addition to their ever-expanding assortment of DC Comics characters, the New Adventures of Batman was a cartoon series produced by Filmation that aired on CBS in the late 70's. Featuring Adam West and Burt Ward voicing the cartoon versions of the characters they played years prior on the Batman '66 show, the cartoon featured iconic characters from Batman's history as well as original characters created specifically for it! Batman and Joker are two obvious inclusions to kick off Figures Toy Company's new line, but you can bet that the FTC design team has already drawn inspiration from the characters and artwork from the show to craft future releases for the series! This is a set that's sure to appeal to Bat-fans across the globe, as well as cartoon lovers, comic collectors, and fans of retro style action figures!
While Batman, Joker, and other figures from the New Adventures of Batman are set for a future release date, the holiday season is in full swing and that means a visit to Figures Toy Company is in order! FTC's website has everything you need to make things merry and bright for toy collectors this Christmas. New figures are set to arrive in December, and there is plenty available already! Some of 2019's hottest figures like The Creeper, Black Canary, Bane, and The Atom are all waiting for you, as are recent releases from KISS and Scooby Doo! With their collaboration with Castaway and White Elephant Toyz, plus plans for more figures from all of their licenses, the new year will see a lot of new product from Figures Toy Company, and #MMFTCNEWS will continue to be the best way to get your hands on exclusive FTC info!