Accessory Check : American West Original and Known Reproduction Parts
The American West line can get a little confusing. Re-issued more times than any other Mego line and by more companies, identifying reproduction parts can be tricky. The line was reissued by Mego under their Lion Rock name. They are the same figures with the same accessories, although Cochise and Davey Crockett were issued Robin Hood style daggers in place of the knife that came with the original Western issues. The only other difference in the Lion Rock releases, is that they can be found on Type 2 bodies. The original Mego issue only came on Type 1 bodies. Since the parts are identical, they are not addressed here.
The Western line was also re-issued by Tim Mee Toys. This was during the mego era so the reproduction figures and parts are vintage. That means the same materials in some cases, and the same molding technology was used to create these figures. This makes spotting Tim Mee versions somwhat difficult, but there are differences and they are addressed here.
Most recently, the Western line has been reproduced by Classic TV Toys. These are modern reproductions, making them easier to spot in many cases, but not all.
These reissues combine to provide plenty of reproduction parts for this line and a lot of confusion sorting out what's what. This section will help you identify these reproduction parts.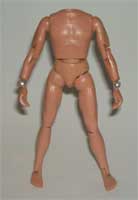 The original Mego American West line was only issued on the Type 1 Body. This first version of the Mego male body was a metal rivet, less muscled body strung together with elastic. It has not been factory reproduced.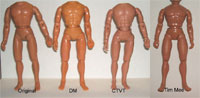 The original Mego American West line was not issued on the Type 2 body, but since Mego did issue them on Type 2's under the Lion Rock name, we'll address this body as well. The second version of the male body was more buff and had plastic joints instead of metal rivets, and strung together with hooks and rubber. Both Doctor Mego and Classic TV Toys offer factory made repro Mego bodies. DM's (marked 7th Street Toys on the back) is very accurate in detail and appearance. Lighter in flesh color, with a heavier feel and more rubbery hands. CTVT's bodies (marked Figures, Inc. on the back) are closer to original color, but tend to run a touch shorter, are more fragile, and have a slightly different design. A telltale sign of the CTVT body are the legs that tend to snap together at the knees. It should also be noted that Tim Mee produced the Type 2 body during the Mego era. This is a vintage knockoff that is identical in almost every way to the original body. It's weight is perhaps a touch lighter, and the Mego copyright info on the back of the body has been blotted out, but otherwise it's identical. Also of note is color differences. Tim Mee gave the Native American figures in the Western line a reddish tint.