xnxx
Gestern War's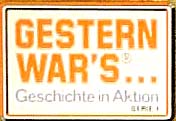 Gestern Wars Promotional Leaflet
This rare promotional item for the Gestern Wars line comes to us thanks to Jens Knappmann, wo was also kind enough to translate the piece for us.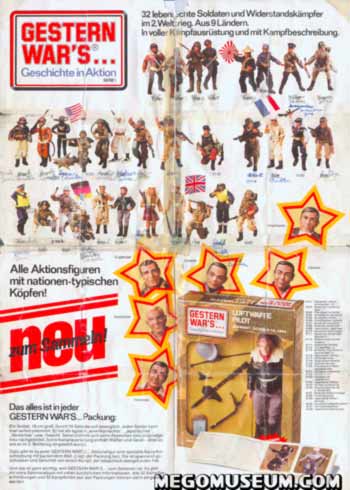 GESTERN WAR'S...
History in Action
Series 1
32 life-like soldiers and resistence fighters from World War II. From 9 countries. In full battlegear and with battlestory.
All actionfigures with country-specific heads!
new - for collecting! This is all in each GESTERN WAR'S box:
A soldier, 18 cm tall. Fully poseable by 14 points of articulation. Each soldier is identifiable immediately: He has a typical "american", "japanese", "german" etc. face. His Uniform and insignia are authentically reproduced. His battlegear includes weapons and equipment - everything as it was used during World War II.
In addition there is a special battle story for each GESTERN WAR'S actionfigure with an exiting picture. (Is included in the box). It is excitingly written and reports from a battle that had actually taken place.
And this is very important, because GESTERN WAR'S is for collecting: There is a seperate collectors album with many additional information. All 32 battle stories and 32 battle pictures from the boxes can be put into it.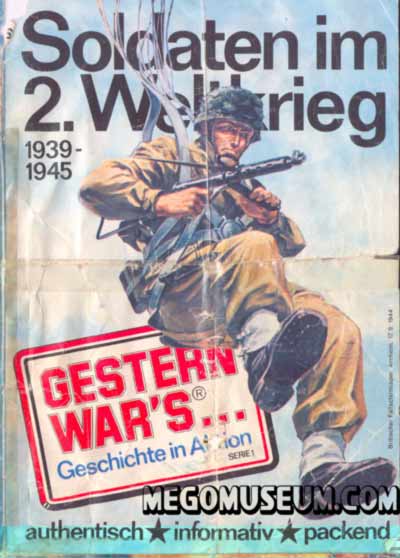 Soldiers in WWII 1939-1945
GESTERN WAR'S.
History in Action
Series 1
authentic - informative - exciting
Jens mentions that this is from the British Paratrooper box artwork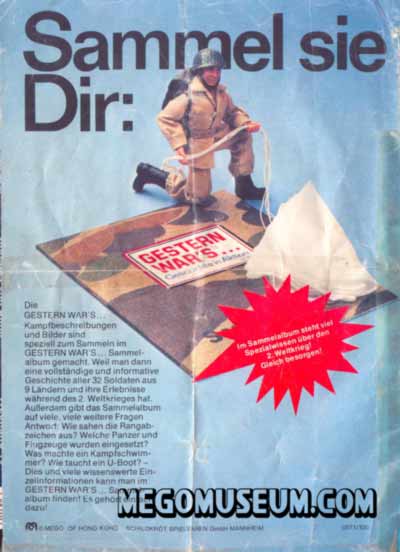 Collect them:
The GERSTERN WAR'S. battlestories and pictures are made specifically for collecting in the GESTERN WAR'S. collectors album. Because you then get a complete and informative history of all 32 soldiers from 9 countries and their experiences during World War II. And the collectors album gives answers to many, many additional questions: How did the insignia look like? Which tanks and planes had been used? What did a frogman do? How does a submarine dive? - This and many interesting facts can you find in the GESTERN WAR'S. collectors album! It is just indispensable!
[inside the red star:]
The collectors album contains many facts about the second World War! Get it now!
C MEGO OF HONG KONG - SCHILDKROET SPIELWAREN GmbH MANNHEIM 0571/100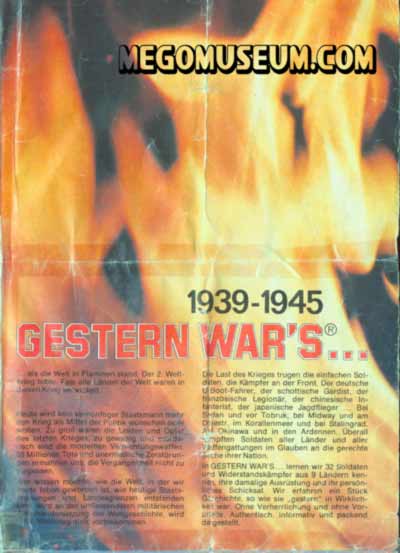 1939 - 1945
GESTERN WAR'S.
When the world was ablaze. The second World- War was at rage. Nearly all countries of the world were involved in this war.
Today no sensible statesman would chose the war as a means of politics. Too large were the suffers and casualties of the recent war, too powerful and deadly are modern destructive weapons. 55 million dead people and immense destruction remind us to not forget the past.
Everyone who wants to know how the world in which we are living now was created, how todays political systems and borders developed, will not get around learning about the most extensive military conflict in the history of the world.
The burden of the war was carried by the regular soldiers, the fighters at the front. The German submarine-driver, the Scottish gardist, the French Legionary, the Chinese Infantryman, the Japanese pilot . At Sedan and by Tobruk, at Midway and at the Dnjestr, in the Coral Sea and by Stalingrad. At Okinawa and in the Ardennes. Everwere soldiers of all countries and all branches were fighting in the believe of the just cause of their nation.
In GESTERN WAR'S. we become acquainted with 32 soldiers and resistence fighters from 9 countries. Their equipment at that time and their personal destiny. We get to know a piece of history as it really had been "yesterday". Without glorification and without prejudices. Authentic, informative and presented excitingly.